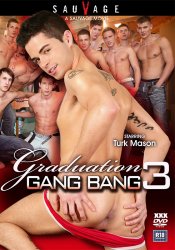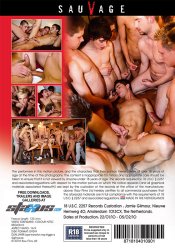 In this series:
Graduation Gangbang 1




Graduation Gangbang 2




Graduation Gangbang 3


Summary:
American cutie, Turk Mason, stars as an investigative journalist trying to break into Prague's pimp-prostitute back-street culture, and who uses every weapon open to him (including his meaty, uncut cock!) to do so. When his identity is finally revealed, however, it's his cute Yankee ass that pays the ultimate price, servicing the needs of no less than 14 horny, mega-hung Czech boys …
Contains 1 bareback scene!

Description / Review:

Scene 1: Horny Young Wannabe Rent-Boy Takes Cock For The First Time.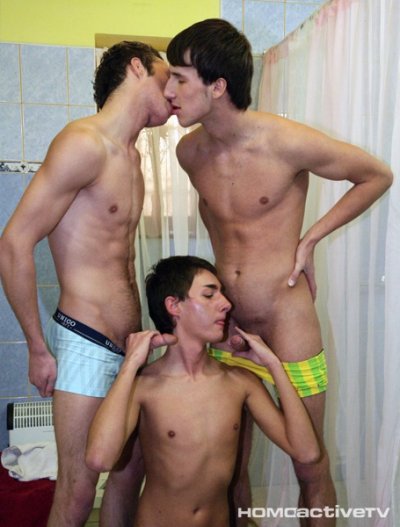 Young Sean Hopkins wants to become a rent-boy – not your average, everyday ambition, but one that clearly meets with the distinct approval of Chester Poole and Jayden Gallis, two young guys in the profession who are only too willing to use the lad in order to impress their boss. Before introducing him to their pimp, however, it's vital that they test ride the fellow to see if he's up to the job – after all, no-one wants to hire a filly who isn't willing and able to take cock! Needless to report, Hopkins isn't found at all wanting in that respect. Before you know it, he's got one hard, uncut shaft thrusting down his throat and another pounding away at his backside. Little surprise then that Hopkins is soon spurting the contents of his nads all over his belly, whilst his two would-be colleagues splatter him with spunk across his face and in his ass! We could be wrong, but we think their pimp is gonna have a natural on his hands with this guy..
Scene 2: Another Rent-Boy Hopeful Proves His Taste For Hard, Uncut Cock!
Having enjoyed the sight of a young dark lad being spit-roasted, it's the turn of blond cock-junkie, Ashton Gates, to provide the entertainment, as another trio of rent-boys go out of their way to prove their worth to their enigmatic boss. Of course it's no great wonder that Neil Cross and Francisco Ruck should get all hot and excited the moment Gates walks into the room – he'd have the same effect on pretty much all of us, we reckon – and it's only fitting that they quickly whip out their uncut ramrods and thrust them in their compatriot's direction. Gates, to his credit, seems to know exactly how to react, promptly opening every orifice that nature gave him to accommodate those drooling, meaty rods. If the sight of a young blond lad getting skewered at both ends gets you equally animated, then rest assured this is gonna be just your cup of tea! Not least of all when the sweet-faced beauty gets a load of jizz splattered between the eyes!

Scene 3: Scorching Threesome As Horny American Gets Some Czech Inside Him.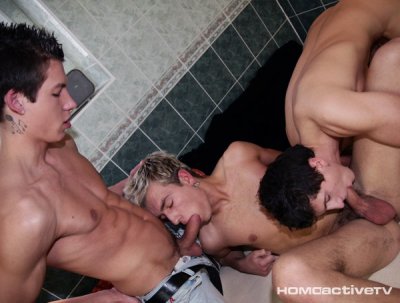 Who the fuck could ever resist the opportunity of joining Alex Granger and Julien Heath in the shower to help make a sordid, ball-aching threesome? Not Turk Mason, that's for sure – a fucking lucky bastard whose current investigations actually demand such engagement! The result is most definitely one of the scenes of the year, as three of the sexiest twinks ever to grace this planet lick and slurp their way to a sticky, sexual frenzy. Heath, as we all already know, is a dirty-minded whore, who sets the screen alight whenever he appears – a lad who simply cannot wait to get his arse stretched each and every time he shows on camera. But having played to the boy's whim, courtesy of Mason's eager, upturned shaft, director Vlado Iresch ensures that the highlight of the feature is Mason himself getting pummelled by Granger's knob-end. The sight of the young American bouncing up and down on Granger's lap is a definite must-see; as is that of Mason ultimately unburdening his balls over the Czech lads' faces!
Scene 4: 5-Guy Fuck-Frenzy Sees Cute Fresh Faces Fucked Over & Over Again!
Cast: Turk Mason, Damian Dickey, Hari Marple
Also available: Offered (Gay Compilation)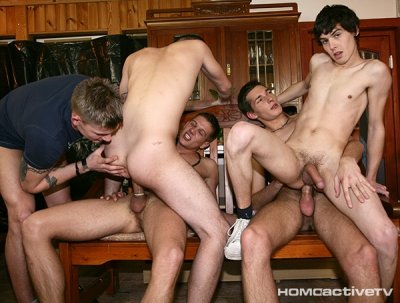 "Very hard sex, with no limits" – so says Turk Mason, as he relates what he's discovered in the course of his investigations into the Prague sex industry. To prove his point we're treated to a 5-guy fuck-fest that's centred around the arrival of two new boys on the scene. Of course, as always with novices, it's important to know whether they can take cock in their mouths and asses – a point that lead old-boy, Damian Dickey, is only too willing to see proved. Cue a fabulous flesh-frenzy, underscored by Hari Marple's "Death By Fucking" tee-shirt, which pretty much sums up the sentiment of the occasion quite nicely. If tame, vanilla action is your kind of thing then chances are that you need to look elsewhere. If, on the other hand, the sight of fresh faces getting fucked every which way you can imagine is something that floats your boat then this fornication fiesta – all fabulously topped off with cascades of spunk! – is gonna be just your kind of entertainment. Prepare to wear out your rewind button!!
Scene 5: Mega Marathon Fuck-A-Thon Results In A Cascade Of Sticky Ball-Juice!
So it just couldn't get any hotter …? Well in any other movie, of course, a 5-guy pile-up would undoubtedly be a superb climax. But, as the title suggests, all that might seem a tad subdued for those of you expecting something a little more feisty. Well fear not. The revelation that Turk Mason is in fact a spy sets the ball rolling for a 15-man fuck marathon, which sees the young American bounced and banged for all he's worth. As a punishment, of course, it's all a tad unusual – knee-capping (at best) is more your natural forte in these circles – but suffice it to say that the result is still something that will stick long in the memory.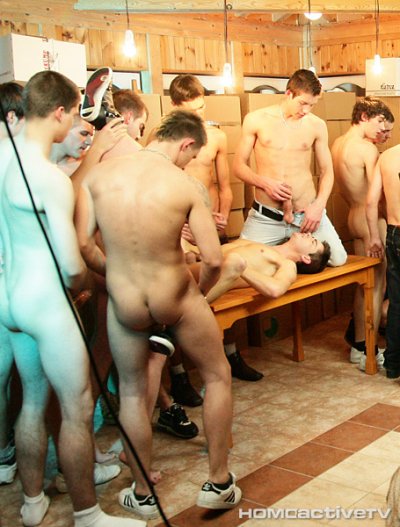 Arguably for Mason most of all, as cock after cock after cock pounds his mouth and ass-hole simultaneously. Horny Ashton Gates (who clearly has a penchant for fresh jizz!) joins the American as the focal point of the action towards popping-off time; but it's Mason who secures the accolade for whore of the year, with the sort of eye-splattering finale that would make his mother proud! In short, a definite must-must-see for all you orgy-loving cock-fiends! Watch now
Additional Information
Categories: UK R18 / XXX Gay Adult
Running Time: 120 mins, Year: 2010
Price: Around £26*
Starring: Marcel Bimore, Louis Brooks, Neil Cross, Damian Dickey, Andreas Felton, Jayden Gallis, Ashton Gates, Alex Granger, Julien Heath, Sean Hopkins, Justin Kingsley, Hari Marple, Turk Mason, Chester Poole, Ryan Quaid, Francisco Ruck, Ray Weil, Bruno Welton
Director: Vlado Iresch
Studio: SauVage Movie
Buy DVDs online at: Homoactive, Simply-Adult and RadVideo (US)
Homoactive downloads: SauVage
Gay Video On Demand: SauVage, See also: www.gaydvds.tv
Country: Czech Republic, Language: Czech with english subtitles
Additional info: No Regional Coding