Summary:
It's close encounters of the carnal kind, as the hottest, horniest guys in Prague come face to face with each other for some of the filthiest, raunchiest action around. Guys like Lucas Drake, whose heavenly encounter with an angel – or more specifically Angel Lopez! – leads to a raw, spunky fuck-fest; and Andy Scott, who can't wait to start his day getting his lusty little sphincter stretched to buggery courtesy of Bjorn Nykvist's infamous ass-slayer. Lush, sensuous and intensely personal, these boys' stories will have you creaming time and time and time again!
Scene 1: Rookie Dives Straight In With A Flip-Flop Suck-&-Fuck-A-Thon!
Cast: Connor Rex, Martin Rivers
We already know that Martin Rivers isn't the kind of young lad to waste time when he encounters some handsome little slut, but it seems he's encountered a soulmate in new boy, Connor Rex. Indeed, neither of these buddies hang about when it comes to the task of slobbering off each other's dicks – geez, the action has only just started and they're taking it in turns to feast on all the hard flesh on offer. And who the fuck can blame them, of course? Both buddies are as cute as the day is long, and both have definitely been blessed by mother nature in the cock stakes!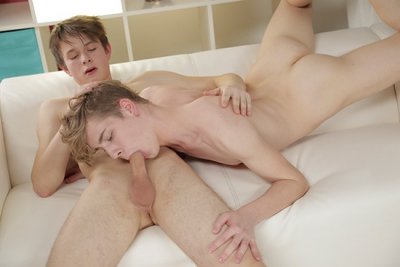 Given the fast-paced nature of proceedings, it's perhaps not at all surprising that Rivers – as the more experienced of the pairing – is quickly pushing for a little progression in the antics, parting Rex's legs apart and getting his tongue firmly embedded in the lad's tight virgin arse. Of course, you don't need to be Einstein to realise that what he really wants to stick in that hungry little hole is his thick, uncut shaft – a wish that's soon being granted!
However, don't think for one moment that just because Rex's a newbie it means that he's not got his own kinky ideas. For having taken every inch of Rivers' delightfully oversized schlong in a variety of positions – most notably riding it cowboy-style like a five-star whore – the young lad is promptly returning the favour; stuffing his meaty member deep into his buddy's pucker and banging away for all that he's worth. No fucking wonder that Rivers is soon spewing like a fountain as a result; before Rex underwrites his first money-shot all over his pal's pretty face!
Scene 2: Sleeping Sweethearts Start The Day With A Sweaty, Jizzy Fuck!
Cast: Andy Scott, Bjorn Nykvist
We've all had mornings like it – waking up and feeling as horny as fucking hell! And naturally it's always much, more worse – or better! – if you wake up next to someone who seriously floats your proverbial boat. That's the situation that Andy Scott finds himself in when he comes to consciousness lying next to Bjorn Nykvist; and it'll be no surprise to anyone that the urge to rut is soon blissfully overpowering the poor lad. As a result he's quickly making a beeline for his pal's handsome rump, which is barely concealed by the plush jockstrap that Nykvist is wearing.
That said, the pretty young blond isn't wearing them for long. Before you know it Scott has made serious inroads into its defences and is very eagerly rimming his mate's arse – an act that promptly brings Nykvist out of his sweet slumber. From that point onwards, of course, there's little stopping the fabulous assault that Scott adopts on his buddy – gobbling away on Nykvist's now rock-hard shaft, 69-ing the fellow with some serious no-holds-barred rimming, and then finally securing his vantage balls-deep in the young blond's guts.
It's a line of action that clearly meets with the bottom's overriding approval given the way that he reacts – writhing and groaning in pleasure and generally acting his part of wayward bitch. Indeed, anyone doubting that the sincerity of either party just has to consider the way in which each of these boys marks their final pitches – Scott blasting his pal's well-worked rosebud, and Nykvist firing off an arguably obscene wad over his own belly as well as his partner's joyously expectant face!
Scene 3: Doe-Eyed Rex Gives Hard, Horny Spaniard A Right Raw Fucking!
Cast: Connor Rex, Mark Fontana
No-one could ever claim that Mark Fontana was slow on the uptake. Less than forty seconds after introducing himself to the delightfully twinkish Connor Rex, the young Spaniard has his face buried in his new buddy's crotch, feasting on the handsome shaft of meat that's straining there. Not that Rex is anyway less opportunistic once the chance comes to swop positions; but as introductions go it's certainly one to remember. What's more, it's not long before both beauties are laid out on the bed 69-ing each other like a pair of bookends – testimony, if testimony was indeed needed, that neither of these horned-up sluts are any less enthusiastic for dick than the other.
Eventually, however, the lust for hot, raw man-meat seems to overcome Fontana more than his fresh-faced pal; and with Rex taking opportunity to rim the tattooed dude's hairless little pucker, it's not too long before the boy from Barcelona is getting his guts filled to capacity by a thick, uncut ramrod. To some, of course, this would be the stuff of nightmares. To a young, cock-crazed slut like Fontana, whose very existence seems to be to get as much dick inside him as possible, it's sheer Nirvana; as Rex continues to bang away at his pucker in a whole series of positions like a wild animal.
Given the intensity of this first "date", it's perhaps no surprise that the young bottom is soon at the point of no turning back; literally having the jizz pump out of him all over his own belly. Leaving Rex to sign things off with his own torrid rupture, which Fontana eagerly laps up so that the two of them can share a gooey kiss!
Scene 4: Twink Puts A Mobile To Handy Use Before Banging His Bud's Ass!
Cast: Angel Lopez and Lucas Drake
We all know how fucking annoying it can be when you're right in the middle of something important and your phone rings, so spare a thought for Lucas Drake and Angel Lopez in this kinky little bedroom adventure. After all, they're busy getting up to all sorts of filthy antics together when one of their mobiles sounds; although given the obvious pleasure that both of them are experiencing at the time it's perhaps not exactly too much of a surprise that they try desperately to ignore it. Unfortunately, the caller – identified only as "Boy" – is clearly a very persistent fellow, and doesn't give a flying fuck that Drake is deep-throating and rimming his hyper-sexy buddy.
Nor, for that matter, does the fellow care that he threatens to upset our enjoyment of these two beautiful boys in full rut. But for every problem, of course, there's always an answer – and it doesn't always necessarily have to be the most obvious solution. So when the phone rings for a second time, Drake decides to put the vibrations to good use – thrusting it into Lopez's greedy little arsehole and using it as a twisted little sex-toy.
Whether Samsung would ever recommend such a use for their equipment will most likely forever remain a mystery. What we can say, however, is that this imaginative exploration of Lopez's pucker quickly results in the lad getting the full-on, no-holds-barred fucking that he deserves; pummelled in a whole series of depraved positions and squirting like a geyser in the process. All of which is arguably only eclipsed by the lad getting his face whitewashed by Drake's eruption at the end!