Summary:
The quest for the fastest – not to mention the hottest! – delivery service in the Czech Republic sees a collection of cute, babe-faced beauties strutting their stuff for their muscular colleagues ... and boy, are you gonna start feeling the heat!
Tim Law, Mike James and Sven Laarson are just some of the big-dicked names that are set to send pulses racing – long before anyone's so much as put a foot on a pedal in this outdoor fuck-fest extraordinaire! With reams of spunk and even a double-dicked ass-stretching en route, this is one express delivery that's set to hit all the right spots!
Scene 1: Double-Dipping Fuck-Buddies Give Johny Cruz's Raw Ass-Hole The Stretching Of Its Life!
Cast: Johny Cruz, Mike James & Sven Laarson
Also available: Bareback Butt Stretches 2 (2 DVD set)
Prague, like most big cities, can be a rather confusing place for those who don't know its streets and parks, so it's probably not too surprising that Johny Cruz and Sven Laarson should get completely lost whilst out on their deliveries. It's just as well, therefore, that this intrepid bicycling duo is fortunate enough to encounter none other than home-boy Mike James, who's only too willing, able and eager to point them exactly in the right direction – namely to that thick, meaty, uncut ramrod that he's got stashed inside his pants! Indeed, it's pretty much no time at all before all thought of the postal service has been utterly eradicated from their minds, as this trio of hot, horny cock-suckers engage in an impromptu open-air suck-a-thon that'll quite literally leave you gasping and begging for more. It's clearly all a little too much for Cruz, that's for sure.
Soon this filthy-minded fucker is laid out on the woodland floor, with his legs akimbo, having his horny little pucker eagerly rimmed by his buddies; before James puts him out of his misery and skewers his ass head-on with his handsome raw knob! This act of apparent kindness, however, is but the introduction of some of the hottest, raunchiest action you're ever likely to see; culminating in Cruz getting double-dicked by his domineering pals, prior to being sprayed with a cascade of creamy nut-juice as a reward for all his efforts. Little wonder the young fellow is hyped into a sticky crescendo of his own – as, no doubt, will his legion of fans!
Scene 2: Tim Law Delivers A Hard Package To His Horny Client For An Outdoor Flip-Flop Fuck!
Starring: Alexander Dorch, Tim Law
See also: Open Air Sluts 3 (2 DVD set)
Tim Law has always had a very nice package on him, so to speak – but on this particular occasion the package in question is a physical parcel, which the every-horny young cyclist delivers to a clearly expectant Alexander Dorch. Not that what's inside the box actually seems to concern the recipient too greatly, it has to be said. He seems far more interested in getting Law out of his cycling gear, and within a few seconds is pulling out his dick from his trousers in a bid to tempt his courier buddy into staying for a little extra-curricular fun! Perhaps unsurprisingly given Law's reputation, it's a move that almost immediately gains the required response – Law is down on Dorch's cock like a little vacuum-pump, slurping on his mate's handsome ramrod with the sort of enthusiasm that we've all long since come to expect of the lad.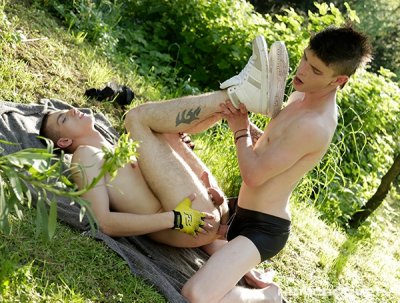 Not that Dorch is in any way less keen on engaging in some oral fun. Before you know it he's abandoned his hammock in favour of a blanket on the floor, whereupon the two fellows top-and-tail on each other's dicks! By this point, of course, both boys are quite evidently as sexually-hyped as it's possible to be, and it comes as little surprise that they're quickly engaged in a tremendously hot outdoor flip-flop session – the kind that will almost certainly get you working out a load (or two)!
What may raise an eyebrow, however, is the fact that Dorch never abandons his unconventional-looking pants throughout the entire coupling – even when he eventually creams himself all over Law's tongue! Sticky finales have rarely looked so feckin' kinky!
Scene 3: Kinky Delivery Boy Partakes In A Raw Flip-Flop Fuck With A Dirty-Minded Client!

Cast: Sven Laarson and Carl Bodman
Also available: Donkey Dicks 3 - Compilation Gay DVD
His folks out in the country think he's a straight-laced, orthodox character, but clearly they have no idea what young Carl Bodman's like when he's alone at his apartment in the city. Such naivety is very obviously not shared by the local delivery boy, Sven Laarson, however. He arrives with a package of eye-catching underwear and additional items of kink, but doesn't so much as appear to raise an eyebrow at being greeted by a semi-naked Bodman in a state of heightened excitement! Nor does he show even the slightest glimmer of surprise when his client first invites him to don some of the newly-arrived inventory, then begins to strip him out of his cycling-shorts and pants.
Quite evidently this is exactly the kind of welcome that Bodman extends to all his delivery agents; and as if to prove it he's soon allowing Laarson to unburden his badly swollen dick from his zipper, whereupon the delivery-boy proceeds to feast and slurp on all the thick, meaty salami on offer. It's a move that's soon being reciprocated, culminating in the two beauties indulging in a splendid session of top-to-toe fellatio; before Laarson finally works his way onto Bodman's lap and promptly starts to ride his fuck-buddy's love-bar for all that he's worth. Talking of reciprocation, it's not too long before the lads are switching roles – this time Laarson slamming his pal from behind, then finally splattering Bodman's ass with jizz. A move that's only overshadowed by Bodman squirting a fine wad of spunk all over Laarson's face!
Scene 4: Full-On Bareback Flip-Flop Fuck Proves To Be An Untraditional Interview Technique!

Cast: Johny Cruz and Tom Crua
Also available: Donkey Dicks 6 (Compilation Gay DVD)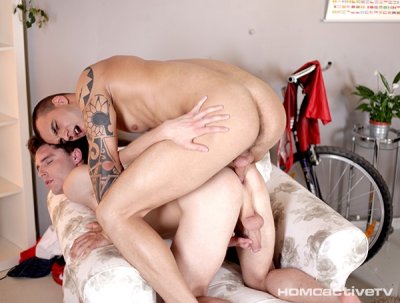 He'd probably deny it, of course, but young Johny Cruz is clearly in awe of his would-be courier from the moment that hunky Tom Crua walks into the office for interview – and who the fuck can blame him? The tattooed stud is a natural work of art in every single sense; and having taken the time to find the muscled beauty new work clothes, Cruz is then (understandably) hell-bent on getting Crua back out of them! An ambition which he achieves with incredible speed, it has to be said. As a result, the horny German twink is very soon slurping up and down the length of Crua's swelling shaft; before our Czech hunk gives Cruz's dick an equally enthusiastic oral examination. It's at this point, of course, that you'd be forgiven for assuming that Crua – as the physically dominant of the two lads – will be promptly ploughing into Cruz's ass-hole for a highly energetic fuck! Such an assumption, however, is soon dispelled when exactly the opposite takes place – Cruz rimming his courier's ass-hole, then (in effect) making the fellow his bitch by thrusting every inch of his fabulous knob deep inside Crua's ass-hole!
It's a somewhat surprising turn of events considering the physiques of the guys involved, but the normal rules of nature are soon restored when the lads flip-flop positions and Crua energetically reams Cruz's hole in return. What ensues is a no-nonsense session of full-on, animalistic fornication that sees Cruz's ass-hole pounded like there's no tomorrow – ultimately resulting in copious quantities of pent-up jizz. In short, a scene that delivers in every sense!