Summary:
The art of massage gets a second kinky twist as another collection of hyped-up horny lads take the opportunity to rub down – not to mention rub up! – some of the hottest guys in the biz.
Mike James, Sam Williams and Arthur Kral join the delicious top-notch credentials of Shane Barret to ensure that no tight muscle goes unrelieved – big, uncut cocks included!
Whether the antics here are testimony to what goes on in private at your local masseur parlour is anyone's guess.
What we can say for certain, however, is that (once again) not a single inch of flesh fails to be de-stressed – or a single dick goes undrained!
Scene 1: Horny Masseur Gives Sam Williams A Total Body Rubdown – And A Hard, Raw Fuck!
Starring: Sam Williams, Shane Barret
Also available: As Big As They Cum (2 DVD Compilation)
Also available: Ball Busters (Compilation)
Shane Barret can do wonders with a scented candle and a silk scarf – as Sam Williams can testify after encountering the young masseur in this horny little episode. Not that either the candle or the scarf really get a look-in past the first few moments of the scene – Barret's attention having quickly become firmly fixated on his client's magnificent rump, which he proceeds to massage and manipulate like warm balls of dough. It's enough to make a grown man like Williams cry with pleasure; but matters only intensify when the fellow flips himself over to expose the thick, veiny shaft that he's had nestling beneath him all the time.
Needless to say, Barret's massaging skills from that point onwards centre very much on that said fabulous appendage; working it initially with his hands, but then very quickly with his tongue and lips. It's a fabulous display from the youngster, that's for sure, and it's no small wonder that it soon works the older fellow into quite a frenzy. Hence it's no time at all before the two are 69-ing away like a couple of desert-dogs on heat – Williams eagerly rimming his buddy's ass-hole in the process.
Not that it's Barret's fuck-hole that's destined to get the prime attention, however. Instead, prepare yourself for the sight of Williams riding the masseur's pole like there's no tomorrow, and getting his ring massaged good and proper (not to mention whitewashed!) in the process. No question about it, this is a fellow who literally gets every inch of his body rubbed in this escapade; climaxing in him creaming Barret's face for good measure!
Scene 2: Hot, Hung Masseur Rubs Down Every Hard Inch Of A Very Eager Cute Newbie!
Starring: Arthur Kral, Ivo Thomas
Also available: Let's Play With Arthur Kral
So let's be honest, if Arthur Kral walked into the room you were sitting in and offered you his massaging services, would you turn him down? No, thought not – and neither (unsurprisingly) does Ivo Thomas when the young lad experiences that said turn of events. In fact, Thomas gives pretty much the kind of response to Kral's arrival as any red-blooded gay man would give – jumping up onto the massage board with all the eagerness of a doe-eyed pup and allowing the masseur to rub whatever parts of his body take his fancy.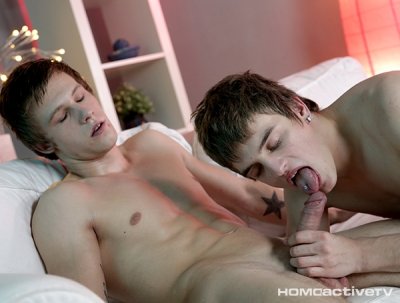 In fairness, it's an offer that Kral doesn't immediate respond to, choosing to massage Thomas's back rather than any erogenous zones. But given that Thomas is laid out in just a jockstrap, with his pert, rounded ass stuck out for all the world to see, it's no surprise that Kral's professionalism is soon put directly to the test. Needless to say, any notion of restraint is very quickly pushed aside, as Kral makes a bee-line for Thomas's cock and smothers it in massage-oil. It's a move that signals a green light for both parties to indulge in a full-on session of cock-sucking and ass-rimming – not your everyday massage techniques, admittedly, but definitely the kind that our horny fans are gonna want to see in close-up detail!
And director John Smith doesn't let us down; as Kral uses the oil to get his ramrod firmly embedded into his client's hungry little ass-hole. What follows is a simply terrific display of man-on-man fornication, with Thomas riding every inch of Kral's knob in a succession of positions; before both lads spew like a couple of sperm whales, then sink, sweaty but contended, into the spunk-stained sofa!
Scene 3: Fresh-Faced Twink Gets His Muscle Rubbed & His Ass Stretched By A Horny, Big Dicked Masseur!
Starring: Kevin Tod and Mike James
Also available: Big Fat, Thick & Juicy (2 DVD set)
There's no denying the contrast between these two horny fuckers – Mike James, with his tall, handsome, hunky physique, and Kevin Tod, who's visibly inches shorter and very much a pert little twink. But it's this very difference that makes for a decidedly kinky massage session between these fellows, with Tod quite literally little more than putty in James's manly hands. Not that the youngster appears to be complaining as his buddy works his magic. Quite the opposite, in fact – particularly when James reaches the lad's sweet little ass, which he very quickly proceeds to smack and finger with eager relish.
It's a turn of events that clearly has a distinct effect on Tod, who flips over to reveal quite a magnificent boner – a feature that a guy like James is never going to be able to ignore in a million years! So it really comes as little surprise when the fellow is immediately giving Tod's rock hard shaft a badly needed workout; eagerly oiling its length, then energetically feasting on the rampant beauty. Not that Tod appears in any way less of a carnivore when it comes to gorging on fresh meat, as the ensuing session of 69-ing only serves to underline.
Indeed, given the way that the fine-featured cherub proceeds to take every last ass-pounding centimeter of James's unforgiving ramrod, any doubt anyone might have had to this boy's dick-crazed potential is quickly laid to rest. A fact that's underlined by the manner with which he squirts like a trooper and then concludes proceedings by taking a full wad of cream in the mouth! As massages go, it's definitely one to remember!
Scene 4: Two Massage-Lovin' Twinks Take Time Out To Bust Their Nuts On An Open Fire!
Starring: Boris Orla, Richie Hajek
Also available: Big Boys Don't Cry (2 DVD Compilation)
Who can resist the allure of an open fire? Not Richie Hajek, that's for sure – a cute young fellow who takes his admiration of the naked flame to a whole new level by lying before it wearing just a skimpy thong! What's more his pleasure is further enhanced by the arrival of Boris Orla, who doesn't seem to take so much as a breath before beginning to energetically massage Hajek's back. Not that it's just the youngster's back that interests this hyper-keen masseur – as soon becomes all too apparent. No, Orla's soon giving his buddy's backside an equally vigorous rub-down; before flipping the lad over and providing the same kind of zealous massage to Hajek's front.
Clearly not wishing to be the only one getting all the fun, however, Hajek is very soon returning the compliment; oiling Orla's muscular frame and (either accidentally or on purpose!) exposing the fellow's handsome, uncut dick in the process. It's a move that can clearly only ever have one outcome, of course; and before you know it both guys are splayed out on the floor, stark-bollock naked, giving each other the kind of pleasure that every horny man dreams about.
So forget about the idea of a romantic foray on a rug in front of a fire, guys. This is a full-on, no-holds-barred round of cock-sucking, ass-rimming, butt-banging fun, which ultimately sees Hajek take Orla's dick up to the balls! And geez does this lad handle the onslaught like a master; riding the shaft pro-style, before Orla rewards the lad's pucker with a fine blast of jizz. That just leaves Hajek to sign the performance off with his own creamy climax!