Summary:
Robin Snoyer is the eponymous pretty boy, whose youthful lust for hard, throbbing cock and fresh, sticky cum serves as the focal point for a no-holds-barred suck-and-fuck-fest that'll have you jerking like fury.
Before that sticky climax, however, cums an array of equally pent-up talent, all desperate for dick and the taste of jizz.
Believe us, if you like cute boys with spunk dripping from their open mouths and asses then this totally moral-free escapade is for you!
Description / Review:

Scene 1: Horny Boyfriend Arrives Home To Give His Lover The Fuck Of His Life!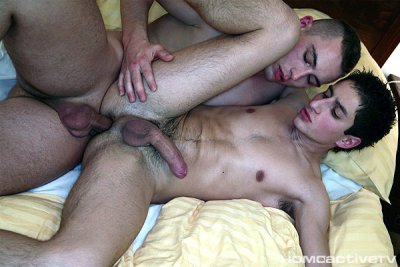 Being alone isn't much fun – particularly when you're missing your boyfriend as badly as young Daniel Wood is at the beginning of this scene. Fortunately, a knock at the door changes the situation completely, with the longed-for arrival of Marty Love marking the start of a stupendous sex session that'll have you reaching for your cock even before the chiselled Love has carried Wood off into the bedroom! Wood, for his part, can't wait to be sitting down on his partner's smoothly-shaved cock; and a richly prolonged 69-ing session between the lads only adds to the anticipation. By the time the moment finally arrives, Wood's like an animal on heat, taking every inch that his muscle-bound boyfriend has got to offer. A slightly creaky headboard either adds or detracts from the action (dependent on your point of view) but there's no denying the sexual appetite here on display – neatly summarised by the generous squirts of jizz that both guys ultimately produce. In short, a romantically-inclined romp that does boy boys credit and which will have you dumping a load (or two!) for sure.
Scene 2: Drunken Student Takes Every Inch Of His Mate's Mammoth Dick For A Ride!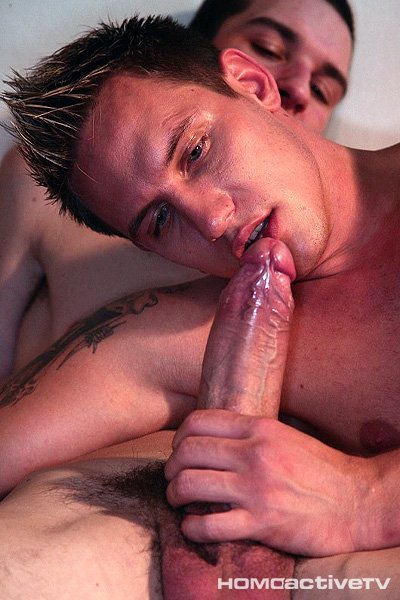 Students drink too much – but that's hardly a revelation! Sometimes, however, they drink so much that all their usual inhibitions get forgotten and they start doing things like making moves on their room-mates. Why it should take alcohol to get Alex Grander to make a pass at Caleb Moreton is anyone's guess, mind – after all, with the sort of monster cock that Moreton has packed between his thighs, you'd have thought that Grander would've made his move ages ago! Still, some boys need a little Dutch courage; and, having woken his friend in the hope of a little hardcore action, soon discovers that his lusts are very much reciprocated. Cue a stunning session of nocturnal cock-sucking that eventually results in Grander impaling himself on his mate's mammoth member. It's a sight that'll bring tears to your eyes and a great deal of blood to your crotch; as the horny hunk writhes and grinds his way towards ecstasy. It's not long before the fellow has dumped a grand load of jizz over his own belly; whilst Moreton's engrossed shaft spews into his ass to produce a mega-sticky crescendo!
Scene 3: Wanna Sleep? Not Until You've Given Us A Spunk-Coated Spit-Roast, Pal!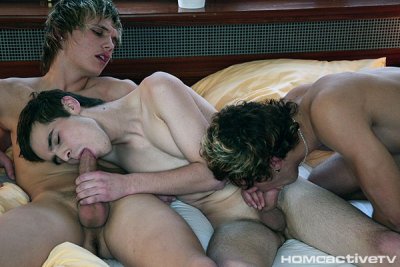 Young Jack Walsh is a seemingly reluctant playmate. Truth is he'd rather be sleeping than responding to the attentions of the two Coxes, Nikolas and Nell – who, incidentally, are not related. Mind, they do share a couple of traits, it must be said. Firstly, they're both as hot as fuck; and second, they're each doggedly determined to make the most of Walsh's firm, youthful body and won't be happy until they're ramming their big, throbbing shafts down his throat and up his ass! With respect, it's a situation that their winsome companion clearly comprehends, as he finally throws back the duvet in acceptance of their attentions; and before you can say "Holy Threesome" the lads are all sucking away at each other's dicks like there's no tomorrow. Neither of the Cox boys are gonna be truly happy, however, until they've got Walsh banged up in an ardent spit-roast – an ambition fulfilled in the scene's second half, as the hungry bottom's last reservations are ruthlessly stripped away by his assailants. Victory obtained, it's simply a case of underlining their achievement by splattering the entire contents of their balls all over Walsh's pretty little face! Magic!
Scene.4: Horny Voyeur Gets The Chance to Give A Hot Hunk's Cock A Hard Ride!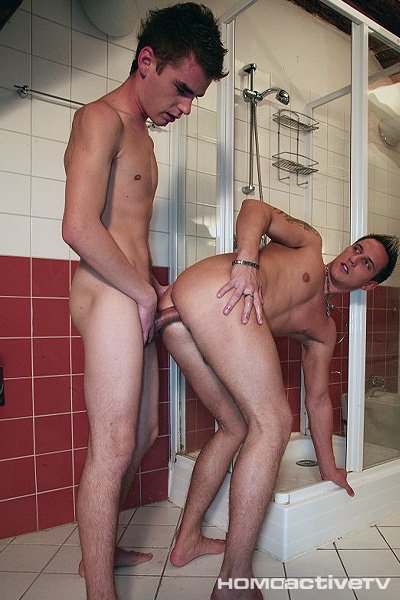 There's a name for people who secretly watch other folk taking their ablutions, but given that in this instance it's the gorgeous Alex Grander playing the part of "Peeping Tom" we'll overlook such negativity. Indeed, there's something undeniably hot about the fellow stripping out of his leather trousers and jerking his big, fat cock whilst young Peter Till takes a shower, blissfully unaware of his admirer. That particular situation doesn't last for long, however. Grander's never been the sort of guy who can resist the sight of fresh flesh, and it comes as no surprise when he makes his move. After all, by this point he's literally gagging to give Till's generous rod a real hard ride – a wish that (as it turns out) Till is only too happy to fulfil. The stage is set, therefore, for a sweaty, ball-banging session between this fabulous pairing, that only comes to a conclusion when Till can take no more and proceeds to dump a fine wad of cream over Grander's face. Pride of place goes to Grander himself, however, who shoots a wad over Till's face with such ferocity that it very nearly blinds the boy!

Scene 5: 'Innocent' Birthday Boy Gets The Fucking Of His Life In The Orgy Of Your Dreams!

Cast: Robin Snoyer, Nick Gill, Toni Wall, George Michael, Luis Bigdog
Also available: Offered (Gay Compilation)
It's Robin Snoyer's birthday – and the moment you've all been waiting for, as a collection of some of the horniest studs and cock-sluts in the Czech Republic gather for the sort of party that most of us will only ever dream of! Beginning with a magnificent threesome (featuring Snoyer, Nick Gill and Toni Wall) which is almost an unforgettable scene in itself. As it stands, however, this superb session of cock-sucking and ass-fingering is merely an introduction to the main action to come; with the arrival of half-a-dozen other horny guests (armed with birthday cake) marking the onset of a truly spectacular orgy that'll have you working the rewind button to the point of breakdown!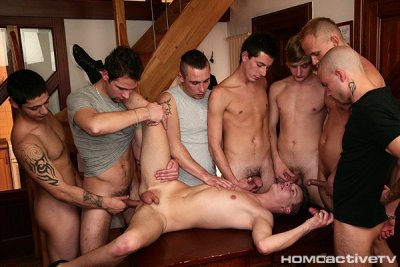 Centrepiece to the action, of course, is Snoyer; a young cutie who looks as wholesome and innocent as a slice of apple pie, but whose antics in front of camera soon prove that he's anything but. He's certainly a big hit with the likes of George Michael and Luis Bigdog, who have to take turns to thrust their hard cocks into every orifice that nature has given the boy; culminating in a frenzy of cum-shots that leave Snoyer's face coated in load after load of hot spunk! In short, it's total filth from beginning to end – and you dirty fuckers are gonna love every single second!!