Staxus is the home of European gay porn raw entertainment - their gay dvds feature the hottest bareback action around. Euro twinks and UK twinks open up their tight holes in the most intense range of hardcore gay xxx dvds.

Brief Encounters - Gay DVD - Studio: John Smith

Those of a certain – shall we say, mature? – age might be forgiven somewhat for anticipating a lovelorn tale of repressed emotions, but believe us when we tell you that there's nothing romantic about this bunch of sexed-up beauties. In fact, all they're interested in is the next hard fuck. Fortunately, they're surrounded by a gang of horny fuckers (Yuri Adamov, Shane Barret, gorgeous STAXUS exclusive, Victor Diamond et al) with exactly the same mind-set.
Close Cut - Gay DVD - Studio: John Smith

One thing's for sure, you can take a Czech boy anywhere in the world – in this case the Caribbean – but he'll still be a Czech boy. In other words, he'll still be a complete and utter bitch for cock! As this group of hyped-up lads from Prague prove time and time again as they trawl the Dominican Republic for the hardest, horniest action that the natives can provide. Mike James, Jaro Stone, Sven Laarson and new-boy Carl Ross prove that when it comes to creaming those dicks, there's no-one to touch the dudes from the STAXUS slut factory!
Dreams Can Cum True - Gay DVD - Studio: John Smith

All of us have our dreams, both big and small. Often those dreams come to nothing; but sometimes – just sometimes – they blossom into reality. And like us, the STAXUS boys have their dreams too. Dreams of big, uncut cocks and heavy cum-filled ball-sacs and hungry, pert asses that just long to be filled! Fortunately for Mike James, Kris Wallace, Yuri Adamov et al, this is one dream that we've been able to turn into reality.
Shoot This - Gay DVD - Studio: John Smith

When you're as fucking gorgeous as this bunch of over-sexed beauties, it's only natural that the camera's your very best friend. Indeed, spending time in front of the lens is almost like breathing to these lads – and geez, aren't we the lucky ones to enjoy their flawless features and their big, fat, uncut cocks!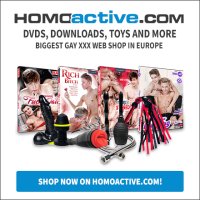 As well as offering a huge range of Gay DVDs and downloads, Homoactive stock a large range of quality gay adult sex toys and accessories including Masturbators, dildos, Cock rings, cock sheaths etc as well as an ever popular range of lube and condoms etc.
Brands include Dinoo, Lingox and Zizi gay sex toys.
Shop now at: Homoactive.com
See also: www.gayadultshops.co.uk