Alpine Sex Party - Gay DVD - Studio: Blöc

Young cute European studs in action scenes so hot, they will melt the alpine snow in no time! There are some great cum shots and long dicks in this. There is something about winter sports and Eastern European fit men that kind of make you feel horny, even before you take the DVD disc out of its sleeve, I don't know why, but there is!....
Blader Boyz - Gay DVD - Studio: Blöc

Sexy as fuck Twinkie, Eastern European smooth young studs, roller blade their sexiness into each others tight eager fuck cracks. The sex and the lads are so horny throughout
Cockpit Cum Boys - Gay DVD - Studio: Blöc

Being in the cockpit has never been more fun, as Cameron and Dominik show us in real hardcore action. Full of horny group sex including a great smoking scene and voyeur, there's much more fun to be had on the ground than in the mile high club!
College Cockhounds - Gay DVD - Studio: Blöc

All the action is outdoors, all the guys are toned and gorgeous and all the sex is hot. Another great young stud sex flick from Blöc which is two hours long and filled with fabulous dicks and edible asses!
College Cumfest - Gay DVD - Studio: Blöc

An excellent film, the fucking, kissing and cock sucking are very good all the way through and when the faces, bodies and cocks are as hot as the sex, you can't go wrong!
Factory Fuckfest - Gay DVD - Studio: Blöc

Smooth stunners covered in cum! With hardcore fucking & young guys spunking all over each other, this film lives up to it's name. Workshop and outdoor sex throughout, you'll be throbbing along with the stars as they pound tight holes and suck huge cocks.
Relax - Gay DVD - Studio: Blöc

Two steamy hours in the sauna with nine horny sporty boys, who can't keep their hands off each others cocks. Plus a blond bodybuilder who licks up his own cum.
Rough Rollers - Gay DVD - Studio: Blöc
In a DVD overflowing with intense, hardcore 3-way action, eleven of Corbin Fisher's hottest guys fill the screen with ripped muscles, hard cocks, hungry asses, and gallons of cum!
Sleazy Riders - Gay DVD - Studio: Blöc

These horny European biker lads get sleazy in a spunk filled series of exploits. Two young lads are skinny dipping in the river, their youthful bodies glistening in the water. They lay on a rock to sun bathe their naked bodies, and their kissing and cuddling turns into cock sucking.....
Summer Sex Camp - Gay DVD - Studio: Blöc

Eight beautiful, young teenboys - some looking very young - along with a couple of young studs, in 8 gloriously hot, outdoor scenes. Big uncut cocks and loads of sloppy spunk!
Ball Bangers - Gay DVD - Studio: Blöc
Leo Cooper, Genadij Porkov and Eugen Procci lead a stellar cast of horny Czech fuck-buddies, who can think of nothing better than to suck, wank and fuck on an almost continual basis. Whether they're home-alone in the shower, playing out on the piste or taking a ramble in the countryside, these boys just can't get enough of thck, uncut cock...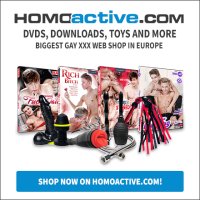 As well as offering a huge range of Gay DVDs and downloads, Homoactive stock a large range of quality gay adult sex toys and accessories including Masturbators, dildos, Cock rings, cock sheaths etc as well as an ever popular range of lube and condoms etc.
Brands include Dinoo, Lingox and Zizi gay sex toys.
Shop now at: Homoactive.com
See also: www.gayadultshops.co.uk