Summary:
The Holy See was unavailable for comment, but we've a sneaking suspicion that the guys in the Vatican are gonna relate to this second round of sordid antics from the hottest, horniest bunch of clerics this side of the Sistine Chapel! Not least of all the splendid Sven Laarson double-penetration climax in the final scene. Brad Fitt and the inimitable Dick Casey lead an all-star, donkey-hung cast of priests, monks and dirty-minded member's of the God Squad for a no-holds-barred crescendo of hard cock, pert ass and pent-up spunk!
Description/ Review:

Scene 1: Flip-Flop Priestly Fuckers Take Love Of Man To A Whole New Cum-Bustin' Level!
Cast: Salvatore Salvi, Tobias Mose
Ever one to demonstrate his sacrificial love for his charges, Father Salvatore Salvi takes full advantage of young Tobias Mose's early morning arrival to show that he's not just a man of words. Indeed, when this fellow says that he loves his fellow man he's more than ready and willing to put such sentiment into hard, physical action. As a result, it's no time at all before the fellow has bundled the fresh-faced Mose onto his bed and has pulled the youngster's handsome, uncut shaft out of his cassock – signalling the start of a terrific, energetic blow-job that perfectly sets the scene for the hardcore action to follow.
The truth of the matter, of course, is that Salvi just can't wait to engage in a totally unrestrained set-piece with his blond-haired underling, and before you know it the two guys are outstretched top-to-toe giving each other the kind of oral workout that's the very stuff of daydreams. It's clear even at this point, however, that there's an unsatisfied urge in the older cleric's mind-set, and that it's only a matter of time before Salvi is giving Mose a first class, no-holds-barred ass-stretching!
Ever the romantic, however, he doesn't achieve his goal without first enthusiastically rimming the young lad's ass-hole – preparing Mose's pucker for the energetic stretching that he's clearly got planned. That, however, is only half the story. Having rigorously fucked for all he's worth, it's a case of roles in total reverse as he takes every inch that his buddy can muster; before allowing Mose to blast a fine volley of cream all over his face, coating his goatee in the process. Magic!
Scene 2: Spit-Roasting Clerics Get Down & Dirty For An Ass-Stretching, Cum-Pumping Threesome!
Cast: Felix Webster, Troy Stevenson, Will Sims
Also available: Bareback Butt Stretchers 3 (2 DVD set)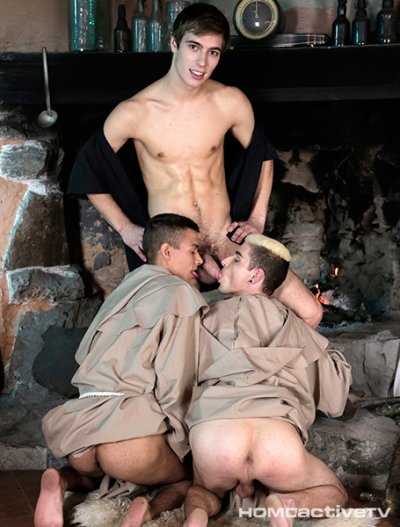 Reading scripture may not be everyone's idea of a fun night in – and let's face it we can think of one or two things we'd rather be doing – but given young Felix Webster's reaction to the task in the opening moments of this terrific threesome maybe more of us should consider taking it up. After all, both Troy Stevenson and Will Sims are clearly deeply affected by their fellow spiritual's fireside litany – promptly crowding in on the lad in order to kiss and smooch with almost religious fervour, and in the process signalling the start of an impassioned foray of cock-sucking that'll surely have you tugging on your own cock in no time at all! The fact, of course, is that all that apparent priestly abstinence has left this trio of horny buddies feeling like a pack of dogs with two dicks, and it's really no surprise that they're soon taking turns to slurp on whatever hardened flesh they can get their mouths on.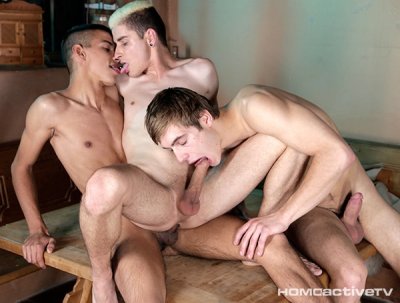 But for all the unquestionable delights that such oral adventures can offer, nothing's really going to satisfy these guys until they've engaged in some good old-fashioned red-raw sodomy – the kind that priests the world over are renowned for! Cue the insatiable appetite of Webster's eager little ass-hole, which is soon taking every inch that his mate's can muster – first by being spit-roasted by Sims and Stevenson, and then by taking turns to ride both fat schlongs for all they're worth. Irreverent it may be, but it's little wonder that none of these boys are able to hold back for long. As such it's no time at all before the spunk is flying in all directions – as, no doubt, will yours in response!
Scene 3: Two Horny Clerics Discover Nirvana In A Red Hot Flip-Flop Fuck!
Cast: Dick Casey, Sven Laarson
The path to spiritual enlightenment can be a long and winding one – as Dick Casey and Sven Laarson discover (quite literally) in the opening moments of this terrific coupling. But whilst a brisk autumnal walk can be uplifting to the soul, it doesn't for one minute compare to the joy that can be gained from some hard-hitting ass action – and, let's face it, that's exactly what these two horny twinks have got in the mind from the start.
As such, it only takes Casey the most casual of glances to tease the priestly Laarson away from his study of scripture; and before you know it the two sons of the Church are enjoying some intense studies of human biology, as they take turns to suck on each other's hard dicks like a pair of over-sexed honchos. Laarson, in particular, can't seem to get enough of Casey's handsome ramrod; though it's not too long before the fellow has worked his attention towards his mate's hungry ass and is giving Casey the kind of full-on rimming that we arguably don't see enough of.
A few moments later and the fellow is pounding Casey raw; before the two guys go for a much-welcomed flip-flop so that Laarson's own pucker can get to feel some of the love in that room! Eager to experience another rush, however, Casey's soon repositioned himself onto his God-buddy's dick, riding its length like nature intended. No fucking wonder that both boys are soon squirting like geysers – Casey all over Laarson's face and Laarson over his own belly. Fuckin' fantastic!!
Scene 4: Brother Laarson Gets Two Cocks Up His Ass Before Getting His Face Splattered With Jizz!
Also available: Double Dick 2 (Compilation Gay DVD)
Cast: Brad Fitt, Darryl Declan, Sven Laarson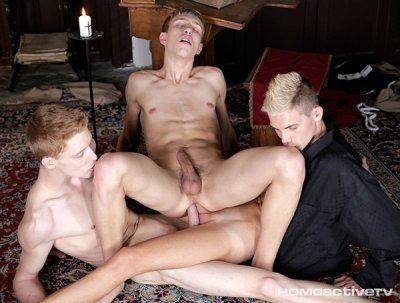 No disrespect to the individual talents of Sven Laarson and red-headed beauty, Darryl Declan, but we've a sneaking suspicion that it's the arrival of Brad Fitt half-way through this magnificent scene that most of our fans will regard as the real start of proceedings. And whilst we're not trying to distract from the climax to the set-piece – which involves Laarson getting ritually double-penetrated for your unrefined pleasure – that's something of a shame. For Declan's oversized dick is worthy of adoration all on its own; and the way that Laarson treats it like some sort of religious icon, slurping on its fine length and then taking it up the rear down on the floor, is enough in itself to get most of our fans knocking out an appreciative load or two. But admittedly this performance is always going to be overshadowed by what takes place once Fitt discovers the two young novices rutting on the carpet. Instead of the expected admonishment, the more senior cleric immediately joins in the fray, and before you know it Laarson is taking two cocks up his ass with such ease that it's almost frightening. No question about it folks, here's a fellow who really knows how to play the slut, sitting on those shafts simultaneously and riding the resultant double-dicked phallus like he was born for the task. By the time Fitt and Declan have finally relieved their knobs by jerking all over his face and Laarson has worked out his own pent-up load over his belly, there's a risk your balls will have ruptured in excitement!