Summary:
Maybe it's all the hot, naked flesh that's on offer, but there's no denying the fact that spending time by the pool sure makes our boys horny. That's excellent news for our legion of cock-crazed fans, as the likes of Yuri Adamov, Sven Laarson and Brad Fitt head for the water to engage in a stunning succession of waterside set-pieces, culminating in a 5-man suck-and-fuck-fest that'll blow your balls!
So unzip, strip off and dive straight on in – the water's lovely and the boys are rock hard and aching to unload ...


Scene 1: Sexy Locker-Room Jock-Play Gets Two Well-Horned Beauties Ready To Fuck Raw & Jizz Big Time!
Starring: Sven Laarson, Yuri Adamov
Blond beauty, Sven Laarson, is a canny young thing. After all, he seems to know instinctively how to get his locker-room buddy, Yuri Adamov, in the mood for some hardcore action – and it involves nothing more than a new pair of pants. Okay, so they're not exactly your everyday kind of underwear; but just slipping into them quickly gets Adamov into a highly charged state, and Laarson makes the most of it straightaway by promptly rimming his mate's exposed ass-hole!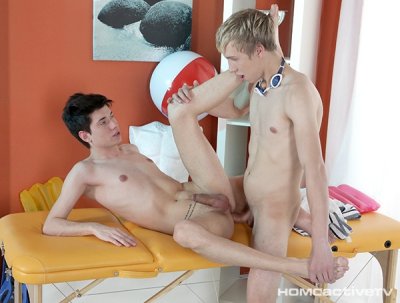 Unsurprisingly, this rather impromptu introduction gets the dark-haired cutie into an even more aroused condition than before; and it's not at all long before both youngsters are taking turns at slurping on each other's thick, uncut boners for all they're worth. Adamov, in particular, is clearly feeling the urge for meat big time, feasting on the full length of Laarson's ramrod; before Laarson returns to what appears to be his favourite pastime and gives his pal's pucker yet another generous tonguing. All this, however, is merely a preparation for the hard fuck that we all know by this stage is very much on the cards for Adamov's hole; and it comes as no surprise at all to see Laarson bundle the hot, horny bottom over a massage table in order to mount that tight, quivering ass!
What's more, the nature of Adamov's new jocks is such that he doesn't even have to take them off to get buggered – though by the time he's ready to shoot they've long since disappeared. Still, at least that means there's no danger of them getting soiled when Laarson rewards Adamov with a creamy, full-on facial!
Scene 2: Twink-Time Fun In The Jacuzzi Leads To A Hot Fuck & Oodles Of Fresh Boy-Juice!
Starring: Chase Hunt, Mike James
Also available: Bareback Rookies, Playtime
Also available: Sporting Monsters (2 DVD Compilation)
It's no fucking wonder that cute twinks Chase Hunt and Mike James are feeling as horny as fuck. For one thing, of course, they're both hot guys who are at an age when they're quite unable to think of anything other than hard cock and tight ass! For another, they've spent time in a Jacuzzi together – and most of us know from personal experience how those bubbles can leave you feeling hyped-up and quite literally ready for anything.
So it's no surprise whatsoever to see both these guys stripping out of their briefs in pretty much the first thirty seconds of this stupendous, cock-creamin' episode – which naturally leads to a great deal of eager dick sucking and even a bit of ball play courtesy of Hunt's lanyard! Soon both lads are laid out top-to-toe and engaging in a fine display of mutual fellatio; but it's James who's got the real horn for raw dick, and before you know it he's laid out with his legs akimbo openly inviting his buddy to thrust inside him. An invitation, it has to be said, that a guy like Hunt is never gonna refuse in a million years!
Cue a fantastic show of man-on-man rutting that's almost certainly going to push you to the edge more than once; culminating in James riding Hunt's swollen shaft cowboy-style in an apparent bid to enjoy the maximum penetration possible! And who can blame him? When you're as horny as this boy it's hard not to act the animal, and we doubt it'll come as a surprise to anyone when he blows his wad into Hunt's open mouth. Leaving Hunt to wank out his own fine spray of pent-up boy-juice all over his finely defined abs!
Scene 3: Chase Hunt Steps Out Of The Pool & Buries His Dick Deep Into His Blond Pal's Pert Little Ass-Hole!
Starring: Chase Hunt, Sven Laarson
Also available: Donkey Dicks 6 (Compilation Gay DVD)
We're not exactly sure why Chase Hunt insists on wearing a head-cap when he swims – he's got cropped hair, after all – but maybe it's something his mother drilled into him when he was growing up. Fortunately, it's a fashion accessory that quickly gets tossed to one side when the youngster steps out of the pool to hook up with blond fuck-buddy, Sven Laarson – a fellow who clearly doesn't see the point in unnecessary attire given the speed with which he proceeds to slip out of his speedos just a few moments later.
Of course, it's a dangerous – some might say astute – move by Laarson given Hunt's penchant for dick, and it'll come as no surprise when we tell you that Hunt soon responds by getting his hungry, young mouth firmly wrapped around blondie's swollen bell-end! Does Laarson object? Does he fuck! Instead, he lies back on his poolside lounger and savours every tongue-slurping, tonsil-chapping moment of the ensuing fellatio; before graciously returning the favour a few minutes later on Hunt's engorged knob. But what Laarson really wants – and what we want to see! – is a good old-fashioned ass-stretching!
Well, there's no fear of disappointment here, that's for sure, as Hunt promptly proceeds to plough into his young mate's pucker – egged on, no doubt, by Laarson rimming him just a few moments before. The result is a full-on, arse-pummelling coupling that'll have you pumping in no time at all, as both boys go hell-for-leather in the quest for their next legal high! All culminating in Laarson dousing his tightly pent-up wad all over Hunt's cute face!
Scene 4: Scorchingly Hot Jacuzzi Threesome Turns Into A Five-Dicked Suck-&-Fuck-Fest!
Starring: Brad Fitt, Jace Reed, Mike James, Ryan Olsen, Sven Laarson
There are always those who complain that the youth of today are obsessed with sex and have absolutely no morals – to which we reply, thank fuck! Otherwise we wouldn't ever get to produce seriously hot escapades such as this five-guy Jacuzzi suck-and-fuck-fest, and you horny wankers wouldn't get to enjoy them! Seriously, we defy anyone who enjoys gay porn not to get totally carried away by the antics here, which includes pretty much everything that you could ever possibly wish for. A horny threesome, some terrific spit-roasting, an almost unbelievable pile-fuck, and copious quantities of jizz – which you'd no doubt have good reason to expect given that there's five pairs of balls to relieve at the end of the scene – are just some of the breathtaking highlights as Mike James, Sven Laarson and Ryan Olsen are joined by Jace Reed and Brad Fitt for a watery manifest of man-sex at arguably its very best.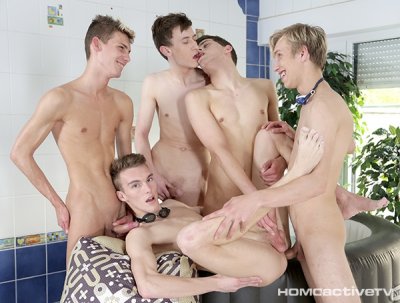 Indeed, if the sight of these five lads rutting like a pack of horny bitches in season doesn't get you reaching for your zipper and tugging on your dick then may we respectfully suggest that the time has probably come for you to give up watching hardcore action so that you can concentrate on alternative pastimes – knitting, perhaps, or walking the dog!
Jokes aside, we predict spunk stains aplenty as ass after ass gets stretched to the max by raw dick, culminating in a circle wank and a terrific geyser-like eruption from every boy on-set. No question about it, this is gold-standard adult-only entertainment that your aching cock will surely never ever tire of!