Summary:
Spring's here and the sap's rising, so it's no big surprise that the STAXUS boys are feeling in the mood for action. And where better to meet and mate with other hot males during the breeding season than in the sauna? What's more, with the likes of Carl Ross, Yuri Adamov and Sam Williams on the prowl, there's no shortage of possible mating partners for the likes of new boys Ariel Glutton and Pyotr Tomek, as well as STAXUS stalwart, Lukas Leung. No doubt about it, springtime in the sauna is gonna be hotter than it's ever been before ...

Scene 1: Hot Blond Buddy Fingers, Fucks & Creams His Room-Mate's Hole!
Cast: Cast: Ariel Glutton, Carl Ross
Also available: Fucking Blonds Have More Fun (Compilation)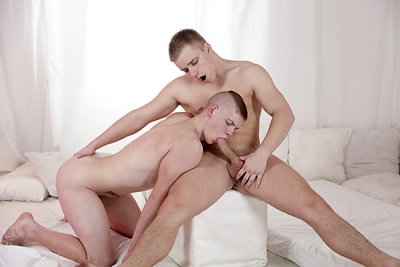 Those who watched (and no doubt wanked to) Carl Ross in the past will know there's always been a little bit of a mischievous side to the fellow – as clearly demonstrated here in the opening moments of this terrific set-piece with fresh-faced buddy, Ariel Glutton. The guy should be getting some shut-eye, but sleep is most evidently the last thing on his mind right now; and he promptly turns his full attention to Glutton, who's unconscious on the other side of the room. Not that the lad stays unconscious for very long, it has to be said. Before you know it, Ross has pulled back his room-mate's sheets and is fondly feasting on the meaty, uncut shaft that he discovers beneath. What's more, Ross' playfulness continues once Glutton has woken up and is responding to the provocation; as the two fellows teasingly snowball a heady mix of saliva and pre-cum between each other. It's crude, it's arguably tasteless – but geez, it's fucking hot!
What's more, the chemistry between these two blond beauties only continues to spark further into overdrive once Ross has positioned his buddy so that he has full access to his ass and can rim and finger that hungry little pucker.
A move that serves as a very fitting preparation for the wild, energetic session of fornication that's about to follow. Believe us, Ross doesn't hold back from pounding his pal like a dog on heat – Glutton gasping and groaning in response – and by the time he's creaming the boy's ass and fingering the cum into the hole you'll have bust your nuts for sure. As does Glutton himself – over Ross' sweet little face!
Scene 2: Horny Flip-Flopping Massage Results In Loads Of Jizz & Piss!
Cast: Leo Beast, Pyotr Tomek
Also available: Piss Me A River (Watersports Compilation)
Pyotr Tomek is fucking hot when he steps out of the sauna – in more ways than one! – but young masseur, Leo Beast, is a man who thinks he can help. If anything, however, the temperature in the room probably only increases once the fellow starts to work his magic on young Tomek's thighs; and the bulge of Tomek's erection under his massage towel only seems to underline the point.
Yes folks, these two lads are in heat real bad, and there's only one possible means of relief for either of them. It's something that new boy Beast appears to understand quite intuitively, diving down onto his buddy's handsome ramrod and teasing the crown with his tongue before taking it fully into his mouth. A move that Tomek himself is quick to reciprocate; before both pals lie down on the massage-table 69-style so that they can simultaneously feast on all the hard dick on offer. Just watching these two cherubs in action is surely more than enough to get most red-blooded viewers to the brink; but matters only intensify when Tomek finally turns his attention to Beast's tight little pucker, fingering it momentarily before energetically thrusting his hard shaft deep inside.
Never one to miss out on the pleasure that only cock can give, however, Tomek is soon insisting on role-reversal – passionately riding his pal's dick cowboy-style, getting off to suck it, riding it again, and repeating the pattern until his balls can quite literally take no more! It's a terrific, nad-busting performance; topped only by the sight of the two lads heading off to the sauna for a much-needed piss!
Scene 3: Cute Yuri Gets His Arse Banged & Creamed, Then Takes The Piss!
Cast: Pyotr Tomek, Yuri Adamov
Also available: Let's Play With Pyotr Tomek (Compilation)
If cheeky-chappy Pyotr Tomek was hoping for a quiet time in the sauna then his dreams are very firmly shattered the moment that Yuri Adamov sits down next to him! After all, we all know what Adamov is like when he thinks he has the chance of enjoying some hard, uncut cock; and the sight of Tomek in nothing more than a towel, his naked, tanned skin sweating in the heat, is enough to get the young, eager bottom into quite a heated frenzy! Fortunately for all concerned, there's a pool nearby to enable both lads to let off a little steam; but it's only the briefest of respites, and before you know it they've headed off to make the most of a nearby sofa in order to give each other deep, sensuous blow-jobs.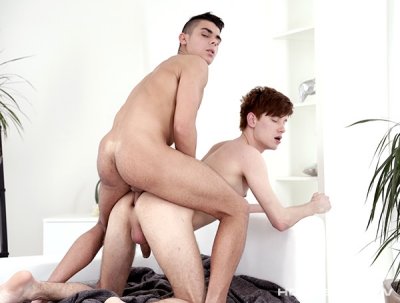 Of course, just watching these two beauties as they 69 each other could get most fans creaming off right there and then; but proceedings only intensify still further when Adamov finally succumbs to all temptation and plonks his arse down on Tomek's thick, rigid love-stick! Needless to say, this cute little slut is soon riding away like a consummate professional, his own dick standing proud as he does so; but, after unsaddling to give his buddy another good sucking, his performance becomes a lot more guttural when Tomek begins to pound him from behind.
What's more, the volume increases still further when he's banged from above – his arse stuck up in the air, enabling him to jizz into his own face whilst Tomek first whitewashes his hole and then sticks his sticky, gooey cock deep inside! The sight of Adamov being pissed on at the end simply serves as the cherry on the cake in a scene that's pretty much a born classic!
Scene 4: Hot-House Deep Throat Suck Leads To Torrid Cum-&-Piss Finale!

Cast: Lukas Leung, Sam Williams
Also available: Bigger By The Fucking Dozen (compilation)
Is Sam Williams being deliberately provocative when he visits Lukas Leung's sauna? Certainly he seems to go out of his way to openly flaunt his assets as he flits between the toilet and the hot-room – a fact that Leung cannot possibly fail to notice given that at one point Williams runs past the fellow with his meaty, uncut cock displayed over the top of his towel! It's enough to get even a devout celibate in the mood for action – and, as we all know by now, Leung ain't no fucking celibate! Indeed, he's soon marching in on Williams and getting down on his knees to feast on the fellow's ramrod – a move that doesn't seem to bother Williams in the slightest.
Then again, with the prospect of getting his equipment serviced by this over-experienced cock-whore, why would it? Mind, Leung isn't the only fellow here with a hyper-keen taste for dick given the manner with which Williams proceeds to deep-throat his buddy – literally bringing tears to his eyes – whilst Leung underlines his credentials as a total slut by replicating the show and taking his mate's cock right down to the root! It's a truly terrific act from both buddies; and the performance notches up a further gear when Leung eventually succumbs to temptation and allows Williams to thrust his dick up his ass.
It's a move that excites the horny bottom big time – at least if the gloop of pre-cum that drips from his jap-eye is anything to go by! – and his enjoyment only increases when he then rides Williams cowboy-style, creaming his wad as a result. But it's the finale cum-and-piss-facial that arguably makes this a classic!