Summary:
How much hard cock can you take up your arse? That's the question that this young fuck-buddies are all keen to answer, as another highly sought-after gang of STAXUS cock-magnets push each other to the extreme for your perverse – and yet very satisfying entertainment. And, as Joel Tamir and Michal Tovi are only too keen to demonstrate, sometimes one cock just isn't enough; as pert twink ass after pert twink ass gets stretched to the max by some of the biggest cocks in the biz. The result? Load after sticky load of hot, sweet, pent-up spunk!
Scene 1: Whale-Sized Wonder Gets His Pert Pucker Fucked Raw & Fisted!
Starring: Alex Whale, Joel Tamir
Cute blond twinks, big fat cocks, rimming, fisting, cum all over pretty faces – let's be perfectly honest now, what's not to like about this scene? For all such obvious positives, however, you might find the somewhat curious introduction – centring on an ancient Czech springtime fertility ritual – a little off-putting. It's certainly not your usual opening salvo in a STAXUS scene, that's for sure; but suffice it to say that it's literally only thirty seconds before attention has firmly settled on the two stars – Joel Tamir and mega-sized newbie, Alex Whale – as they kick back in the bedroom and start to enjoy the generous inches that they have clearly both been blessed with. And boy are you in for a treat, as the lads feast on dick in all its glory for your unadulterated entertainment; gobbling for all they're worth and clearly savouring the taste and feel of rampant man-meat.
If anything, Whale has the slight edge in size; but it's his horned-up buddy who ultimately provides the impetus to turn this wanton suck-fest into a rampant, no-holds-barred display of raw sodomy, as he first rims and then finally fucks his way to tight-arsed ecstasy. The sight of the blond-haired new boy receiving the banging of his life in a whole succession of positions is exquisite in itself; but things turn even raunchier when Tamir replaces his cock in Whale's arse with his fingers, and promptly proceeds to fist the fucker like an old-time pro. Given the ease with which Whale takes Tamir's onslaught, it's hard to view him as a noob to such kink; whilst a splurge of cum from both lads serves as a fitting climax!
Scene 2: Triple Trouble As Dirty Blond Gets Two Dicks Up His Ass At Once!
Cast: Beno Eker, Joel Tamir & Vittorio Vega
Life would be pretty bland without variety, that's for sure; so it's perhaps little wonder that Joel Tamir and Vittorio Vega like mixing it up with rookie STAXUS lad, Beno Eker. Sometimes Tamir cops off with Eker, sometimes Vega enjoys the fresh-faced boy himself; and sometimes the three of them get together for the kind of spunk-inducing trio session that's chronicled here. Given the lads' positioning at the start of the action, it doesn't take a detective to ascertain that it's Tamir who's destined to be the centre of attention; but first both he and his best mate, Vega, want to get to know new boy, Eker, and (more specifically) the rather handsome ramrod and lovely pair of low-hangers that he has stashed inside his pants.
Cue a deliciously sexy romp on the sofa that sees Eker getting his knob and sac slobbered over by his two mega-horny buddies; before Tamir and Vega enjoy a rigorous top-and-tail blowjob, whilst Eker uses his tongue to juice up Tamir's arsehole with his tongue in anticipation of the hardcore fuck to come. From which point onwards Tamir's hungry little pucker serves very much as the focus of the action; riding the new guy's shaft cowboy-style whilst Vega sucks him off, before finally sitting on both his buddies at the same time for the kind of unlimited, two-dicked fuck-fest that dreams are made of. Indeed, if the sight of a young twink getting his rump stretched to the max by a pair of thick, throbbing shafts is your kind of entertainment then you're in for a treat; topped off by a cascade of pent-up goo to make this a top notch scene to remember!
Scene 3: Ass-Hungry Gambler Dreams Up His Own Cock-Crazed New Boy!
Cast: Navon Raffi, Victor Vittu
What could be better than winning big on the roulette wheel and coming home with a handful of gambling chips? Well, what about getting a deliciously dreamy blowjob courtesy of some horny new boy, who really can't wait to get every meaty inch of cock on offer into his mouth? And that's exactly what's awaiting Navon Raffi after his gambling stint, as he dreams up the fantastically energetic rookie, Victor Vittu, for the kind of dick-crazed escapade that we know is gonna go down a storm with our legion of twink-obsessed fans. In truth, neither buddy appears able to get enough of the meat on offer, taking it in turns to perform oral duties on each other; before Vittu finally gets on all fours, parts his cheeks and allows his mate to rim and finger him to a cock-straining high. But if the young newbie thinks this will be enough to satisfy a fucker of Raffi's standing then he's in for a big surprise.
Truth is, Raffi isn't satisfied until he's balls-deep in the lad's tight little arsehole; pounding away doggie-style, before allowing the new boy to enjoy a bit of arse-to-mouth. It's no time at all, however, before the hot, raw fornication has resumed; with Vittu clearly so desperate for penetration that he quite literally rides his arse up and down that granite shaft whilst Raffi himself stands motionless behind him. Given the sheer intensity of the moment it's perhaps little wonder that Raffi is soon creaming his pal's pucker in sweet appreciation, sticking his cock deep inside to ensure the lad is dripping; before Vittu pops out his own sticky load of pent-up jizz into Raffi's tight-lipped mouth!
Scene 4: Gambling Lads Land A Hot Penalty Of Hard Dick & Oodles Of Jizz!
Cast: Charlie Keller, Connor Rex
Gambling can be a dangerous pastime – you should only ever gamble what you are prepared to lose. But it can also be wildly exciting, not least of all when the stakes are high and the adrenalin is pumping – something that Navon Raffi, Ron Negba and George Udall discover when they visit their local casino and place all their gambling chips against sexy croupier, Michal Tovi.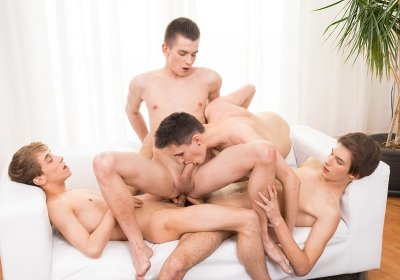 Playing "all in" on the turn of a card, they quickly discover that the penalty for losing the bet is to join their host for a no-holds-barred suck-and-fuck-fest on a nearby sofa. Of course, their loss is most definitely our gain, as an almost mind-boggling array of sexual gymnastics ensure; with the lads pairing themselves up for a near-desperate display of fellatio, gobbling away on dick like their very lives depended on it! For poor newbie Udall, however, such brazen wantonness quickly proves too much; jerking himself to a premature climax, and leaving Negba and Raffi to turn their keen attention to Tovi's pert little arsehole, which in this instance is has a clear craving for hard cock.
So much so, in fact, that the horned-up croupier is soon sitting on both dicks on offer simultaneously for the kind of double-penetration mayhem that our fans simply cannot ever get enough of. Cue the delicious sight of the lad taking both hard, throbbing shafts like the dirty little slut he obviously is; savouring the doubled-up inches and pushing everyone towards a very sticky crescendo in the process. And with a somewhat inevitable tsunami of spunk to top the action off, we doubt there'll be a dry cock-eye in the house as a result!