Summary:
The beautiful game gets the STAXUS treatment as a collection of filthy-minded renegades from the Czech football team indulge in a little extra-curricula activity. Including shower-time sucking, post-match pissing and a stunning double-penetration threesome that'll have you shooting into the back of the net in no time. Totally raw and utterly cum-sodden, these dirty pups know exactly what it means to get shown a red card – an early bath and an ass-load of prime cock!
Scene 1: Nick Kelson, Ben Rain and Julien Adagio
It's not unusual for fans to sometimes become a little obsessed with their idols, but even so young bottle-blond, Nick Kelson, takes his devotion to a whole new level when he decides to start jerking himself off whilst soccer stars Ben Rain and Julien Adagio enjoy a training session in the local park. Of course, this being the Czech Republic it's not long before Rain and Adagio have spotted their erstwhile supporter – whose hair strangely matches the colour of their strips! – and are taking full advantage of the horny beauty by forcing him to suck their swelling cocks.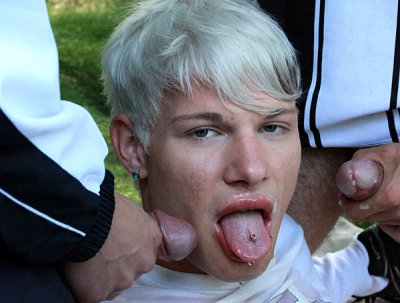 A few more moments on and Rain is sliding his thick, uncut ramrod deep into Kelson's unprotected ass, resulting in a superb outdoor spit-roast that'll have you tugging on your dick in no time. Clearly unwilling to be outdone by his team-mate, Adagio then promptly encourages the hungry bottom to sit on his shaft cowboy-style; before both lads take it in turns to hump him from behind. Little wonder that Kelson's soon spurting his load; before first Rain and then Adagio splatter the dirty bitch's face in cum and piss!
Scene 2: Mark Hitchman and John Parker
It's usually a groin injury that directors use as the traditional device to begin a locker-room porn coupling, but in this instance Vlado Iresch goes for an injured toe – one that blond bombshell, Mark Hitchman, is only too keen to thrust in stud-muffin John Parker's direction at the first possible opportunity. Parker, to his credit, is equally eager to respond, dabbling in a short session of sensual toe-sucking and foot-worship before offering his now grandly oversized knob in his team-mate's direction. The gift reciprocated, the two lads are soon engaging in a sordid top-to-toe sucking session that sees both cocks feasted upon simultaneously with unquestionable youthful relish.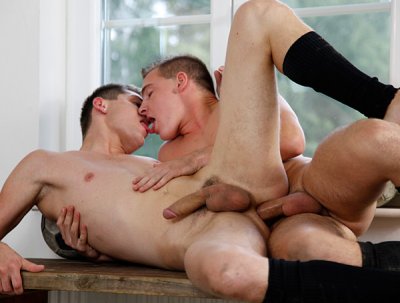 Ultimately, however, you can just tell that Parker won't be satisfied until he's forcing his own shaft into Hitchman's tight little ass; and having first rimmed and then pissed on the would-be bottom's pucker, the tattooed beauty is soon buried balls-deep inside Hitchman's guts. A stunning if somewhat brutal fuck-session ensues, concluded by Hitchman bursting mid-flow and Parker dumping a load right inside his ass!
Scene 3: Chad Rusler and Carl Baxter
We're not exactly sure whether the likes of Cristiano Ronaldo and Wesley Snijder are quite as intimate with their team-mates after a game, but suffice it to say that Chad Rusler and Carl Baxter simply can't wait to jump into the showers together once they've left the pitch. In fact, these two baby-faced twinks are like a couple of bitches in season once they've tossed their sweaty strips aside, with Baxter down on his knees to suck on Rusler's knob-end in a matter of a few seconds. What makes this scene particularly hot – besides the fact that both boys are divine – is the way that they grind against each other's bodies every few minutes, pressing their thick, swollen, uncut cocks up against crotches in the process.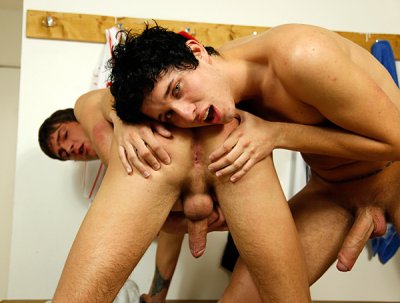 In the end, however, only a red raw fuck-fest is gonna satisfy either of them – or us for that matter! – and it's not long before Baxter's got his dick deep inside Rusler's pert little ass. Some fabulous bareback footage ensues; until Baxter spurts over his mate's ass, and then totally steals the scene by taking a full-on facial as Rusler erupts right down his thirsty throat!
Scene 4: Toby Dixon and Sam Brooks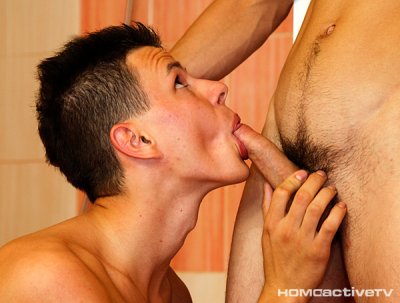 Everyone who's seen him in his previous titles knows that Sam Brooks is a dirty little whore, so it's perhaps no surprise that cropped-haired, fresh-faced beauty, Toby Dixon, should decide to take full advantage of the young slut when he steps out of a sauna and sees the lad taking a shower. The way Brooks works the shower-head on his own arse-hole just underlines how much the lad is gagging for action down there, and it's only a matter of seconds before he's down on his knees and deep-throating Dixon like his life depended on it. The boy is (as usual) insatiable, working his ass with his own finger when Dixon ultimately returns the favour and begins to blow him off in return. The truth is that this is one youngster who simply can't wait to have prime, throbbing dick deep inside him, and the fact that he's prepared to take it raw (at no extra cost, we might add) is most definitely the viewer's gain. The highlight here surely has to be the sight of him bouncing up and down on Dixon's lap – his cock flapping like mad in the process! – before both lads spew feverishly for the cameras.
Scene 5: Horny Team-Buddy
Cast: Francisco Ruck, Jack Cameron, Mike Cage
Also available: Piss Takers (2 DVD Compilation)
Blond stunner, Mike Cage, thinks he's scheduled to enjoy just the one cock when he hooks up with horny team-buddy, Francisco Ruck – but is he in for one hell of a fuckin' surprise! To be fair he's already well up for a hard fuck even before the gorgeous Jack Cameron enters the locker-room, but the sudden prospect of being the centrepiece of a hardcore threesome clearly thrusts the lad to a whole new level. And let's be fair now, why shouldn't it? Cameron and Ruck are two stunning individuals, and the thought of allowing them each to take turns to bang away at your ass is one that would float the boat for most guys! But whilst the scenario is destined always to be a fantasy for the rest of us, Cage get the once-in-a-lifetime opportunity to get fucked raw by both lads – and just to make it even hotter he even gets the chance to ride them at the same time like a cowboy! Believe us, this encounter is so hot it almost hurts – indeed given the size of the cocks in question it almost certainly did for Cage! – but the fact that Cameron and Ruck conclude proceedings by dumping spunk and piss all over the filthy bottom's face makes this a truly unforgettable romp!