Summary:
Some of the best Staxus scenes compiled on DVD!

When it comes to Ass Exposure, these gorgeous young men are more than willing to bare their pert, tight asses because it's a given that a hot tongue and inquisitive fingers will soon be exploring between their cheeks and delving into their twitching ass. Instead of riding their bikes, two sexy boys split the lycra and ride each other hard and raw, whilst three friends decide to forgo a BBQ lunch in favour of some hard man-sausages and creamy man-mayo. Nine smooth, athletic boys cum together, literally, in four delightful bareback dalliances that will have you reaching for the rewind button time and again!

Description / Review:
Scene 1: Outdoor Cock-Action For Solo Twink & His Three Spunky Mates!
Cast: Clyde Walton, Lucas Drake, Mike Branco, Ray Mannix
From: Cum Harvest, Scene 2
The bees are buzzing, the butterflies are fluttering – and young Lucas Drake is out on a nature walk, enjoying the delights of the Czech countryside. Like most boys his age, however, it's the joys that his ever-attentive cock gives him that concentrates his senses most keenly – as eagerly demonstrated when he sits back in the great outdoors and fantasises about what it would be like to get a very oily massage from three very eager helping hands! Cue a fantastic jerk-off courtesy of Clyde Walton, Mike Branco and Ray Mannix, who – having relieved their horned-up mate of a heavy load of jizz – promptly decide to turn all their attention on each other.
Of course, it comes as no surprise whatsoever that it's Mannix who's the first to be down on his knees enjoying the taste of hard cock in his mouth; whilst Slovak buddy, Branco, and Brit-boy, Walton, passionately snog. Nor will it amaze anyone that it's Mannix who soon becomes the centre of attention. After all, this slut's reputation always proceeds him, and his two pals are clearly only too willing to make the most of it; with Walton burying his thick, uncut shaft deep into the fellow's arse whilst Branco slurps on his cock.
Anyone imagining that Mannix is going to get all the fun is sore mistaken, however. New boy Branco is clearly keen to get his share of ass-action; and plonking himself down on Mannix's ramrod he proceeds to demonstrate a ride that would give any self-respecting whore a run for their money. All of which culminates in three of the spunkiest climaxes imaginable, leaving a trio of mouths dripping with jizz!
Scene 2: Young Lad Finds Toy Play Doesn't Compare To His Pal's Big Dick!
Cast: Alessandro Katz, Tony Conrad
From: Fire Me Down, Scene 4
It's easy to forget, but heroes such as firefighters need their downtime as much as anybody else – and in the case of Alessandro Katz that clearly involves lazing on his bed and playing with his toys. And no, we're not talking model trains or remote-control cars! Rather, Katz's toys consist of a collection of butt-plugs and dildos, which Tony Conrad promptly discovers under the lad's uniform when he walks into the room. His initial surprise overcome, Conrad decides to assist his young colleague by thrusting some of the equipment up Katz's arse – a move that clearly excites the horny pup, who is soon sporting the kind of hard-on that a guy like Conrad is never, ever able to resist.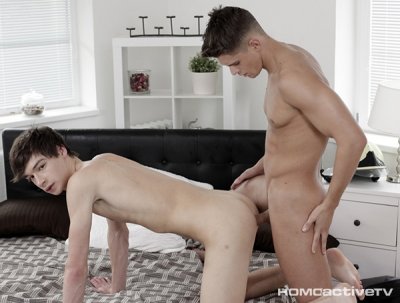 As a result, the pair are quickly engaged in a hot play session like no other; with Katz taking everything that his buddy can push in his direction, whilst savouring the delight of Conrad slurping on his thick, aching cockhead. It's a scenario that can but have one outcome, of course; and it's no time at all before Katz's horned-up little pucker is having to accommodate something far bigger than any of the assembled toys, namely Conrad's meaty, uncut shaft.
Not that the cute pup displays any awkwardness in taking every inch of his buddy's poleaxe. Indeed, he's soon riding dick like an experienced whore, as Conrad pounds away in a variety of positions – finally culminating in Katz's slit being literally creamed by a cascade of gooey jizz. The sight of Conrad then fingering the splurge into the hole marks a fitting climax; topped only by that of seeing the pretty bottom cream all over his own belly!
Scene 3: Oiled-Up New Boy Gets His Butt Stretched By Dunn's Hard Axle!
Cast: Benjamin Dunn, Seb Priestley
From: Biker Boyz, Scene 3
STAXUS favourite, Benjamin Dunn, has always been keen to teach a fresh face a few new tricks – and no less so than when it comes to showing young rookie, Seb Priestley, how to keep a bicycle in tip-top condition. But it's not long before he's taking advantage of the situation for his own carnal interests; using the gear oil to splash onto his buddy, then rubbing the lubricant into Priestley's skin! It's a clearly very erotically-charged move, of course, made all the more intense by the fact that both lads are sporting such provocative gear; but suffice it to say that the newcomer displays no sign of any reticence, allowing the older guy to eagerly slurp on his now-swollen shaft.
It's an opportunity that Dunn doesn't shun for one moment – unsurprisingly! – as he feasts on all that young, fresh dick like a being possessed; but the truth remains that his number one priority at this point is getting access to Priestley's tight, underworked pucker. Anyone fearing that this might become a mission too far for Dunn shouldn't worry too long, however. The long-time pro makes getting balls-deep into the young lad's fuck-hole look as easy as riding a bike; piling almost mercilessly to ecstasy and leaving Priestley's pucker literally gaping in the process.
It proves the perfect starting performance for a no-holds-barred banging that will almost certainly leave you as drained as the boys themselves – Priestley riding Dunn cowboy-style, then taking every inch on his back. All culminating in two stunning blasts of pent-up spunk, one of which (Dunn's) leaves Priestley's ass dripping with jizz!
Scene 4: Water-Sport Loving Neighbours Enjoy Poolside Cum-&-Piss-Fest!
Cast: Alex Goodwin, Milan Silver
From: Give Me Wood, Scene 2
Titus Snow continues to stroll through the woods, eyeing the antics of his horny neighbours – in this instance, Alex Goldwin and Milan Silver, who (according to Snow) have a taste for water-sports. Needless to say, we're not talking about swimming or water-polo – although admittedly their antics do begin harmlessly enough, with the two handsome buddies cavorting around in the house-pool. Being the bulkier of the two, it's perhaps not too surprising that Silver appears to take the lead in their frolics; tossing Goldwin playfully around, before lifting the boy onto the side to reveal Goldwin's fabulously curved hard-on for all to see.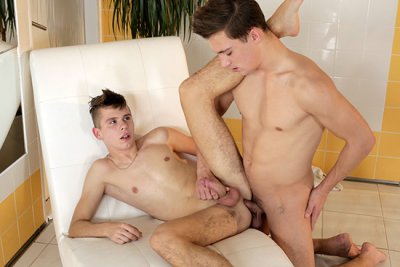 It's a revelation that immediately notches up the temperature in that room by about ten degrees at least; as Silver promptly dives down on that divinely swollen head and gobbles away for all he's worth. Not that he's alone in a taste for hard dick; as Goldwin then retires to a nearby lounger so that he can enjoy replicating the pleasure on Silver's now grossly engorged shaft, before eagerly parting his legs so that his mate can thrust every aching inch of manhood deep into his cute, hairless arse.
Given the almost professional manner with which he takes the offering, it's hard to believe that this is a virgin display. But the sheer intensity of the occasion still clearly has an amazing effect on the young lad, who promptly pisses all over himself mid-fuck. Cue an absolutely breathtaking showpiece of top-notch twink action, that combines the joy of spunk and piss pleasure; and that leaves young Goldwin coated and soaked in equal measure!