Summary:
The boys from STAXUS want to cum out and play – again! And, as is so very often the case, they're in the mood for something a little bit wild and a little bit wet. Vanilla, it seems, just isn't their colour; as this bunch of over-horny beauts abandon all self-respect and proceed to suck, fuck, spunk and piss on each other like the wild animals they are! Studio favourites, Titus Snow and Charlie Keller, lead the charge; together with new boys Lior Hod and Max Gray, who gets a double-dicking debut! So grab hold of your cocks, guys. It's gonna get filthy and it's gonna get messy – and believe us, you're gonna fucking love it!
Scene 1: Nerdy New Boy Gets Double-Dicked & Coated In Oodles Of Cum!
Cast: Lior Hod, Max Grey & Orri Gaul
Everyone, it seems, loves a guy in uniform; so it's perhaps little wonder that new boy, Max Grey, goes completely gaga when confronted by a couple of fire-officers in the shape of Orri Gaul and fellow newbie, Lior Hod. To be fair, his predicament is made all the worse – or better, depending on your point of view! – by the fact that the firemen have discovered an anal toy down the back of his sofa; which of course immediately makes the lad fair game to their unrestrained advances.
As such, the young lad is almost like a poor gazelle in the face of a pair of hungry lions; and before you know it they have his arse in the air so that they can brutally finger and rim his tender little pucker. Whether he knows at this particular point just how unmerciful they're going to be to that tight hole is anyone's guess, of course; but suffice it to say that he doesn't have to wait very long to find out.
Within minutes the young bespectacled beaut is quite literally sat on both their dicks simultaneously, taking every inch of cock on offer like a total slut. Shortly afterwards he's being double-poked once again in arguably more "conventional" fashion – director, John Smith, capturing the sight of both shafts thrusting into his guts with typical, close-up detail. It's wild and totally unrestrained, and as such the ensuing spit-roasting of the lad might seem tame in comparison. But the terrific show-stopping facial, which leaves Grey's face awash with jizz, more than makes up for the slight slackening of pace; and it's little wonder that the horny bottom spews out a stupendous wad in response!
Scene 2: Grateful Twink Gets A Gaping Arse-Load Of Hot Sticky Spunk!
Cast: Orri Gaul, Titus Snow
It's not everyone who gets the opportunity to personally thank a member of the emergency services who has helped them in a crisis situation – but that's just what happens here when Titus Snow is able to demonstrate his gratitude to handsome fireman, Orri Gaul, for helping rescue his dog. No need for flowers or chocolates, though. Instead, Snow has his own very special reward in mind for the thick-lipped beauty; and needless to report he doesn't waste much time in making his intentions clear.
Not that you'd ever expect reticence from a fellow of Snow's reputation, of course; and what's more the initial thankful smooch is quickly reciprocated by Gaul, who's quickly tearing off Snow's pants so that he can fully savour every inch of his thankful buddy's meaty ramrod. What ensues is a truly terrific display of fellatio from both horned-up dudes in turn; before Gaul's natural desires take full advantage of the situation, as he turns his focus on Snow's ever-eager fuck-hole and hungrily rims the hairless little pucker for all he's worth.
No prizes for guessing that the lad is soon literally balls-deep in Snow's guts, banging away at the cocky bitch with near show-stopping gusto. Fans of gaping arses will be in their element here, with Snow's cavernous ring left stretched to the max courtesy of the onslaught; ultimately resulting in Snow spewing furiously skywards whilst riding raw dick reverse cowboy-style. But it's arguably the sight of Gaul emptying his nads into the bottom's open sphincter that warrants highest acclaim – a cum-soaked finale for a top-notch fuck-fest!
Scene 3: Hot Twink Gets A Fireman's Lift, But The Fireman Gets Hard Dick!

Cast: Charlie Keller, Ron Negba
Let's be honest, the very idea of being picked up and carried by a fireman is the fantasy of a whole legion of gay men – and for young Ron Negba it's a dream that's about to come true at the start of this fabulous little set-piece with our Icelandic dream-boy, Charlie Keller. True, the lad only gets bundled to a nearby sofa; but that's surely enough to get any cock-loving beaut's heart racing, and needless to say the handsome little blond is soon like putty in Keller's powerful, manly hands.
Barely a few seconds in and our dark-haired Nordic warrior is able to reach into Negba's pants so that he can start devouring the young lad's dick; before the tables are turned and it's Negba who's worshipping his hot, horny saviour's ramrod in return. It's at this point that you'll be forgiven for wondering how the dynamics of this horny escapade are all set to develop, especially when Keller takes the opportunity to greedily rim at his mate's gorgeous rump; but if you're thinking that the boy from Reykjavic is about to top then think again. For director John Smith throws in a total curveball right at the final moment, with Negba taking sudden mastery of the encounter to plonk his delicious, uncut shaft right between his hero's pert butt-cheeks.
The result – albeit an eleventh hour surprise! – is a spunktastic fuckfest that sees ever-horny Keller banged in a whole series of positions; eventually resulting in him spewing for all he's worth over his own belly. All of which is richly topped off by watching him furiously gobble away at his mate's erupting shaft for a truly devastating top-notch facial!
Scene 4: Bickering Twink Gets An Ass-Load Of Dick & A Face-Load Of Piss!
Cast: Charlie Keller and Titus Snow
There's something inanely endearing about watching Charlie Keller and Titus Snow as they bicker about how many times the latter has telephoned the fire service in the past month – like an old married couple, who in the end have to agree to disagree. What's more, the heavy sense of endearment that obviously exists between these two buddies quickly translates itself into action of the very hottest kind; with the handsome Icelandic insistence that Snow finally stops his protestations marking the start of a terrific session of kissing and cock-sucking that'll have your cock straining in anticipation. Of course, the fact that we're presented with two of the most lust-worthy individuals on the current scene is more than enough to secure our guaranteed attention in itself; but by the time these two dick-loving stalwarts are 69-ing on the sofa you'll surely be in a state of total mesmerisation.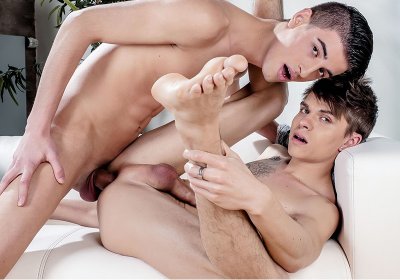 What's more, matters only become even more hypnotic when Keller finally seizes his chance to master the situation by sidling up behind his buddy and thrusting every swollen inch of his dick deep inside Snow's guts – commencing a truly stupendous coupling that'll transform your initial edging into something much more proactive. Indeed, by the time both these horned-up bastards have creamed the contents of their ball-sacs all over Snow's nicely toned torso there's every good chance you'll have dumped a load (or maybe more!) yourself. Just don't let that stop you from enjoying the final moment of artistic triumph in the form of Keller's tsunamic stream of piss all over his mate!