Summary:
Barely legal Aaron Aurora is the cutest little smooth Twink you can imagine - but his arse is starving and after one scene with a big toy he picks up 3 super cute skater twinks who triple penetrate him - and he loves it! Big cocks, hard pounding and twink holes totally MaXXXed Out!
Scene 1: Filthy Skaters Love Dildo Play, A Hard Fuck & Loads Of Hot Cum!
Cast: Aaron Aurora, Marc Sage
Also available Kinky Fuckers 3 (Compilation)
Skaterboys just love to have fun – but for Aaron Aurora and Marc Sage it's never quite as simple as getting on your boards and wheeling down the street. For these two doe-eyed beauties just can't ever resist the demanding call of their sexual appetites, which in this particular instance leads them to break into an abandoned building so that they can suck and fuck to their hearts' content.
It's at this point that you'll probably become acutely aware of the difference in stature between these two lads – Sage being tall, lanky and at least a head's height above the somewhat petite Aurora. Don't worry though, folks, the said difference doesn't prevent Sage from being at just the right height when he falls down to his knees to give his cute pal's cock the sucking it rightly deserves. Or, indeed, to force an oversized dildo up Aurora's arse a little later on.
Cue the ultimate kink of seeing Aurora dildo-fucked whilst Sage mounts Aurora's dick cowboy-style and gives the ramrod a real hard ride; before the sex-toy is discarded and the pint-sized pup continues to fuck Sage from behind. Sage's reward? A full creamy facial of teen-jizz that'll push you right over the edge!
Scene 2: Fucked Hard On The Pool Table – And Not Just By Raw Cock!

Cast: Marty Love, Troy Stevenson
See also: Kinky Fuckers 2 - Compilation
There's never any denying that Marty Love is a man who oozes raw masculinity, but even so it's not often that we see him displaying the degree of domination that he shows in this scene with young cutie, Troy Stevenson. Clearly spending time with a doe-eyed twink has sent the cigarette-wielding stud into a frenzy of rough-necked perversity, as he bundles the boy over a pool table and makes the young guy wear a rather kinky – and somewhat sinister-looking – cock toy.
It's not a development that Stevenson appears to readily welcome, it has to be said, but with Love's persuasion it's not long before the youngster's dick is proudly hosting the contraption. But whilst getting the whipper-snapper to don the said hardware is clearly a definite whizz for the hard-hitting top, it's pretty obvious that the fellow's next ambition is to get his own bare knob deep inside Stevenson's ass – something he achieves with remarkable ease given the initial resistance.
Once that's achieved, it's a case of enhancing the abuse by fucking the bottom with a snooker cue and thrusting pool balls up his arse! In short, a glorious fest of kink, topped off by Stevenson receiving a full-on facial!
Scene 3: Hot Horny Top Gives Blond Twink A Real Hard Bone To Fuck Around With!
Cast: Darin Bone, Milan Sharp
Also available: Bareback Rookies, Big And Hard
Also available: Dads N' Lads! 2 - Compilation
We feature lots of hot twinks in our movies, as pretty much everyone in the world must surely know by now, but once in a while we can't help promoting lads who have a slightly more manly appeal – guys like Darin Bone, who sports a wisp of chest-hair and who has the kind of meaty, uncut cock that leaves most of us gays drooling in delight.
Certainly young Milan Sharp seems completely bowled over by this handsome beauty, that's for sure – sliding down to engulf Bone's oversized boner with the kind of gusto that we've come to expect from the boy. Not that it's all one way traffic, mind. Bone himself appears more than pleased to play long and hard on Sharp's delicious ramrod, which in this instance sits poking through his pair of pearly-white jockstraps. But it's obvious pretty much from the word go as to whose hungry little pucker is gonna get a good old-fashioned stretching before it's a wrap; and before you know it Sharp is once again proving his worth as one of the hottest bottoms around. Finally culminating in the lad getting a worthwhile facial courtesy of Bone, whilst he himself blows all over his own belly. In short, feisty, furious 'n' fucking fabulous!
Scene 4: Amazing Triple Penetration Fuckfest Leaves Brit Twink All Spunked Out!
Cast: Aaron Aurora, Denis Reed, Milan Sharp, Neo Matthews
Also available: Double Dick 4 Compilation Gay DVD
European integration takes on a whole new dimension when Brit boy, Aaron Aurora, hits it off with a gang of horny Euro skater-boys (Denis Reed, Milan Sharp and Neo Matthews) for a fabulous triple penetration fuckfest that only a dedicated sex-fiend like Aurora could ever hope to keep up with. Fact is he's like a pig with truffles with all that hard continental dick around him, though in fairness he's clearly not the only guy in that room with a penchant for cock. Fact is all of these chaps are greedy for flesh as they take turns to slurp on each other's meaty uncut knobs; but it's the lad from Blighty who takes centre-stage in a succession of double-penetrations courtesy of his big-dicked mates.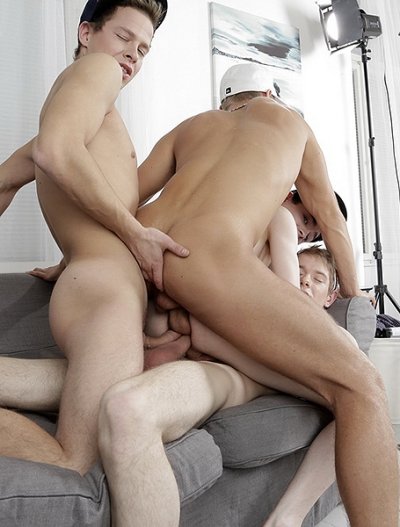 That action almost pales into insignificance, however, when Aurora gets his ass-hole stretched by all three cocks at once. How he manages to take all that dick in one go will forever remain a mystery, but it's the performance of a lifetime – and something you're gonna be wanking off to for a very long time!
Suffice it to say it's not long before Aurora's on his knees and taking every drop of jizz those same three cocks can muster, leaving him all creamed out and totally satisfied!