Summary:
Julien Heath leads an all-star cast – including Sam Brookes, Neil Cross and the legendary Thomas Dyk – whose love of kick-boxing is eclipsed only by their love of hard cock! Think "Fight Club" (without Brad Pitt, alas!) but with the added top-notch bonus of juicy, uncut bones fucking scores of eager, red-raw asses and spraying copious quantities of jizz over cute, doe-eyed faces!

Description / Review:
Scene 1: Bottle-Blond Opens Up To A Meaty, Rubber-Free Knob-End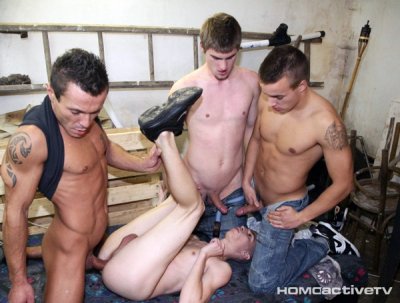 You don't need to have a particular interest in kick-boxing to savour the opening shots of the appropriately named blond-haired wonder, Falco White, going through his pre-fight moves in this opening scene, but you will need to enjoy the sight of athletically-clad youngsters brawling around together on the floor, rubbing their swelling crotches against each other and generally getting themselves into a pre-orgasmic lather. Given the nature of most of our fans, of course, that's something that's going to appeal – big time! – particularly when the lads abandon their faux-like romps in favour of sucking each others' meaty, uncut shafts and hunky Jacob Bishop thrusts his unsheathed knob-end into White's tight (but extremely eager) ass-hole. Cue a fabulous foursome that not only sees young White royally buggered but also his comely, doe-eyed face getting splattered in streams of fresh jizz – courtesy of Roney Clark. Totally debauched, but exactly the sort of filth that we know you deserve and want!
Scene 2: Julien Heath Bounces Up & Down On A Thick, Uncut Pole!
Cast: Julien Heath and Ian Samson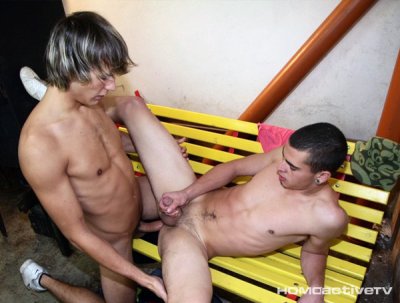 You'd have to be some sort of gelded nerd not to fancy the pants off the utterly irresistible Julien Heath – and fortunately for us (and you!) the Czech Republic doesn't seem to produce many of those. Rather pretty much every lad in Prague is like Ian Samson when they encounter this divine young sex-god – hard as rock and just gasping to screw his pert little ass for all it's worth. And believe us, the price on that gorgeous rump almost broke the bank! That said, we suspect you'll agree that every cent we paid on securing Heath's participation was most definitely worth it – no more so than in this, the first of his three appearances, where floppy-blond Samson first fingers and then finally fucks this cropped-haired beauty's pucker. The sight of Heath bouncing up and down on Samson's pole will almost certainly have you cock-in-hand; as will seeing Samson spurt his load and then push it back into Heath's quivering ass. No doubt about it, your appreciation is definitely gonna be very, very sticky!!!
Scene 3: Thick, Meaty Ramrods Make For An Enviable Suck-Fest!
Also available: Just 18 part 2 (2 DVD compilation)
Julien Heath's kick-boxing match with Falco White finally arrives – but don't expect director, Vlado Iresch, to dwell long on the event. A blink of the eye and Heath has been declared the winner, setting up just the sort of victory celebrations that I'm sure we all wished followed every such encounter. For no sooner have Heath and White finished sparring than the likes of Carter Hides, Roney Clark and Christopher Kidd are pulling out their thick, meaty ramrods in anticipation of the suck-fest to come. Not surprisingly perhaps – given his dominance of the ring (excuse the pun!) – it's Heath who again secures centre-stage, slurping his mouth around every cock in the room.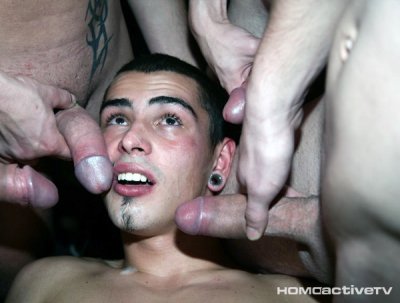 Don't shoot your load too soon, though. The highlight here is the sight of those same shafts dumping their wads over Heath's expectant face. Pride of place (not unnaturally) goes to Heath's vanquished combatant, White, who quite literally plasters the youngster's eyes and nose in baby-brew. It's a sight to warm the cockles of the heart, and one that'll swell Heath's grandma with indisputable satisfaction!
Scene 4: Thomas Dyk Gives Up-And-Cumming Neil Cross A Test Drive
Cast: Thomas Dyk & Neil Cross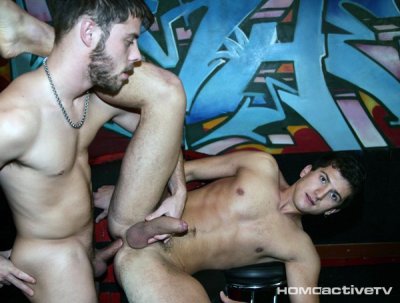 It says something about the Czech porn industry that you can be considered an on-screen elder statesman by the time you've reached your early twenties, but that's exactly the role that the legendary Thomas Dyk now seems content to play – even donning a mat of facial hair to secure the point. Incredibly, the guy is still more than capable of holding his own in any scene – as demonstrated when paired up here with the up-and-cumming Neil Cross. How many performances Dyk has given in his time is anyone's guess, but there's still never a hint of fatigue when confronted with an aching, throbbing shaft; and indeed it isn't long before Cross' poker is knocking the back of his throat and tickling his tonsils. On this occasion, however, it's Cross who's nominated to part his legs, as Dyk fingers and rims the hole before thrusting his raw cock deep inside. Little wonder that Cross bursts his nut-sac in the process; leaving Dyk the pleasure of squirting his own seed into his partner's all-too-hungry mouth. Beautiful!
Scene 5: Cute, Young DJ Sucks The Life Out Of Fan's Stiff, Thobbing Cock!
Cast: Sam Brooks, Julien Tomlison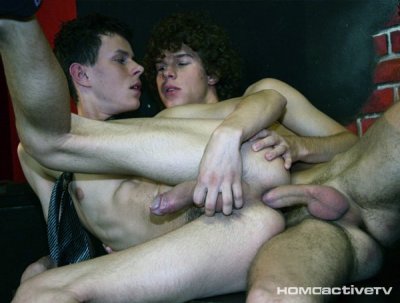 Cute young disc-jockey Sam Brooks struts his stuff on his decks, gaining quite a formidable fan-base in the process, but it's curly-haired blond, Julian Tomlison, who provides him with his greatest attention – a veritable groupie who oozes temptation from every pour. Indeed, Tomlison clearly won't be satisfied until his mouth is hanging off Brooks' thick, uncut shaft – an ambition that he achieves with quite minimal effort, it has to be said. But then why should a lad like Brooks shun such an offer? He's young, horny and – given his recent performances in the likes of RAW COPS – is not adverse to man-on-man action. A penchant that he continues to display with similar gusto here, as the two young twinks engage in a scorching flip-flop session of cock-sucking and bareback ass-banging that only concludes when Tomlison sucks the juice out of Brooks, who in return spurts the contents of his balls over Tomlison's face. An unquestionable case of "share and share alike" if ever there was one!
Scene 6: Julien Heath Gets His (Hard Cocked!) Reward …
Cast: Daniel Wood, Ian Samson, Johny Hunter, Julian Tomlinson
Also available: Fuckin' Orgy Sluts (2 DVD Compilation)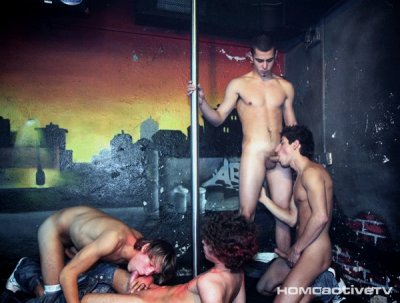 Everyone loves a winner, and the fact that Julien Heath convincingly triumphed in the ring means that all his friends now want a piece of him. Which in this instance, of course, means getting their mouths and asses around his big, fat, masterful cock! Not that it's all one way traffic, by any means. We've seen enough of this young lad already to know that he's more than partial to a bit of dick himself, and it comes as no great surprise to see him quickly feeding off Julian Tomlison's knob-end. What's more, being the fantastic bottom that he is, Heath is very quickly riding cock like an undeniable pro; before taking a creamy mouthful of jizz from Tomlison's erupting shaft! All that said, it's arguably Tomlison who ultimately steals the scene, as Daniel Wood and Ian Samson both spurt the contents of their tight young balls over this sweet punk's face. In short, a very sweaty, sticky, spunk-fuelled conclusion to a movie that's gonna seriously risk breaking the rewind button on your remote control!