Summary:
*Some of the best-ever STAXUS scenes compiled on DVD!*

If you like your sex on the vanilla side, then good for you. If, on the other hand, you enjoy action in the bedroom – and beyond! – that has a little bit more of a bite then you've definitely cum to the right place here. From horny doms taking complete control of their passive subs, to guys being having snooker balls pushed up their ass like cheap whores, these kinky fuckers want their sexual buzz to have a distinct kick! Damian Dickey, Marty Love, Tim Law, Skylar Blu and Rudy Valentino are just some of the unseemly characters who just love to push respectability to the very limits for a second time …
Compilation Gay DVD - 6 Scenes

Beschreibung:
Wenn ihr auf Blümchensex steht, bitte schön. Wenn ihr aber auf Action im Schlafzimmer - und an anderen Örtlichkeiten! - steht, die etwas mehr Biss und Schmackes hat, dann seid ihr hier genau richtig. Von ralligen dominanten Herren, die ihre passiven Subs voll unter Kontrolle haben bis hin zu echten Männern, die Billardkugeln in ihre Ärsche gestopft haben wollen - diese Jungs wollen immer ein bisschen mehr als sonst jemand! Damian Dickey, Marty Love, Tim Law, Skylar Blu und Rudy Valentino sind nur einige der Auserwählten, die ihren gegenseitigen Respekt - zum nunmehr zweiten Mal - auf eine etwas unübliche Art und Weise ausdrücken!
Scene 1: A Spanking Good Time For New Recruit Maddox Results In Hot Wax, Hot Jizz Pleasure!
From: Army Initiation, Scene 2
Starring: Damian Dickey, Rudy Valentino, Kurt Maddox
Some guys are just crying out to be abused - even if they don't yet actually realise it! - and new-boy Kurt Maddox is most definitely in that category. Faced by his army superior, Damian Dickey, and escorted by STAXUS favourite, Rudy Valentino, this innocent-looking youngster just never stands a chance; and it's no blessed wonder that his throat is being fucked by Dickey's knob almost as soon as this escapade has begun.
That kind of wanton violation, however, is only the opening shot here - much to the poor lad's misfortune. Before he has time to catch his breath he's being forced prostrate over a desk so that Dickey can vent his frustrations out on his ass, which in no time at all is as red as beetroot and looking as sore as fuck! All the same, Maddox is quietly having the time of his life - spit-roasted over the table, and then having the pained indignity of hot wax poured onto his chest!
Pushed about and pummelled like a rag doll, you'd be forgiven for thinking that the pup was ready to get up and walk at any moment; but it's with distinct satisfaction that he takes a mouthful of jizz from Valentino, before erupting himself. But pride of place goes to old pro Dickey - a multi-shot squirt that clears his pipes of oodles of pent-up man-juice!
Scene 2: Fucked Hard On The Pool Table - And Not Just By Raw Cock!
From: MaXXXed Out, Scene 2
Starring: Marty Love, Troy Stevenson
There's never any denying that Marty Love is a man who oozes raw masculinity, but even so it's not often that we see him displaying the degree of domination that he shows in this scene with young cutie, Troy Stevenson. Clearly spending time with a doe-eyed twink has sent the cigarette-wielding stud into a frenzy of rough-necked perversity, as he bundles the boy over a pool table and forces the young guy to wear a rather kinky - and somewhat sinister-looking - cock toy.
It's not a development that Stevenson appears to readily welcome, it has to be said, but with Love's forceful persuasion it's not long before the youngster's dick is proudly hosting the contraption. But whilst getting the whipper-snapper to don the said hardware is clearly a definite whizz for the hard-hitting top, it's pretty obvious that the fellow's next ambition is to get his own bare knob deep inside Stevenson's ass - something he achieves with remarkable ease given the initial resistance.
Once that's achieved, it's a case of enhancing the abuse by fucking the bottom with a snooker cue and thrusting pool balls up his arse! In short, a glorious fest of kink, topped off by Stevenson receiving a full-on facial!
Scene 3: Two Horny Blonds Take The Chance To Suck, Fuck & Get Soaked In Hot Piss!
From: Playing Dirty, Scene 4:
Starring: Sven Laarson, Adrian Smallwood
A multi-storey car-park in down-town Prague might not seem the most romantic location to find a hot date, but sometimes you just have to take full advantage of the things that happen in life when they happen. As Sven Laarson discovers when he gives Brad Fitt a lift to town in his car and unexpectedly encounters Adrian Smallwood in the process. Smallwood is actually busy trying to make some money by flogging some knocked-off mobile phones, but it's clear from the off that Laarson's interest is centred very much on the salesman rather than what he's trying to sell.
Fortunately for all concerned, it doesn't take more than a few words from the fellow to charm Smallwood into the vehicle; and even before poor Brad has reached the first shop the two ripped beauties are heading off to Laarson's apartment for some intimate sales talk, which in this instance involves stripping off all their clothes, sucking each other's cocks and rimming each other's asses! It's not exactly the kind of technique that they teach at sales school, surely, but it certainly works for these fuckin' dudes that's for sure; and it's no time at all before Laarson is taking every fabulous inch that Smallwood can muster deep inside his rump! It's kinky, it's hot, and it's no wonder that Smallwood is soon spurting all over his new-found buddy's hole. Eager to add to the excitement, the two blonds then eagerly round things off by pissing all over each other; leaving us to enjoy the sight of two very wet, very happy fuckers!
Scene 4: Spanked & Fucked Flip-Flop Fuck Gives This Brit-Boy A Red Raw Butt!
From: Clean It, Scene 1
Starring Lucas Davidson, Jesse MacGowan
He goes out of his way to give the impression of being some sweet innocent who's never done a single thing to warrant his reputation, but you only have the catch the glint in Jesse Magowan's eye to realise that the reality of his character is very different. A point that's underlined in this delightfully hot scene in which he just can't keep a lid on his exhibitionist tendencies. Indeed, realising that young Lucas Davidson is cleaning the windows - and hence able to see right inside Magowan's flat - the horny punk is soon laid out taking a midday wank in a bid to attract attention.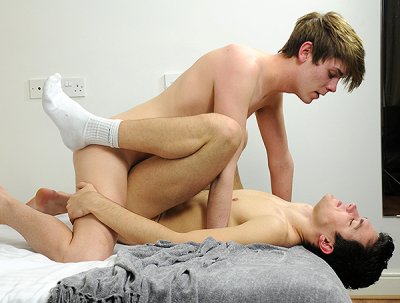 Not surprisingly, the efforts don't go to waste. Fact is that Davidson is just as much a horny slut as Magowen and jumps into the room with exactly the kind of enthusiasm expected of a lad his age. What he perhaps doesn't anticipate, however, is the kinky nature of Magowen's snare. True, the Brit-boy might look all sweetness and light, but there's a warped mind in there somewhere and on this occasion it presents itself in the form of handcuffs, hot wax and ass-paddles. Let's not spoil the surprise, but suffice it to say that what follows is not exactly vanilla and Magowen's butt-cheeks end up being very sore indeed. Perversity that's all topped off with a flip-flip fuck and oodles of hot jizz!
Scene 5: Porn Interview Produces A Tsunami Of Jizz As Newbie's Ass Gets Worked Big Time!
From: Twink Extreme, Scene 2
Starring: Ethan White, Jeanne D'Arc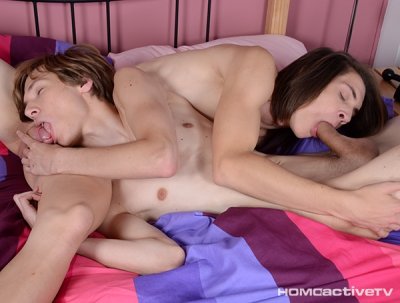 We've all heard of psychometric tests and workshop role-play as part of the job interview process, but things are taken to a whole new level when floppy-haired youngster, Jeanne D'Arc, is given a full-on road-test by Ethan White. Not that the new boy appears in any way flustered by the proposition - an indication, perhaps, that he's a little more experienced than he might otherwise like us to all think. Certainly he shows no quarms when it comes to handling White's handsome ramrod, pulling the meaty shaft from its nesting place inside the trainee's trousers and promptly gobbling away like a pro. Nor does he show any sign of embarrassment or reluctance when White produces an array of sex-toys to use on his ass. Indeed, D'Arc takes every inch of synthetic pleasure that his fuck-buddy throws his way; and by the time that White finally gets round to using his own dick you'd be forgiven for wondering whether the bottom's ass is too stretched to give either party pleasure. Rest assured, however, that White's very much left the best until last as he proceeds to pound away at D'Arc's hole in a succession of positions, culminating in the interviewee spewing a fabulous wad of hot jizz all over the bed-covers. Fuck knows who's gonna be clearing that mess up; but neither fellow seems at all concerned, least of all White who then wanks out a fine blast of ball-snot of his own. Now if that performance doesn't impress the judges (or indeed yourselves) then we really don't know what will!
Scene 6: Skylar Blu's Fisting Frenzy Leaves His Hole Worked & Full Of Jizz!
From: More, Scene 1
Starring: Damian Dickey, Skylar Blu, Tim Law
With their kinky leather cock-pouches and their mischievous grins, it's pretty obvious from the off that this fine trio of beauties (comprising of STAXUS stalwarts, Damian Dickey and Tim Law, along with Brit-babe, Skylar Blu) is collectively primed for a whole load of hardcore fun. What isn't so obvious during the opening moments, however, is just how extreme that fun is going to be! That said, Dickey for one has never been reticent when it comes to the task of pushing hot young twinks to their limit, and it's no surprise that he quickly establishes himself as the centrepiece to proceedings, allowing Blu and Law to take turns to slurp on his knob whilst he himself lies back and savours their efforts.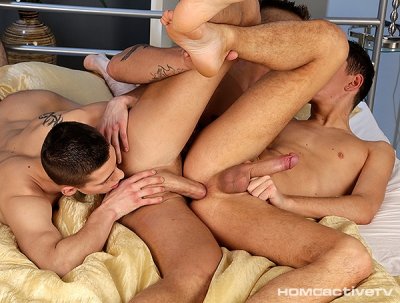 A few minutes later and that same cock is burying itself deep into Law's eager fuck-hole, followed by a similarly enthused visit inside Blu's hungry pucker. But it's what follows - more specifically Blu's fisting, courtesy of Law - that ultimately marks this scene out. That, and the fact that Dickey and Law finally take turns to spunk over their pal's well-worked hole and then bury their dicks to the hilt to push the jizz inside. All totally raw, all utterly perverse!