Summary:
Some of the best Staxus scenes compiled on DVD!
If you like your sex on the vanilla side, then good for you. If, on the other hand, you enjoy action in the bedroom – and beyond! – that has a little bit more of a bite then you've definitely cum to the right place here. From horny doms taking complete control of their passive subs, to guys being bundled into a sling and fucked like cheap whores, these kinky fuckers want their sexual buzz to have a distinct kick! Tim Law, Orlando White, Skylar Blu, Brad Fitt and Paul Walker are just some of the unseemly characters who just love to push respectability to the very limits …
Compilation Gay DVD - 6 Scenes
Scene 1: Wrapped in cling film and hard fucked

Cast: Felix Webster, Tim Law
From: Doubled Up, Scene 3
In reality, being subjected to a date-drug and then finding yourself bound in polythene is not something that would appeal to the vast majority of guys, but in this fantasy escapade it's very much a dream-cum-true for young Tim Law – a sweet-faced beauty who's clearly up for anything!
Ironically, however, things begin in almost mundane fashion for these two horny twinks, with Law slurping away on Felix Webster's pecker like the complete whore that we know he is. Such niceties come to an abrupt conclusion, however, when the fun takes a somewhat twisted turn – Webster incapacitating his fuck-buddy, taking total command of the situation in the process. As a result, Law's contribution to this perverse little number is essentially passive from this point on; his freedom only slowly regained as Webster works the boy up towards a hard, uncompromising fuck!
To his credit, however, Law clearly savours every single inch of bare dick that Webster thrusts in his direction, eventually blasting a fine spray of jizz whilst riding his pal cowboy-style; before Webster jerks a breathtaking wad all over his own belly. Altogether, a kinky display from a pair of hot little fuckers!
Scene 2: Dick-Craving Twink Gets Manhandled, Fucked & Swallows Every Drop Of Alpha-Male's Spunk!

Cast: Kai Alexander, Riley Tess
From Clean It, Scene 4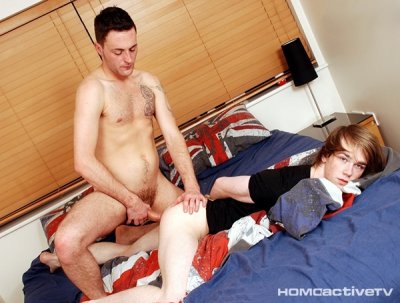 There are some folks that you can upset without fear of consequence. Then there are others – like Riley Tess – who don't take too kindly to being upset and who'll stop at nothing to exact their revenge. As young Kai Alexander discovers to his cost at the beginning of this terrific escapade, which sees him being used and abused in every sense as a result of his opening faux-pas. Bundled onto a bad, and with his hands tied behind his back, the young freckle-faced twink is subjected to a heated face-fuck that will either repulse or thrill, depending on your inclination. For those who savour the sight of a superior Alpha Male making his mark on a comparatively defenceless pup this is definitely top-notch stuff; and things only continue to get even hotter when Tess begins to plough his fuck-buddy's ass as if he owns the boy. Anyone fearing that Alexander isn't enjoying the unrivalled attention need not be worried, however. The youngster is quietly having the time of his life in front of camera and clearly thinks nothing of being the fuck-rag of some dominant partner, even to the point of jerking himself off whilst Tess angrily thrusts dick down his throat! It's all rather fitting, therefore, that the lad finishes off by guzzling up every drop of cum that Tess spurts into his mouth. Your own sticky appreciation seems almost guaranteed!
Scene 3: You're In The Army Now – And That Means Getting Face-Fucked, Spit-Roasted & Spunked In The Face!
Cast: Jesse Jenkins, John Parker and Jason King
From: Army Initiation, Scene 4
We're often told about how being part of the army is akin to being part of one big family, but the truth of the matter is that you can't expect to be part of that family without first having shown your commitment to it. And for Jesse Jenkins, a new recruit to the STAXUS team, that means showing some care and respect towards John Parker and Jason King, who break away from their mutual wank session in order to give Jenkins a real hard workout.
Beginning with his mouth, into which they shove both their hard dicks at the same time; before they grab hold of some rope, tie him to a bunk-bed and then engage in some enthusiastic cock-slapping of his not insignificant (and closely shaved) ramrod. Not that this young lad's going to be poking his dick anywhere significant today.
No, as is the case with any initiation worth its salt, it's most definitely the turn of the new boy to do all the accommodating; and it's not long before Parker and King are giving an amply demonstration as to what this means exactly, as they each take turns to fuck the living daylights out of the kid. Ultimately reaching a crescendo when they spit-roast him and then blast the contents of their nads over his face. It's depraved, it's humiliating – but that's what it takes to be part of this elite team!
Scene 4: Licking Armpits, Sucking Toes, Fisting, Rimming ... Two Dirty STAXUS boys enjoy some hot kink!
Cast: Skylar Blu and Orlando White
From: More and More, Scene 2
They've got matching jocks – albeit in different colours – and corresponding libidos, so it's really no surprise that Orlando White and Skylar Blu serve as the perfect coupling in this dirty little scene. Beginning with some tremendous cock-sucking that serves as the perfect aperitif for the hardcore action to come. Blu, in particular, is his usual whorish self, slurping on White's raging ramrod with typical deep-throated gusto.
It's not too long, however, before matters take on a much more kinky spin, beginning with some teasing foot-play, during which both lads eagerly feast on each other's toes; before White turns his attention towards his mate's hungry little pucker. And let's be perfectly honest here, this is one horny fuck-hole that needs attention big time – something anyone who's seen Blu in action before will fully appreciate. Fortunately for this spritely twink, White's more than equipped for the task at hand, and before you know it he's thrusting his thick, manly shaft deep inside.
Nor is his imagination limited to dick. Having worked Blu's ass sufficiently, White's exchanged cock for fist and is pummelling the crack with his hand, stretching it to the max. Little wonder that the kinky pup is soon dumping a grand wad of boy-juice; before White creams the lad's ass in return. Just the way that the pervy little bitch-boy Blu loves it!
Scene 5: Brad Fitt Cuffs His New Porn Star, Then Covers The Lad With Hot Wax & Oodles Of Hot Spunk!
Cast: Brad Fitt and Blake Hanson
From Twink Extreme, Scene 1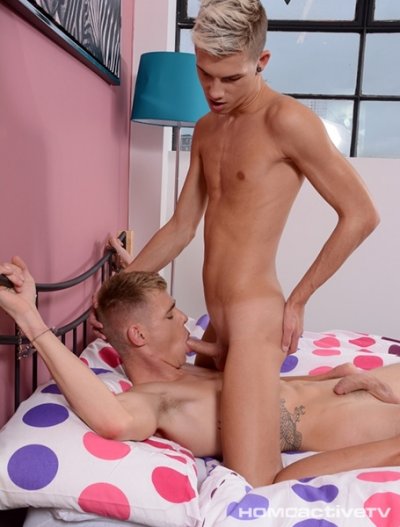 The indisputable queens of gay porn, Brad Fitt and Connor Levi, are on the lookout for a new co-star – though whether their subsequent interview of Blake Hanson represents a genuine reflection of the recruiting protocol is certainly open to question. Still, liberties to reality aside, the two hosts decide that the best way to test their new fuck-buddy's credentials is to tie the fellow to a bed and treat him to a sexy mix of kink and bondage – a move that clearly gets the young newbie's juices flowing big style! Or at least that's the impression that we get from the raging hard-on that the boy has got pounding away in his crotch – a thick, meaty shaft that Fitt promptly snatches between his lips and gives an uncompromising blow-job to. Not that sucking Hanson's dick is the young fellow's prime objective in this scene; as very quickly becomes apparent when Fitt proceeds to gag and blindfold his buddy and then immediately begins to torment the lad by pouring hot wax all over his chest and belly. It's a clearly unusual turn of affairs in a STAXUS scene, and one that will not appeal to all our fans, but it certainly seems to work its magic on these two beauties – most notably Fitt, who gets so enthralled in the antics that he follows his magnificent oral workout on Hanson's knob with a full frontal assault on the young lad's ass-hole. It's an unusual role for the young blond twink – so often the bottom – but it's one that he pulls off with aplomb. What's more, it's followed by the sight of Fitt flip-flopping onto Hanson's dick, before both guys splatter generous wads of hot jizz in all directions. Kinky and perverse, this scene is a sure-fire winner!
Scene 6: There's A Good Doggy! Leashed Young Twink Gets To Know His Place In A Sling-Fuck Frenzy!
Cast: Tristan Wood and Paul Walker
From Twink Fetish Club, Scene 1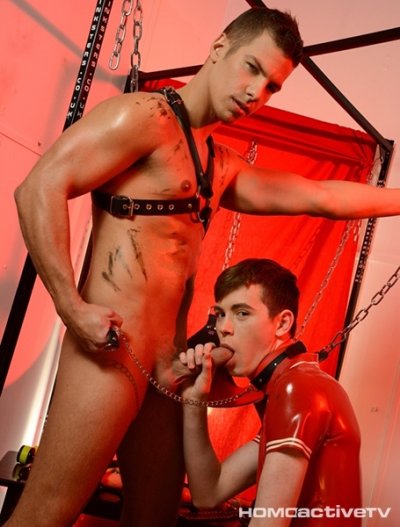 Two things are pretty fucking obvious at the start of this kinky little encounter. The first is that young Tristan Wood – who barely looks old enough to be out and about without his parents, never mind starring in porn! – is a somewhat reluctant sub. The second is that Paul Walker is a distinctly cocksure (some might even say arrogant) top. Needless to say, you don't need to be Einstein to work out which of these two parties calls the shots when the two of them embark on some fun together in a sex-dungeon – after all, the fact that Walker leads his buddy into the room on a leash pretty much says it all! What you might not be expecting, however, is just how much these two fellows are into their roles – in particular Wood, who gives a truly stellar performance as Walker first forces him down onto his knees to give head, then bundles him into a sling and thrusts some rather oversized sex-toys up his ass! Of course, by the time that Walker's ready to consummate their antics by replacing the said dildos with his own neatly cut cock, we're absolutely sure that you'll be totally convinced in Wood's performance here. As such, the fuck that follows is a veritable joy to watch – both lads getting off on their respective roles, as Walker slams his way up Wood's guts! Little surprise, therefore, that neither of the fellows display any problem in rubbing out a copious quantity of jizz – Wood all over his own belly, and Walker all over Wood's expectant face! Puppy love has rarely looked hotter!