Summary:
No question about it, skiing is one of the toughest sports there is – one for which you need to be 100% fit to have any chance of competing. And what better way to keep on top of your game than to engage in some off-piste cock-sucking, ass-banging action with your fellow snow-lovin' buddies?! With bubble-butt asses that are as smooth as the Alpine drifts and cock-hungry holes at every turn on the course, this is one guaranteed whiteout from start to finish!
Description / Review:

Scene 1: Cute Skier Gets A Raw Arse Workout From His Horny Trainer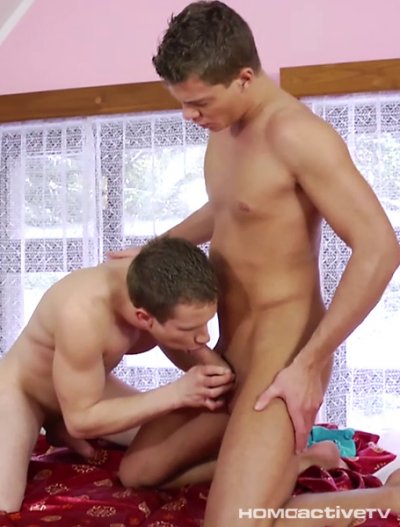 It might seem particularly obvious to the untrained eye, but being in tip-top physical shape is key to the success of any skier, so it's not at all surprising that young, pale-skinned Nick Sanders has taken on the help of Aslan Brutti to give him a full aerobic workout. Except this is a training session with a difference, as the two guys quickly abandon the more conventional style of kit-fit for a horny session of rampant, unashamed cock worship. Brutti, in particular, is a veritable joy to behold, with a deliciously shaved cock and a handsome pair of over-sized balls. Little wonder, then, that Sanders is only too eager to undertake the fellow's training regime, engaging in a feverish course of 69-ing before Brutti begins to finger the skier's tight but hungry hungry little ass in preparation for the hard penetration to come. The sight of Brutti's thick and totally raw shaft slipping deep into that eager pucker is one that'll have you tugging on your skin for sure, as will seeing Brutti's hefty nad-sac banging against Sanders's butt. But it's seeing the cute bottom impaled on dick and jerking himself off that serves as the ultimate thrill, with a cascade of creamy jizz to call it a wrap.
Scene 2: Gym-Time Wank Sends This Cute Twink To A Ball-Bustin' Climax!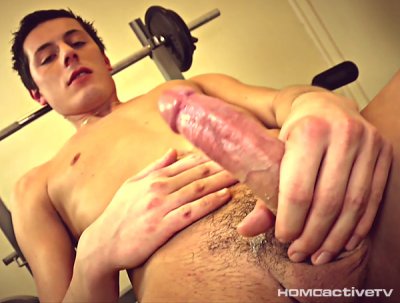 Fresh-faced and clearly as horny as fuck, young Nick Gill is clearly in urgent need of distraction – and where better to go in that sort of situation than the local gym, where you can work off the worst excesses of your sexual appetite by pushing weights and using the cycling and running machines. Except on this particular occasion no amount of working out is ever gonna subdue the greedy desires stemming from this boy's crotch – as quickly becomes apparent when we get to see Gill's semi-erect knob as the lad undertakes a sweaty, boisterous sprint around some of the equipment. Fact is, exercise only appears to make Gill's predicament all the worse, and it's really no surprise when the fellow finally concedes defeat, strips away his shorts and abandons his fitness regime for the kind of wrist-straining antics that one more expects from boys this age. Indeed, with youth most definitely still on his side it's really no surprise that it's only a matter of a few brief minutes before Gill is reaching the point of no return, pumping a generous wad of jizz all over his belly in the process. In short, an uncomplicated solo that'll have you spurting in eager appreciation!
Scene 3: Shower-Time Fun Sees Hot Cute Twink Getting A Real Hard Fuck!
Also available: Big Me Up (2 DVD set)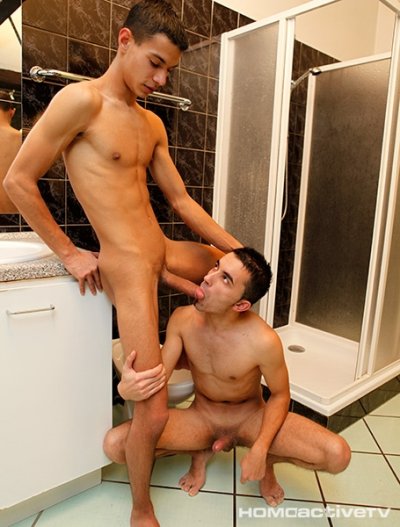 With his lithe, slim frame and a handsomely sized cock dangling down from his crotch, it's no real wonder that Carlo Monti should attract the attention of Marcello Avarez when he steps into the shower for a wash. Indeed, Avarez is like a being possessed as he watches the youngster soaping himself down inside the shower cubicle, rubbing the end of his cock against the glass to show Monti just how much he wants man-to-man action. It's a message that certainly seems to get conveyed to the boy pretty much as intended, with Monti stepping back out of the shower and immediately engaging in a stupendous session of avaricious cock-sucking that will ultimately serve as a prelude to the main foray between this pair of horny sluts. The sight of Monti's sweet, almost innocent-looking face feasting on Avarez's meaty rod is near-ecstasy in itself, but it's nothing compared to watching the young lad bouncing up and down on the older fellow's lap – believe us, you're gonna be slapping away on that meat of yours with appreciative gusto guaranteed! All the more so when Monti finally takes a gooey face-load of spunk courtesy of Avarez's cock as it unleashes its load!
Scene 4: Muscled Stud Gets His Ass-Hole Stretched & Pumped To The Max!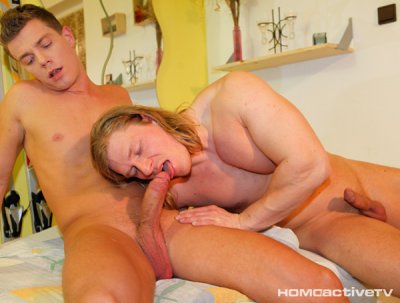 Long-haired muscle dude, David Black, gives every indication of being the sort of fellow who loves himself more than anything else, but that doesn't stop Aslan Brutti from being deeply enamoured of the guy as he watches him parade in front of a mirror. Indeed, it's no time at all before the voyeur is down on his knees and giving Black's knob-end the kind of sucking it was surely created for! In truth, of course, Black is not your typical Czech model – a slightly older type for starters, with a defined, rugby-toned physique. But if anything that seems to give Brutti's antics even more impetus, parting his legs for a good old-fashioned fingering and rimming before turning the tables on Black and thrusting his thick, uncut cock deep inside the older lad's guts. Cue a fabulous session of hardcore ass-stretching action that sees Brutti bang away at the skiing instructor's tight little pucker with almost unprecedented gusto, his low-hangers slapping against Black's arse so hard that you'd think it'd almost hurt! Little wonder that Black's shaft is soon pumping out a generous wad; before Brutti returns the favour by pulling out with just seconds to spare and spurting all over Black's toned torso.
Scene 5: Blond Bottom Takes Every Hard Inch This Straight Boy Can Give!
Cast: Jimmy Snyder, Johnny Smith
Also available: Pretty Boy Fuckers (Compilation)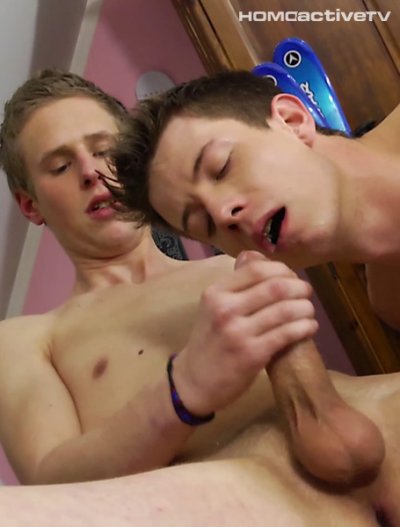 Young cutie, Johnny Smith, should be heading off into the great outdoors for a ride on the piste, but when confronted by the sight of blond-haired sex-bomb Jimmy Snyder peeping at him whilst he secretly wanks off to a porn mag he decides to concentrate on matters much closer to home. And who the fuck can blame him? Smith might be the sort of boy who'd prefer a girl to romp with in the snow given half the chance, but on this occasion it's Snyder's meaty cock or nothing – and it barely takes him the blink of an eye to make his choice. Why, he's wrapping his hungry lips around that engorged member pretty much before Snyder has chance to think about it; and indeed it's not much longer after that before he's pushed the blond down across a table and is busy burying his shaft deep into Snyder's ass. All without so much as a condom in sight you'll be very pleased to know! Thereby follows a fantastic session of hardcore bareback sex, which sees the colourfully tattooed top give his bonnie-faced prey the fucking of his young life; culminating in Snyder getting a thoroughly cum-soaked ass-hole, before Smith kneels down and takes the contents of Snyder's balls in his face!
Scene 6: Blond Masseur Enjoys A Hard Fuck From His Cock-Crazed Client!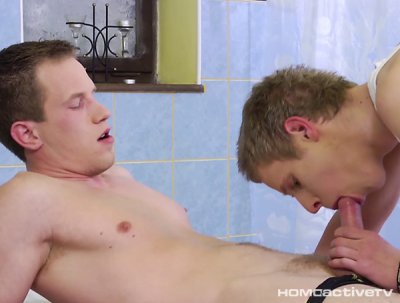 Returning to his day-job, Jimmy Snyder is soon proving to Nick Sanders that, when it comes to helping visitors relax and unwind after a day out in the snow, he's most definitely the masseur of choice. Indeed, this young lad is clearly determined to go beyond the call of duty in every single sense, sucking on Sanders's feet before moving his attention towards his client's bulging crotch. Whereupon he discovers the kind of dick that dreams are made of – thick, meaty and with a distinctly generous roll of skin that pulls back to unearth a fabulously delicious head. No wonder that the young blond is soon lapping on that knob like it tastes of honey; before the pair savour a dreamy session of 69-ing, tea-bagging and ardent ass-fingering. It's pretty obvious by this point, however, that all young Snyder wants (as usual) is a raw cock up his arse – a wish that Sanders is only too willing to fulfil, pushing his dick right up to the hilt whilst the dirty-minded bottom jerks himself off. Needless to say it's not at all long before Sanders is white-washing Snyder's pucker; whilst Snyder proves one good turn deserves another by splattering his partner's face with hot jizz!