Summary:
If you think that sex between the STAXUS boys is all vanilla and no spice then think again! Timmy Treasure presents his directorial debut with a collection of horned-up vignettes that quite literally push the boundaries of acceptability to the fucking limit. Izan Loren is the butter-wouldn't-melt-in-his-mouth lead, who quite literally can't wait to abandon his boy-next-door façade in favour of some hard-hitting, ball-squeezing, nipple-clamping, cock-torturing action. Aided and abetted by some of the kinkiest buddies in the neighbourhood – Mike Cole, Angel Lopez, Dylan Scott and a hooded, no-holds-barred anonymous fuck-pig!
Description / Review:
Scene 1: Spanish Fucker Drags His Pal Off To A Hard, Abusing Fuck & Jizz!
Cast: Izan Loren, Mike Cole
It's definitely a studio first in more ways than one here, with Timmy Treasure's directorial debut being introduced by Izan Loren in sign language – a surprising twist that unquestionably grabs the viewer's attention right from the off. Loren lives in an apartment in the centre of Madrid with Mike Cole, who – if truth be told – isn't that enthusiastic when Loren arrives home and suggests that the two of them go to the bedroom for a little intimate fun. Seems like this boy would much rather loaf about on the sofa and watch daytime TV! The handsomely tattooed Loren won't take no for an answer, however; and it's not long before his persistence bears fruit, as he pulls Cole up the stairs to enjoy some private time together.
Anyone thinking that this is set to be your bulk-standard vanilla-toned escapade will be somewhat surprised, however; for within moments of getting his buddy where he wants him, Loren has handcuffed his pal's hands to a neck-brace and is removing his shorts and pants. Unable to resist, the young fellow is quickly subjected to a hot session of fellatio; before Loren ups the ante by whipping Cole's pert little rump, leaving wheals on the lad's skin as a result.
Given the intensity of the action by this point, it almost comes as something of a relief when Loren finally decides to adopt a less combative style – choosing to rim and fuck the young pup's hole, which in turn lead to Cole squirting a heavy wad all over himself. But for one last kinky thrill, Loren fits a spider-gag onto his pal, face-fucks his mouth and finally seals the deal with a goeey, sticky facial!
Scene 2: Birthday Surprise Gives Hot Lad An Abusive Session Of Sore Fun!
Cast: Angel Lopez, Izan Loren
Most people celebrate a birthday by going out for a drink or having a special meal, but that's not what Izan Loren has in mind for his buddy, Angel Lopez, when the latter marks his special day. Instead, Loren leads the fellow off to his very special play-area, where he promptly ties Lopez to a column – his arms cuffed to a yoke, his nipples clamped, his balls weighed down by an impressive weight and his cock shielded by a chastity device. In other words, the youngster is quite simply left helpless – a mere play-thing for Loren's now-not-so-secret fetishes. What's more, the dominant pal quickly ups the ante by giving the lad a taste of the lash and the paddle; smacking his young, delicate skin with obvious relish, and for a few moments making Lopez wish he hadn't been quite so eager to take up his mate's offer of fun.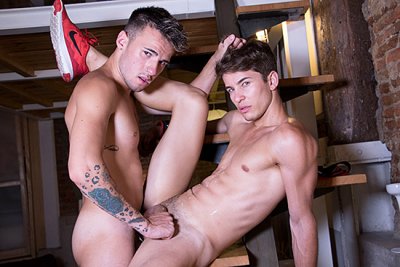 It's way too late to change his mind by this point, however; and, what's more, it's not long before Loren is turning his kinky attention to Lopez's hungry little arse-hole, which he proceeds to probe with his fingers in anticipation of a hot session of raw, hardcore fucking. Unsurprisingly, it's no time before Loren is energetically banging his mate against the column; before finally releasing the young lad from his restraints, bundling him down on the stairs and pummelling away at his pucker for all that the fellow's worth!
No fucking wonder that Lopez is quite literally on the brink in no time at all, boldly unleashing a torrent of jizz all over himself; whilst Loren signs off with a lively flood of goo moments later. As birthday surprises go, definitely one of the best!
Scene 3:
Scene 4: