Summary:
All of us have our dreams, both big and small. Often those dreams come to nothing; but sometimes – just sometimes – they blossom into reality. And like us, the STAXUS boys have their dreams too. Dreams of big, uncut cocks and heavy cum-filled ball-sacs and hungry, pert asses that just long to be filled!
Fortunately for Mike James, Kris Wallace, Yuri Adamov et al, this is one dream that we've been able to turn into reality. So prepare to enjoy a spunk-inducing fantasy of the hottest boy-on-boy action imaginable! Yes, guys, dreams really can cum true ...
Scene 1: Romantic Tryst Proves Nothing More Than A Crude Bathtime Fuck For These Two Beauties!
Cast: Chase Anderson and Kris Wallace
Also available: Horny-Hung & Horny 3 (Compilation)
There's something unquestionably dreamlike about the opening sequence of this filthy little escapade – featuring Chase Anderson alone in a bathtub in the first instance, before the dirty-blond is joined by the ever-insatiable Kris Wallace. But what could be a more fitting impression given that both these beauties are very much a dream-cum-true for anyone who likes their guys to be fresh-faced and horny! Anderson, in particular, appears every inch the representation of sweet innocence as he frolics in the water. Indeed, we defy anyone not to be reaching for their zipper long before Wallace appears on the scene. But the arrival of our favourite Pole sets the temperature soaring even higher; and before you know it the two lads are busy taking turns at sucking each other's dicks and generally acting like a couple of over-excited animals!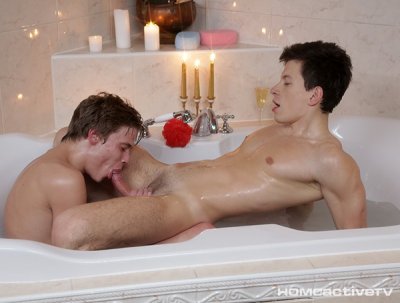 A short spell of close-up rimming completed and the action turns decidedly hardcore, with Wallace parting those gorgeous buns of his to enable Anderson to slip that thick, meaty shaft of his deep inside – by which point you'll be exercising your wrist for all it's worth and hoping to high heaven that you can stay the course. A top-notch performance that culminates in Wallace quite literally getting the spunk banged out of him – he sprays his wad all over the bathroom floor in the process! – and Anderson jerking out a creamy treat for Wallace in return, who laps at the end of his mate's cock whilst the said ramrod is squirting out its reward! In a word, bliss!
Scene 2: It's Hard Cock All The Way As Three Horny Twinks Enjoy Some Dreamy, Creamy Facials!
Starring: Sven Laarson, Marcel Lavrov and Chase Hunt
Also available: Bareback Butt Stretchers 3 (2 DVD set)
It's hardly the basis of a world exclusive, but blond beauty, Sven Laarson, is feeling as horny as fuck. Like we say, nothing unusual there – the fact remains that the lad (like most guys his age) thinks of nothing but sex on a continual basis! Neither will it come as any surprise that his buddies, Marcel Lavrov and Chase Hunt, are similarly disposed. In fact, as director John Smith is clear to point out during the opening few minutes of this escapade, all three of these boys are simply engrossed by the demands of their ever-rampant dicks – be they playing pool or simply taking things easy whilst watching the world pass by their window.
So it'll come as no surprise at all to anyone that putting the trio of beauties in the same room quickly descends into a riotous melee of cock-worship, with all three guys giving and receiving head like a band of over-sexed wastrels. Lavrov, in particular, seems unable to get enough action – even to the point of sucking off both his mate's dicks simultaneously! – but in truth there isn't a single one of this trio that gives the slightest indication of hesitancy for all things carnal. As such, it's no surprise at all when Lavrov begins to get pounded by Laarson and Hunt; before the three fellows form a daisy-chain on the sofa with Lavrov in the middle.
The result is a sweaty, energetic fuckathon that ultimately results in lots of pent-up jizz getting liberally splattered across each of those cute, fresh faces! Far from unique, of course, but we
Scene 3: An Apple A Day Helps The Cocks Cum Your Way – As The Divine Yuri Adamov Discovers!
Cast: Yuri Adamov and Chase Hunt
Who'd have thought that the gorgeous Yuri Adamov was such a sweet seducer? Armed with nothing more than an apple, he's more than capable of winning the attention of young Chase Hunt – in a coupling that deliberately harks back to Eve's seduction of Adam in the opening chapters of the Bible. In that particular instance, of course, the result was a whole load of trouble. In contrast, Hunt's eager acceptance of Adamov's come-on leads to a whole load of cock-straining, ball-busting fun! Indeed, it doesn't take many minutes before both lads are out of their pants and slurping away on all the deliciously hard dick that's hidden inside. Hunt, in particular, just can't get enough of his buddy's cock – hungrily deep-throating Adamov right to the root without so much as a gag, before eagerly rimming and fingering the cutie's hot ass.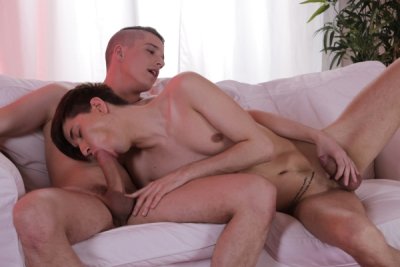 All this, of course, is but a stupendously hot prelude to the even harder action yet to come, as Hunt finally thrusts his own aching ramrod deep inside his pal's now all-too-welcoming hole. It marks the start of a wildly furious session of bareback fornication which sees Adamov buggered in a series of positions and which will have you jerking off like a being on heat. Indeed, there's every good possibility that you'll have knocked out a satisfying load long before the cute little bottom finally succumbs to the inevitable and empties his nads whilst Hunt continues to ram him from beneath; before Hunt calls it a wrap by squirting out his own over-generous contribution!
Scene 4: Slow & Steady Wins The Race. The Prize? An Ass-Load Of Spunk To Savour & Enjoy!

Cast: Mike James and Max Walker
Also available: Fuck Buds (6 Scene compilation)
There's a decidedly dreamy and leisurely start to this scene – a Sunday morning version of porn, as it were, as opposed to the breakneck, weekday variety that aims to get you to the brink right from the very start. Not that there's anything unsexy about Max Walker having a few moments to himself at the start of proceedings, or indeed about Mike James immediately afterwards. If anything, watching these two lads quietly wanking off in private makes for almost perfect viewing, with close-up shots of their stupendous physiques and over-sized dicks.
In fact, we defy anyone not to stiffen and drool expectantly during these opening few minutes! But the essential action doesn't get underway until these two young demi-gods are finally pitched together making orange juice in their kitchen – though again the action seems unrushed, with both boys making the most of every minute that they spend in each other's company in front of the camera.
A session of almost delicate, meaningful fellatio ensues, including a truly breathtaking top-to-toe performance that (if it's possible) seems only to add to the beauty of these two youngsters. And matters remain unhurried when Walker finally gets the chance to plough his thick, meaty, uncut shaft deep into James's fuck-hole – an act that will almost certainly stimulate copious quantities of jizz from fans across the world! Believe us, however, there's nothing laidback about the way Walker ultimately whitewashes his pal's badly stretched ass-hole with spunk, or the way James jerks off his own load minutes later. A real gem!
Scene 5: Cock-Achingly Gorgeous Twink Gets All His Holes Stretched By Orlando White's Dick!
Cast: Yuri Adamov and Orlando White
Also available: Bareback Rookies, Hot Fuck
What is it about young Yuri Adamov and apples? It's almost like the gorgeous little cutie can't walk past a fruit-bowl without getting his lips around a Cox's Orange Pippin! Jokes aside, however, this is a fellow who knows he's one hell of a sexy fucker and who understands exactly how to get a whole legion of fans into a hot, sticky frenzy as a result. Not that he's the only guy on the STAXUS books who's capable of such provocation, as studio favourite, Orlando White, is clearly only too eager to demonstrate when he also parades his credentials in front of the camera.
Indeed, by the time these two beauties head up the stairs to the bedroom, hand-in-hand, there's every possibility that you'll have creamed yourself already – let's face it, they're both that type of boy! Assuming you make it to the point that the lads finally hit the couch, however, you can rest assured that you're in for a five-star treat; with Adamov greedily feeding off his buddy's ramrod, before the youngsters literally tumble into the bedroom for a simply ball-bustin' session of top-to-toe fellatio.
It's quite simply almost enough to make a grown man weep for joy, and by the time that White has achieved his ultimate objective (i.e. poking Adamov's butt-hole with that handsome pole of his!) there's every distinct chance that you'll have bust a nut in appreciation. Something both lads do here with understand ease – Adamov spewing like a geyser mid-fuck, before White sprays his pent-up load over his pal's cute face!