Summary:
Imagine a world where money is simply no object. A life of sheer, unrivalled decadence, where nothing is impossible for the want of ready cash. Welcome to the privileged existence of the STAXUS platinum club ­boasting members like Chris Jansen and David Sky, who can quite literally afford whoever they want, whenever they want them. It sure as fuck makes for a better class of hardcore sex, as Angel Lopez, Mike Cole and new bitch, Frank Arias, quickly discover; with an array of hard-cocked, well-heeled sluts proving their worth with a crème-de-la-crème masterclass of spunked-out finery!
Description / Review:
Scene 1: Horny Butler Leads A Double-Dicked Dash On Chris Jansen's Ass!
Cast: Chris Jansen, David Sky, Mike Cole
Chris Jansen and David Sky are a couple of well-heeled buddies with a taste for the good life – which explains why they've got a gorgeous butler to help assist them at meal-times, in the form of the ever-delicious Mike Cole. What's more, their good fortune isn't just limited to having cash in the bank; for it turns out that their handsome assistant doesn't just limit his domestic duties to serving meals. In fact, Cole is clearly more than happy to go the extra mile to keep his superiors happy – even to the point of getting down on his knees at the table so that he can give both guys a much-needed oral workout on their cocks.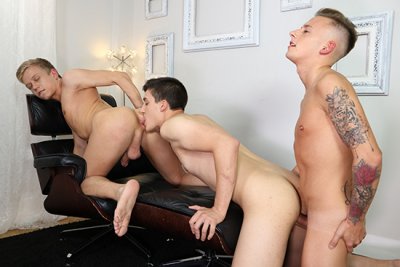 Let's be honest, you really couldn't put a price on this kind of employee involvement; and it should perhaps come as little surprise to anyone that Jansen and Sky are soon replicating the involvement by simultaneously slurping on Cole's now very swollen appendage. No doubt about it, these are three very horny boys; and the temperature in the room only notches up even further when Cole abandons all dignity by getting down on all fours so that he can rim Jansen's arsehole whilst Sky bangs him from behind.
At which point you'd be quite forgiven for thinking that it's Cole who's going to be the centrepiece of the action. In many respects, however, this little red-herring is but a prelude to the real zenith of this kinky threesome; when Jansen promptly surrenders his hungry little pucker to his two co-stars simultaneously, resulting in Sky creaming his hole and Cole splattering his generous wad of pent-up boy-goo all over the other two lads' expectant lips!
Scene 2: Filthy Flip-Floppers Enjoy A Piss & A Kinky Cum-Stained Shot!
Cast: Angel Lopez, Chris Jansen
We've all known Chris Jansen long enough now to realise that he's a really filthy bastard, so perhaps catching him in the shower almost seems like the perfect introduction to this kinky little episode with the equally dirty-minded Angel Lopez. Not that any amount of soap could wash away his reputation, it has to be said; and it'll come as no surprise to anyone that the introduction of his buddy to the scene quickly sees his behaviour degenerate gloriously. Falling down onto his knees, he's soon revelling in every drop of piss that Lopez can muster – the kind of fabulous filth on which the young Dane has built his entire reputation! It certainly serves as a stupendous reminder of just how low this boy can go; and the great news is that the succeeding minutes do precious little to undermine that notoriety.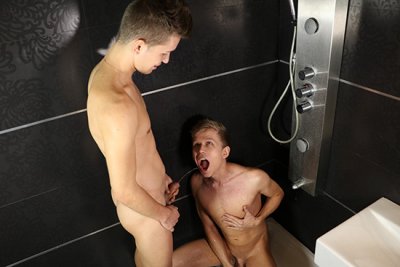 Of course, the fact that he's been teamed up here with a lad like Lopez – face of an angel, mind of a sewer! – helps matters enormously; and having taken the opportunity to sip a glass of wine, then suck on each other's cocks, the boys heap up the ante by Jansen burying his face into his buddy's hungry little arse in anticipation of a hard fuck to come.
But don't for one single minute think that this is all set to be a simple one-on-one fuck. No, these pretty little sex-pigs proceed to engage in a blissfully explicit flip-flop set piece; which culminates in Lopez rupturing his nads all over the two wine glasses. It's a divinely twisted finale that will surely attract and repulse in equal measure; but which leaves the viewer in no doubt that these beauts are as lewd as boys cum!
Scene 3: Classy Servants Play Hooky To Enjoy A Wave Of Hot Piss & Cum!
Cast: Mike Cole and Frank Arias
When you're filthy stinking rich, it pretty much goes without saying that you can afford to employ a servant – or (as in this case) two! But when the boss is away you can sure as fuck bet that the underlings will play; and it doesn't take very long for Frank Arias and Mike Cole to take full advantage of being home alone together. In fairness, the pair of handsome dudes have just spent a fair amount of time cleaning and dusting; but ultimately the temptation of Cole's lithe frame simply gets too much for poor Arias, who simply can't resist making a pass at his taller colleague and who's soon unbuttoning Cole's shirt and trousers to find what delights are nestling inside.
Moments later and the lad is down on both his knees giving his mate's cock a clearly much-needed kiss of life; before Cole gets his own sweet taste of dick down on the floor. If you're thinking that this is then going to proceed into a run-of-the-mill fuck, however, then you're probably all set for something of a big surprise; when Cole interrupts the expected flow of the action to christen his mate's pretty little body with a tsunami of hot piss!
It's certainly a very kinky turn to proceedings, and if anything it seems to ignite the set-piece into the stratosphere; as Cole (still in a bow-tie) promptly mounts his buddy's wickedly generous schlong and rides it like a being possessed. Still not content, he then allows Arias to take him from behind like a cheap slut; before returning to his previous position to bounce on his pal's lap. No wonder that he's soon squirting like a geyser; then sprayed on the chest courtesy of Arias's dick!
Scene 4: Billiard Buddies Ride It Roughshod For A Spunky Game Of Balls!
Cast: David Sky and Angel Lopez
With so much money stashed in the bank what else have Angel Lopez and David Sky got to do but while away their time by playing pool? After all, it's not as if they've got to go out to work for a living! Even so, there's only so much on the beige that a young man can savour; and it's not too long before they're looking for a little more excitement in the game. For Sky that involves slowly getting undressed mid-game – a move that's never going to fail to draw some kind of heated response from a lad like Lopez. Indeed, it goes without saying that the handsome buddy has soon cast his cue aside so that he can give his diminutive mate his fullest attention; dropping down to his knees and feverishly slurping on the thick, oversized knob inside Sky's pants.
Why, it's almost as if all of Lopez's birthdays and Christmases have come at once; and you just know from his sordid track record that it won't be too long before he's riding that mighty rod for all he's worth. Clearly wishing to prolong the experience, however, we get to enjoy the sight of Sky returning fellatio first; but the plain fact of the matter by this stage is that Lopez is quite literally gagging to get his guts stretched to the max by his buddy's monster.
It's a wish, of course, that Sky is only too willing to help make come true; first smashing into Lopez's arse against the snooker-table, then railroading to heaven on top of the felt. But it's only when Lopez is bouncing up and down on Sky's dick that matters finally reach a crescendo; with even these top-notch sluts looking surprised at the volume of jizz they produce!