Summary:
Mark Nill's holiday odyssey continues amidst a blazing glory of stiff, uncut cock and heavy, cum-laden balls. Featuring STAXUS exclusives Dick Casey, Tim Law and Rudy Valentino, not to mention the welcome return of Sam Brooks and his insatiable super-sized dick! Believe us, Club 18-30 has nothing on this group of cock-hounds, as they prove once again how important it is to make the most of your annual vacation by gobbling cock and fucking ass at every opportunity!
Scene 1: Blond German Twink Gets A Hard Stud Pounding!
Cast: Rudy Valentino, Phil Raven
Also available: Fucking Blonds (2 DVD compilation)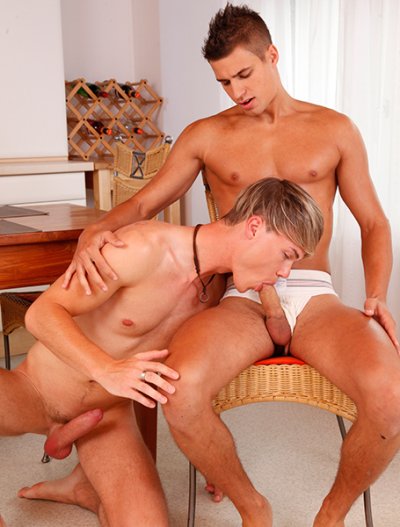 He's one hell of a fuckin' cute blond German fuck-baby, so is it any great wonder that Czech-boy Rudy Valentino can't wait to relieve Phil Raven of his jockstrap? A mission that the STAXUS exclusive star achieves in pretty much next to no time, it has to be noted. Then again we'd expect nothing less of the sex-god that is Valentino, who quite literally lives and breathes for the next pert ass to head his way. Indeed, having taken the time to exchange a heady fray of cock-sucking and wanton 69-ing, the young Czech is soon pushing Raven down onto the kitchen table and thrusting the entire weight of his slim, athletic frame against Raven's hungry ass – which, it must be noted, opens up with almost exquisite eagerness. Indeed, Raven is soon proving himself to be an insatiable host for hard cock, riding Valentino cowboy-style before eventually dumping what appears to be the entire contents of his nads all over the place whilst his buddy continues to slam from beneath. Not that it's very long before Valentino explodes with similar gusto, rupturing his nuts into a condom and then casually dripping the spent cum from the rubber into Raven's mouth. Kinky – but hot!
Scene 2: Tim Law Takes Israeli Cock – And Loves It!

Cast: Tim Law and Mark Nill
Also available: Super Buddies Love To Cum
Mark Nill's obsession with his camera continues – this time back up in the company of cheeky young chappy, Tim Law. Not that it's very long before he's abandoned the photography session in favour of something a little more personal and intimate with the STAXUS exclusive – and who the fuck can blame him?
Law's as cute as a new button and as horny as a dog in season, and indeed it's no time at all before the youngster has fallen to his knees and has taken Nill's curiously unturned knob in his mouth. An exercise repeated in reverse when the two lads swop roles and Nill slurps on Law's juicy boner in return. No doubt about it, both these guys has a real lust for cock; and it's no real wonder when we find subsequently find them down on the floor, top-to-toe, feasting on each other's hard meat at the same time.
Some hardcore anal action can't be far away, that's for sure; and having subsequently fingered Law's ass into life, Nill finally takes the plunge into the hungry cavern to give it the kind of workout we all know deep down it deserves. All climaxing in a very handsome volley of cum over Law's fresh face that'll have you jerking like mad!
Scene 3: Dick Casey Pounds Horny Israeli Stud!
Cast: Dick Casey and Mark Nill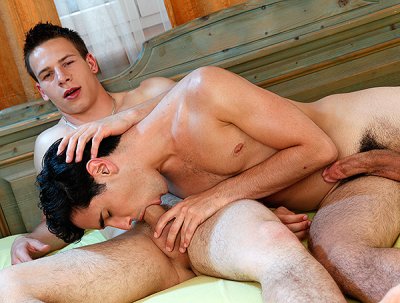 Versatility, they say, is the key to success in life. Well if that's indeed the case then Mark Nill's destined to expect more than his fair share of accolades before he's through. After all, here's a boy who seems totally at ease be he giving or receiving – in this instance serving as cock-bitch to STAXUS exclusive, Dick Casey, and clearly loving every minute of it. Then again, of course, why wouldn't he? Casey's wide-mouthed grin and muscular frame are more than sufficient to disarm pretty much anyone, and it's true to say that it isn't very long at all before Nill is rooting down into the fellow's crotch in search of his next sexual buzz. To add a certain kink to proceedings, he invites Casey to film the escapade – so capturing in graphic detail the hardcore session of cock adoration that follows. After some heated cock-play it's finally down to the real business end of proceedings, with Nill riding Casey's handsome shaft like a veritable pro and underlining in the process his credentials as an all-round top-notch whore. It goes without saying that both lads produce a flood of cum in the spunk-fest that ensues – an achievement, we suspect, you'll eagerly reproduce!
Scene 4: Horny Smooth Twink Takes On A Sticky Cum-Facial Threeway!
Cast: Sam Brooks, Tim Law and Zak Todd
Also available: Bareback Butt Stretchers 3 (2 DVD set)
The appearance of Sam Brooks in any scene is enough to raise expectations – after all, he's a grade one performer in every sense. But whatever doubts might exist about the fellow are always quickly dispelled when his oversized ramrod pops into view – in this instance whilst sandwiched between Tim Law and Zak Todd on the sofa. Needless to say Law and Todd's eyes nearly pop out of their sockets at the prospect before them, and it goes without saying that the two lucky runts are soon feasting off that oversized offering with almost unnatural gusto. Cue a stunning cock-sucking frenzy between these three beauties, with their slim, lithe bodies turning and twisting in every position on the settee in the clearly primeval urge to satisfy their animalistic desires. Believe us, you're gonna love these fellows – but your admiration will only intensify when Tim Law establishes himself as the focal point and is royally spit-roasted and pummelled by both his mates in turn. No condoms needed here folks – these boys like it raw and au natural! – and it's not long before balls are ready to blow. In this instance all over Law's face, leaving this horny trio totally drained and satisfied!