Summary:
Half a dozen of the sexiest, horniest, sleaziest skaters on the block get together for the kind of team-bonding session most of us could only ever dream about. Featuring STAXUS exclusives Rudy Valentino, Dick Casey, Brad Fitt and Tim Law, this is exactly the kind of filth that your mother warned you about and which you've been longing to see ever since. Totally raw, totally uncut, these young cum-crazed skaterboys will have you dumping load after pent-up load!
Description / Review:

Scene 1: Three Twinks, Two Studs – Loads Of Spunk!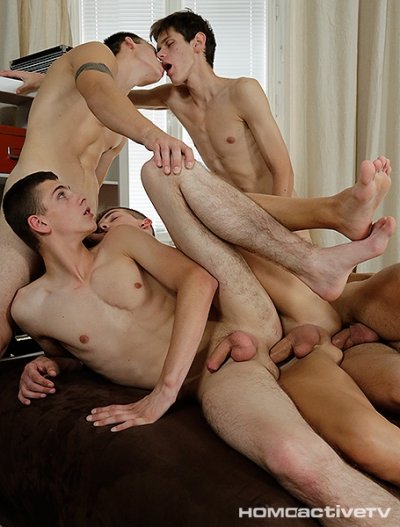 A good old-fashioned game of pontoon might be fun but it's nowhere near as captivating as a good old-fashioned gang-bang, as this group of horny lads (led by the ever-filthy duo of Dick Casey and Rudy Valentino) amply demonstrate. Valentino and Brad Fitt begin the antics, sensuously kissing and smooching whilst the other lads try to play cards. Needless to say it's not at all long before Tim Law and Timmy Taylor are hooking up with Casey for some similarly carnal escapades, playfully teasing Casey out of his clothes so that they can take turns to feast on his pulsing, uncut cock. A little sneaker play adds to a certain kink to proceedings; but it's not until both groups start to merge into one cock-crazed mass that proceedings really start to hit boiling point, with Fitt and Law getting fucked raw by their mates in every direction imaginable. The sight of the two beauties bouncing up and down together on Taylor and Valentino's laps – their hard dicks ticking like metronomes as they do so – is a sure-fire classic, as is the two of them being chain fucked. But it's the superb firepower of hot jizz at the end that will ultimately engrain this superb scene deep into your dirty mind!

Scene 2: Newbie Exclusive Gets Fuckin' Started!
We know for a fact that Rudy Valentino has his favourites when it comes to a hard session of sucking and fucking, but he's also enjoys meeting new guys and taking them (and their tight, virgin assholes) to places that they probably never dreamed of going before. As is the case here with young James Wilson, who's new to the pleasures of performing in front of camera but who clearly doesn't seem to take much persuading when it comes to going all the way for a quick buck. Mind, it's clear that this is a boy with a previously unexplored kink to his nature – or at least if the way he takes to sniffing Valentino's jocks are anything to go by.
It certainly puts the handsome beauty into quite a sexual high, eagerly slurping off Valentino's dick before parting his legs for the fuck of his life. The sight of that bare cock slipping into those unexplored depths will be more than enough to get you jerking like crazy, and even more so when Wilson sits astride Valentino's lap and rocks around on that hard knob for all he's worth. Little wonder that both lads are soon spurting like a couple of troopers – Valentino's shot serving as a real testimony to his pedigree as porn star gold!
Scene 3: Cute Young Tim Shows Us Why He's The Best!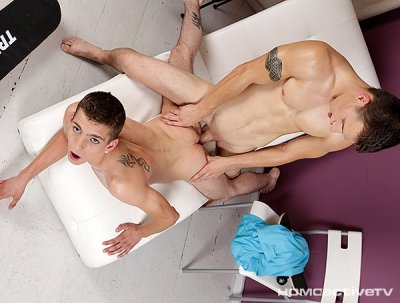 Is the size of a young man's skateboard conversely related to the size of his dick? Well, that's certainly what Dick Casey's hoping when he arrives to show Tim Law the indisputably undersized board that he's ordered off the internet. Not that we're aware of anyone complaining about the proportions of Casey's cock prior to this moment it must be said. What's more, young Law doesn't seem to have any issues with it either, teasing the handsome rod with a little cigarette smoke before giving all that fresh hard meat the kind of undivided attention that it so badly deserves. Not that a lad like Casey is ever really going to be content with oral satisfaction – no matter how good Law happens to be in that department. No, the only place Casey's single-minded cock wants to be is balls-deep in Law's hairless pucker, and needless to report it's not very long before that's exactly where it is! What's more, it's clear from the look on the cute twink's face that that's exactly where he wants it to be as well. The result is a passionate, animalistic fuckathon that sees Law get banged like a whore and Casey produce the kind of cumshot that all you jizz-lovers will go crazy for!
Scene 4: New Exclusive Uber-Twink Brad Loves Manly Dick And It Shows!
Cast: Brad Fitt, Dick Casey
Also available: Pretty Boy Fuckers (Compilation)

Forget the crap that models sometimes spout about being straight and only doing what they do for the money – you only have to watch the way that Brad Fitt and Dick Casey look at each other at the beginning of this fabulous duo to realise that these two boys have a natural attraction that both are only too willing and eager to explore. What's more, the energetic and extremely sweaty romp that ensues only underlines those first suspicions. Both these lads are as horny as fuck for each other and it's no great wonder at all that the two of them are soon exchanging blowjobs and rubbing their cocks together.
Fitt, for one, just can't wait to feel some manly hardness deep inside him; and having Casey rim his ass-hole leaves him fingering himself almost desperately. Never fear though. Casey's cock is soon on the case and before you know it young Fitt is getting the red hot raw fucking that only a cute blond beauty like him truly deserves. True to form, Fitt rides every single inch that Casey has to offer like a veritable pro, spewing the contents of his balls mid-flow; before the prince of sluts kneels between Casey's legs and gets royally splattered for his efforts!