Summary:
It was the ancient Spartans who first advocated the idea that an army of soldiers who were lovers was a better fighting force than your typical everyday militia – a notion that director John Smith continues keenly to explore with the assistance of the likes of Marty Love, George Basten and Timmy Taylor. New recruits Heath Denson and Will Jones are soon discovering what this unique philosophy entails, as their pert twink asses are stretched to the limit by some of the hottest recruits in the ranks. The result? Oodles of hot Czech jizz from the boys in khaki that'll have you tossing off volley after pent-up volley ...
Description / Review:
Scene 1: Army threeway gets this horny twink fucked raw and splattered!
Cast: Justin Conway, Rudy Bodlak, Tristan Balboa
Also available: Young, Dumb and Splattered in Cum Again
He's a real cute blond bombshell, there's no mistake. What's more, young rookie star, Justin Conway, has a distinct penchant for footwear – the sweatier the better, no doubt! After all, what other explanation can there be for him using a pair of boots to rub his cock into a state of rampant stiffness ...? Any suggestion that that's going to be the end of matters is promptly dispelled by the arrival of Tristan Balboa onto the scene – a cock-hungry brunette who just can't wait to get his luscious lips around Conway's raging hard-on.
His appetite for dick isn't limited to his mouth, mind. Before long Balboa is getting fucked up the rear by that same meaty ramrod; culminating in him taking a cowboy-style ride that'll leave you in a state of near-crazed ecstasy. Just when you thought it couldn't get any hotter, however, in steps Rudy Bodlak to complete this crotch-splitting threesome – Balboa taking even more hard dick for your entertainment before finally spewing his wad over Conway's pretty young face.
Unperturbed, Balboa blissfully rounds proceedings off by getting splattered on the chin by both his mates – the thick goo dripping from his face just the way you like it!

Scene 2: A Red Raw Ass Creaming Fuck
Cast: Will Jones, Zac Todd
Also available: Twinks Like It Big - Compilation
Will Jones produces arguably the best cumshot of the show in this scorching, crotch-straining escapade with best friend, Zack Todd – but don't use that little revelation as an excuse to fast-forward to the end. Instead, sit back, unzip and enjoy the unparalleled delights of watching two horny twinks engaging in some alfresco cock-sucking fun, as the two buddies abandon their army duties – not to mention their uniforms – in favour of some hot, lingering smooching and (ultimately) a great deal of raw ass action!
Indeed, it's not at all long before the antics in the garden have been superseded by shenanigans indoors; at which point you might begin to appreciate the full scale of the weaponry on offer, as the two lads savour a wanton top-to-toe session, deep-throating each other's dicks like a pair of animals on heat.
All this is nothing, however, compared to the red raw fucking to come and the sight of Jones bouncing up and down along the full length of Todd's ramrod. Believe us, that boy's prostate gets the rubbing of its life, and it's no fucking wonder that he erupts like fury once Todd has coated his ass with spunk. A definite winner in every imaginary sense!

Scene 3: Commanding Officer Love proves his fucking worth

Cast: George Basten, Marty Love
Also available: Khaki Cummers (6 Scene Compilation)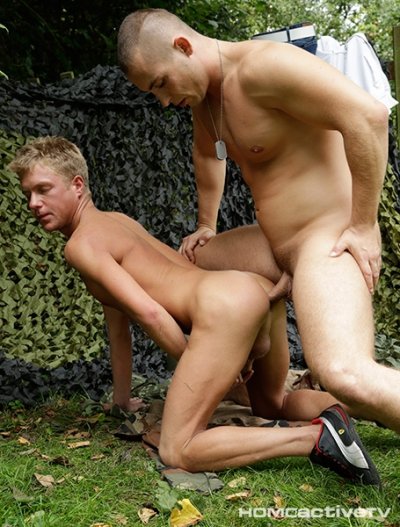 There isn't a commanding officer alive who wants to be left feeling embarrassed in front of his men, so you can quite understand Marty Love's reluctance to respond to George Basten's over-the-fence advances whilst the fellow conducts troop manoeuvres. But temptation can be a funny old thing, and even the prospect of his underlings watching as he cops off with the young blond makes little difference in the end. Officer Love, it seems, has simply got to have a piece of that sweet white meat – no matter what the consequences! Cue a fantastic open-air encounter between two of our most popular models: Basten, the archetypal blond twink, and Love, a buff, well-endowed stud who literally can't wait to bury that monstrous uncut knob into his pal's hungry pucker. As if to emphasise the difference in physiques, Love proceeds to toss Basten around like a rag doll, lifting him upside down so that the boy can suck on his dick before finally fingering and fucking the lad into total submission. By the time that Love ultimately spurts the contents of his balls into Basten's fuck-hole – all in full sight of his company – we reckon you'll be jerking off big-time in appreciation!

Scene 4: Army Buddies Quit Manoeuvres For A Four-Way Outdoor Fucking!
Cast: Timmy Taylor, Kevin Ateah, Heath Denson, Stanley Stone
Also available: Bareback Butt Stretchers 2 (2 DVD set)
Also available: Pretty Boy Fuckers (Compilation)
Starved of contact with the opposite sex and closely confined within the tank that they call home, is it any wonder that these four army buddies are feeling as horny as fuck and are ready to stick their dicks into pretty much any hole that becomes available? Indeed, no sooner has the vehicle come to a halt at the end of their manoeuvres than Timmy Taylor is copping off with Heath Denson and Kevin Ateah is giving Stanley Stone's handsome knob-end a good vacuum-tight suck!
Matters continue in a startlingly similar vein once the four lads have alighted from their positions and are back on terra firma; with blond boy Denson serving as the centrepiece of oral affections. Needless to say it's not long before Denson and Ateah are both opening up their legs to accommodate Taylor and Stone's thick, aching cocks – both boys bouncing up and down on all that man-meat like a couple of dirty whores, before each has the spunk quite literally banged out of them!
All told it's the kind of open-air fuck-fest that won't easily be erased from the memory and there's every chance that you'll have pumped out several loads before Taylor rounds things off by spewing over Denson's face!