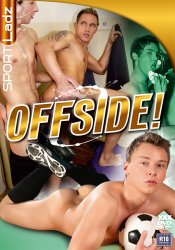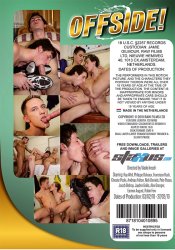 Just released
Summary:
Blond sex-god, Philippe Delvaux, heads from his native Low Countries to the Czech Republic. His mission? Officially, to play football with the lads from Prague. In reality, to enjoy as much cock and ass action as humanly possible! An objective this Belgian cock-slut enthusiastically grabs with both hands, as the world of soccer is transformed into a spunk-sodden, nad-busting frenzy!
Description / Review:
Scene 1: Match-Day Perversion With Two Horny, Kit-Obsessed Cum Hounds!

Cast: Damien Esco, Romeo James
Also available: Jockstrap Jizzers (2 DVD Compilation)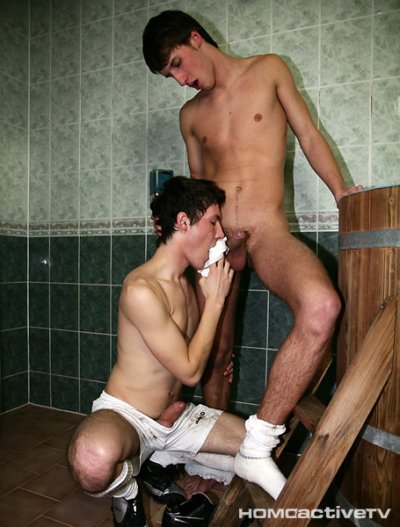 Playing football is a man's game – which is good news for guys like Chester Poole and Andreas Felton, whose idea of heaven is spending a hot, sweaty session in the changing-room with the boys after the final whistle. Unfortunately for this couple of horny cock-suckers, they find themselves together all alone in this particular instance, but they're an imaginative pair and there's no way that these lads are gonna waste the opportunity to engage in some kinky, sports-based antics. As such, it's not at all long before they're putting their socks and boots to full use – savouring their masculine stench, before using the said items to jerk themselves towards a breathless frenzy. It's not your typical sort of action, that's for sure, but if you've ever fantasised at the thought of dumping a load of pent-up jizz over David Beckham's match-day boots then prepare to see for yourself what such a perverse little wet dream would look like.
Scene 2: Getting Down & Dirty Means Taking Turns To Fuck A Twink's Cute Ass

If you want to play soccer then you have to accept that sometimes you might end up getting dirty – as Nick Deniels discovers when he returns from training covered in muck and grass. Not surprisingly, he heads straight for the showers; but the arrival of beefy Jacob Bishop and skinhead new-boy Pelo Passo quickly ensures that Deniels ends up getting even dirtier, this time in a completely different sense! True, they want to see him washed, and promptly switch the showers on to ensure the boy gets hosed down; but they also want to see the lad on his knees with their cocks in his mouth, a filthy-minded objective that they see fulfilled in pretty much no time at all. What's more, these two muscle-magnets aren't content until they're taking turns to stretch the cute lad's tight little pucker with their swollen cocks! A fabulous threesome ensues, resulting in Deniels receiving the banging of his young life and a wash-down with spunk down his throat and up his ass. Some guys, it seems, have all the fun …
Scene 3: Hot, Sweaty Locker-Room Wank Becomes Spunk-Drenched Duo ...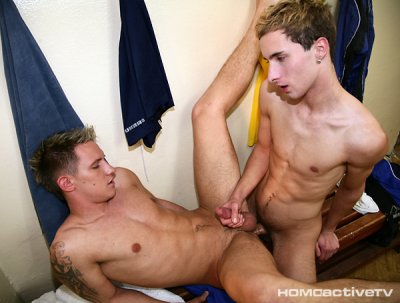 Whilst Philippe Delvaux continues to tease us between scenes, Alex Granger gets all worked up in the changing rooms when he discovers Jayden Gallis is in the shower and has left his clothes on the bench. Taking full advantage of the situation, he's quickly sniffing away at all that sweaty material, jerking himself off into a state of near-ecstasy in no time. It's perhaps no great surprise that young Gallis is rather taken aback when he returns to get dressed to find his team-mate furiously wanking off, but he's obviously not the sort to fail to take advantage of such a situation. Indeed, clearly wanting for a girlfriend, Gallis immediately thrusts that long, uncut knob of his into Granger's face – an act that gets just the desired response, as Granger first deep-throats the magnificent ramrod, before in turn forcing Gallis over the bench to accommodate his own thick, meaty shaft and then finally spewing the contents of his balls over Gallis's face! A definite must-see if ever there was one …
Scene 4: Robin Few Proves (Once Again!) What A Cock-Hound He Really Is!

Also available: Jockstrap Jizzers (2 DVD compilation)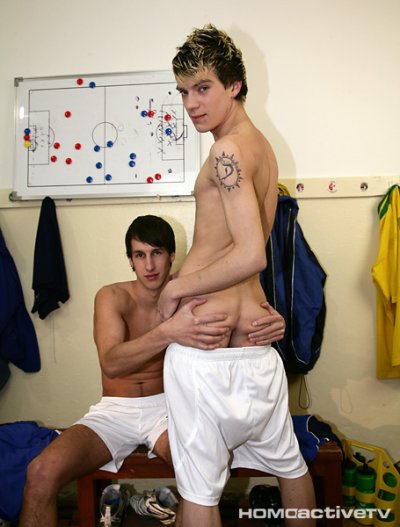 Pretty much everyone who knows the boy knows that Robin Few is one of those lads who simply lives for cock – and if there's anyone out there who still doubts such sentiment then watch (and enjoy) this fabulous scene, in which he skilfully handles the combined attention of Chester Poole and Eamon August. Ironically, his two team-mates seem quite content with their own company at the start of the action, unaware that their off-pitch tryst is about to be interrupted by Few's arrival. That said, they don't seem at all bothered by the thought of a threesome – and is it any wonder? Few is a natural when it comes to dealing with the needs of horny young men, and having promptly engaged in giving head to his pals is quickly in his favourite position: on all fours, with tongues and cocks thrusting their way into his mega-hungry crack! As always, this lad is a total man-slut, allowing both guys to fuck him from beneath and behind, before getting covered in their thick, creamy juices. Believe us, you're gonna love it!
Scene 5: Cute Twink Loves To Get Hard, Uncut Cock Between His Belgian Buns!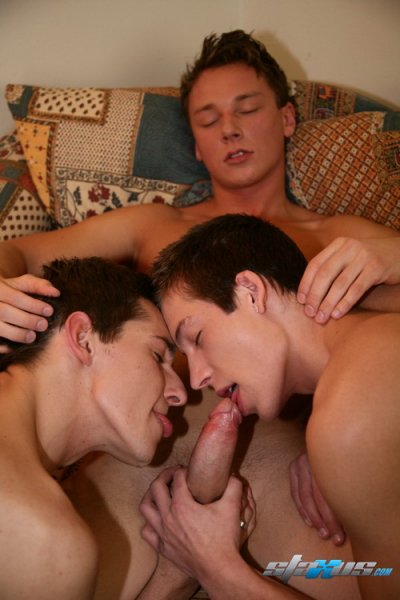 It's little wonder, of course, that Philippe Delvaux is getting so excited. Having introduced every vignette, he's now on the brink of pumping out a hefty load of sperm – much to the delight of the cameraman! The inevitable climax doesn't mark the end of his adventures, however – after all, he hasn't travelled all the way from Brussels to Prague for a cheap hand-job! Instead, we're immediately treated to a fantastic three-way featuring Francisco Ruck and Ray Weil, both of whom are fabulous emissaries for their country and who just can't wait to show their visitor the lengths they'll go to to show him a big, Czechia welcome! As such, Delvaux soon finds himself being crudely spit-roasted for their pleasure – and his, it must be pointed out! – before the young Belgian takes turns in riding their shafts like a cowboy. It's no wonder that he can't refrain from dumping another generous wad of man-milk – a sentiment repeated by the two locals, and one that results in some very sticky arses and faces! As foreign trips go, this surely has to be remembered as one of the best.
Additional Information
Categories: UK R18 / XXX Gay Adult, More Football Themed Gay DVDs
Running Time: 132 mins, Year: 2010
Price: From around £28*
Starring: Eamon August, Jacob Bishop, Philippe Delvaux, Nic Deniels, Andreas Felton, Robin Few, Jayden Gallis, Alex Granger, Pelo Passo, Chester Poole, Francisco Ruck, Ray Weil
Director: Vlado Iresch
Studio: Staxus / Sport Ladz
Buy DVDs online at: Homoactive, Simply-Adult.com and RadVideo (USA)
Gay Video On Demand: Sport Ladz, See also: www.gayvod.co.uk
Downloads: Sport Ladz @ Homoactive
Member site: Staxus.com
Country: Czech Republic, Language: Czech with english subtitles
Additional info: No Regional Coding