Summary:
Young Israeli, Mark Nill, arrives in the German resort of Ravensburg looking for a bit of summer fun – and what does he discover? A town that's filled to the rafters with the hottest and horniest male totty around, all of which is just gagging for the next damn fuck. Featuring STAXUS exclusives Rudy Valentino, Tim Law and Dick Casey, this is one dream vacation that's guaranteed to have you tugging on your dick and spewing copious amounts of cum before the journey home!
Description / Review:
Scene 1: Rimmed and fucked by a scally
Cast: Lloyd Adams, Will Jones
Also available: Fuck Buds (6 Scene compilation)
Über horny blond twink, Will Jones, has a definite penchant for lithe, pert-assed pups, so it's no wonder that he's immediately drawn to Lloyd Adams when he spots him on the other side of the tracks whilst seated at the railway station waiting for a train at the beginning of his holiday.
What's more, it's a distinctly mutual attraction, with Adams quickly taking the opportunity to cross over the line to suggest that the two of them go off into town for some pizza. Pizza, my arse! The only stuffed crust these gorgeous lads are interested in involves some really hard, uncut cock and a great deal of dick-hungry ass – the latter of which is ultimately provided by Jones with typical Czech-style gusto.
Prior to this much-anticipated union of dick and butt, however, there's a glorious display of sucking and rimming from these young beauties; before Jones's appetite for a good stretching finally encourages him to mount his new-found buddy's knob cowboy-style. It's a breathless, ball-draining display, which rightly concludes with two fabulous cum-shots that must be seen to be believed.
Just spare a thought for the poor cleaner as the hot jizz gets sprayed in all fuckin' directions!
Scene 2: Tim Law Rides Some Uncut Blond German Twink Dick!
Cast: Tim Law and Phil Raven
See also: Let's Play With Tim Law
Also available: Big Is Beautiful (2 DVD Compilation)
It doesn't really take much in the way of genius to see why blond German beauty, Phil Raven, is attracted to STAXUS exclusive, Tim Law – after all, what red-blooded guy would be able to resist the young twink's pert good looks?
Neither is it really rocket science to understand Law's brooding penchant for Raven, whose heavy mane of blond hair and handsome Teutonic frame is every inch what we'd expect given his nationality. Indeed, the on-screen sexual chemistry between these two sex gods is quite palpable almost from the very moment that the camera starts to whirr; and the prompt emergence of Raven's closely-trimmed uncut cock (whose size could almost warrant it a zip-code of its own!) only adds to the intensity of the encounter.
What follows is a fabulous display of fornication that'll have you reaching for the Kleenex time after time; as Law rides that thick, meaty member in pretty much every direction known to man and quite literally gets the spunk fucked out of him in the process! But it's the flood of jizz that the boy gets blasted over his face courtesy of Raven's knob that warrants greatest acclaim – a chin-dripping finale of the highest order!
Scene 3: Passive Israeli Stud Worked Over By 3 Of Our Exclusive Czechs!
Cast: Rudy Valentino, Dick Casey, Tim Law and Mark Nill
Also available: Bareback Bukkake Frenzy 2 (2 DVD set)

In short, we defy anyone not to absolutely love this scene. Why? Well, put quite simply, because it features four of the most goddamn adorable fresh-faced creatures that you could ever wish to see put together in a porn flick – three of whom (Rudy Valentino, Dick Casey and Tim Law) are all STAXUS exclusives and who by the looks of things had been saving themselves up for some time to give young curly dark-haired cherub, Mark Nill, the kind of holiday escapade that he'll remember for the rest of his life. Needless to report, Nill serves as the unquestionable centrepiece of all the action from beginning to end, as the three Czech lads service his cock and ass with the kind of unforgiving gusto that we've long since come to expect from the boys of Prague.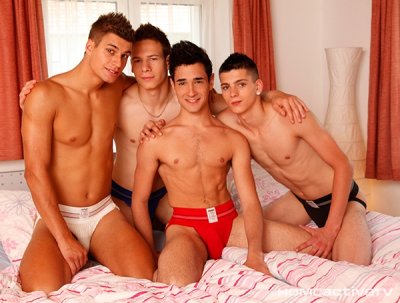 Indeed, you might almost feel sorry for the lad as Casey and Valentino take it in turns to pound away at his tight (but clearly very hungry) arse, whilst Law continues to hang his young lips around his knob. Suffice it to say that the action concludes with all three Czech lads drenching their visitor with the very finest Slavic DNA – all to Nill's undeniable pleasure. A top class escapade that'll leave you begging for more!
Scene 4: Israeli Boy Babe Rides Rudy Valentino's Cock For All It's Worth!
Cast: Rudy Valentino and Mark Nill

Who knows what young lovers Rudy Valentino and Mark Nill get up to when they're alone in the loft together? Well actually we all do – thanks to this terrific set-piece – and believe us it's every bit as debauched and filthy as you'd expect.
Indeed, anyone who's seen handsome stud Valentino in action prior to now will fully understand that he's not the kind of guy to let opportunity go to waste, and when given the chance to give Nill a really passionate workout on the end of his dick was only too eager to see things through. Mind, Valentino's energy does not go unmatched. Nill, to his credit, is soon down on his mate's dick like his whole future depended on it; and follows up some tremendous cock-sucking with a fine display of rimming on Valentino's hairy hole.
But it's the 180 degree leg-split to allow his ass to accommodate Valentino's swollen, uncut shaft, followed by the very receptive manner with which he then gets fucked over the sofa, that really warrants attention; and no doubt you'll have dumped a fine wad (or even two) by the time these lads have burst their nuts and are mutually rubbing the gooey, cum-stained ends of their spent dicks!