Summary:
It's not so much the school of hard knocks as the school of hard cocks, as a gang of horny Alpha males push their less resilient college peers to the very limits of sexual endurance. Prepare to be amazed as innocent ass after innocent ass gets poked and stretched, whilst cute faces get blasted with hot jizz time and again! All culminating in a double-penetration showpiece that'll have you convinced that every Czech student is a cum-crazed, raw cock-riding whore!
Description / Review:

Scene 1: Two Studs Abuse, Fuck & Piss On A Cute Smooth Twink!
Cast: Dick Casey, Will Sims & Paris Neeo
Also available: Spunk-Lovin Spit-Roasters (compilation)
We're not exactly sure whether any director has ever featured setting fire to a model before, but it sure as fuck adds to the intensity of the opening action here as young Will Sims is abducted from a local supermarket by horny fuckers Paris Neeo and Dick Casey. To be fair, the truly incendiary nature of the action comes immediately after Neeo's efforts to ignite Sims with lighter fuel, with the lad's assailants promptly forcing their hostage into a stunning display of unrequested cock-sucking.
Indeed, by the time Neeo is thrusting his fingers into Sims' tight little ass we'll warrant that you'll have completely forgotten the initial antics, and will be concentrating instead on the sure-fire action ahead – on this occasion featuring Casey banging away from the rear whilst Neeo forces his knob down Sims' throat! Of most memorable note, however, is Casey's ensuing cum-shot – a truly magnificent cascade of jizz that really does have to be seen to be believed! And just when you thought that couldn't be topped, the two kidnappers bundle their victim onto the floor and conclude the scene with oodles of hot, fresh piss. All in all, a brutal, unforgiving fuck that'll blow your load!
Scene 2: Blond Schoolboy Humiliated & Fucked Wide Open Outdoors!
Cast: Marty Love, Will Jones
See also: Open Air Sluts 3 (2 DVD set)
Hitch-hiking has always been a perilous business – after all, who's to say you won't end up being given a lift by some sadistic sex fiend who wants to take you off to some quiet secluded spot to fuck your brains out ...? Indeed, exactly the fate that awaits cute blond Staxus Academy student, Will Jones, when he flags down Martin Love. What we get to see here, of course, is pure unmitigated fantasy; and whilst the reality would neither be hot or exciting to watch, the drama here is all that and more as Jones is quite literally bundled onto his knees with his hands tied behind his back so that Love can finger and fuck that pert little ass-hole of his.
It's a truly unforgettable act of illicit fornication, all played out in the open wilds of the Czech Republic and filmed in the kind of beautiful close-up detail that'll have you reaching for the tissues time and time again! Little wonder that both boys finally end the escapade with the kind of jizz-splurges that porn directors dream of, with Love dumping a magnificent load over Jones' face and Jones in turn spurting all over his own school jumper. It's hard-hitting, it's uncompromising, but this scene is satisfaction guaranteed!
Scene 3: Two Prefects Use A Smooth Pale Schoolboy & Then Piss On Him!
Cast: Deon Fox, John Core, Drew Paskin
Also available: Bareback Butt Stretchers 2 (2 DVD set)
Maybe the college that you attended was blessed with the kind of underground catacombs that serve as the backdrop to this fabulous student-inspired threesome, and maybe it was filled with the kind of cute, boyish twinks that feature here, but chances are reality was somewhat disappointing in comparison. All the more reason, therefore, to savour this perverse escapade, featuring John Core and Drew Paskin as a pair of over-sexed students who clearly think nothing of hitting it off in front of fellow pupil, Deon Fox.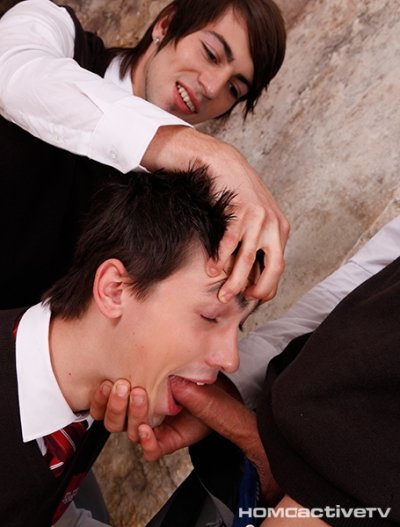 The result is a stupendous foray into voyeurism, with Fox jerking off his big fat cock whilst Core and Paskin suck and fuck like young whores – exactly the kind of clientele we love to encourage to our own unique place of learning! It's the use of clean white shirts and school ties that's gonna do it for a good many of our fans, we're quite sure; but there's no disputing that the quality of cum-shot at the end is premier league, with Paskin's face literally coated in jizz courtesy of both his peers. Then it's a case of yellow nectar all round, as Core and Paskin take turns to piss on each other; before Core white-washes Paskin's cute face with spunk!
Scene 4: Two Schoolboys Suck Off In A Supermarket Car-Park When It's Open!
Cast: Jack Rider, Adrian Smallwood
Ask anyone who's been a victim – blackmail can lead you to do all sorts of extraordinary things that you probably otherwise would never dream of doing. But whether it would ever get you to behave as Jack Rider and his college fuck-buddy, Adrian Smallwood, behave in this scene is another matter entirely. After all, they seem to think nothing of parking up in a car at the local supermarket and partaking in a hot session of fellatio whilst ordinary shoppers go about their everyday business in the background. Not only that, but part of the blackmail means that they actually record the whole episode on a camcorder for their blackmailers to watch!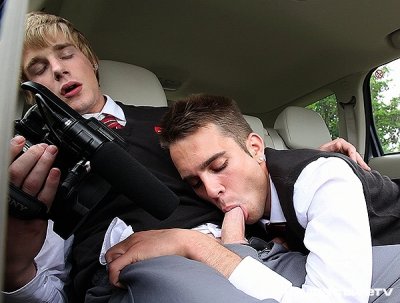 Of course, the element of risk is what really makes this scene, but let's not overlook the fact that neither boy looks much over the legal limit and that blond lad, Rider, looks particularly fresh-faced and innocent. Not that he appears very unworldly once Smallwood has his dick out in the back of the vehicle – believe us, he knows exactly what to do with his mate's thick, meaty, uncut weapon and continues to do it until the rod has unburdened every last drop of its thick, sticky deposits. Brief, but a spunk-filled thrill nonetheless!
Scene 5: Two Teachers Abuse & Double-Fuck A Submissive Smooth Schoolboy!
He's not the cutest twink in the pack, it must be said, but what David Bruckman lacks in boyish charms he sure as fuck makes up for in his desire to have some hard fun with a couple of real guys in the shape of Zack Hood and Martin Love. To be fair, the attention of the older lads is primarily uninvited, but having conceded to the demands of this horny pair it's no time at all before the youngster is giving his utmost in the quest for his next sexual high. We defy anyone not to be impressed from pretty much the moment he plonks himself down on Hood's raw knob – an act some replicated by Love, who fucks the boy from behind whilst Bruckman slurps on Hood's dick.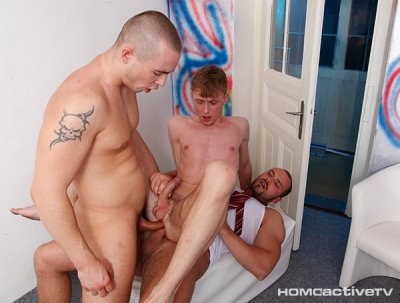 But let's be honest here, what makes this scene stand out is the hardcore session of bareback double-penetration that sees Bruckman skewered by Hood and Love simultaneously in magnificent close-up detail. What's more, the young fellow's face is then coated with a delirious quantity of jizz from those two same dicks – a fitting finale that'll have you spurting big time. By the time the two tops march out the door demanding that their underling cleans up, you'll be completely drained for sure!