Summary:
One thing's for sure, you can take a Czech boy anywhere in the world – in this case the Caribbean – but he'll still be a Czech boy. In other words, he'll still be a complete and utter bitch for cock! As this group of hyped-up lads from Prague prove time and time again as they trawl the Dominican Republic for the hardest, horniest action that the natives can provide. Mike James, Jaro Stone, Sven Laarson and new-boy Carl Ross prove that when it comes to creaming those dicks, there's no-one to touch the dudes from the STAXUS slut factory!
Scene 1: Cute, Horny Host Gives Mike James A Raw Dominican Welcome With His Thick, Uncut Cock!
Cast: Adrian Rivers, Mike James
Also available: Donkey Dicks 3 Compilation
Hats off to Mike James – no sooner has he arrived at Adrian Rivers' villa in the Dominican Republic, than he's making himself right at home. Helping himself to a drink from the fridge, enjoying the delights of the outdoor pool and – most notably of all – making it clear to his host that he's hot, horny and very, very available! A fact that doesn't escape the attention of the young, dark-haired American lad, who bounds down the stairs the following morning and quickly engages in some fun with James courtesy of a pot of yogurt! It's a bright and breezy start to their antics, but it's very much an appetiser to the main course of hardcore fun; with James promptly stripping Rivers of his trendy underwear and feasting on the thick, nicely curved ramrod that he finds throbbing away inside.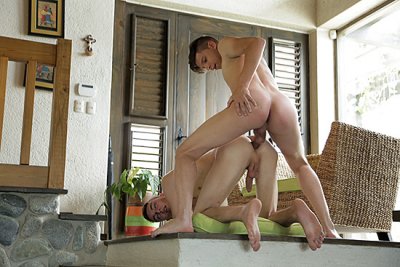 It's a move that's promptly reciprocated, and which signals the start to a truly terrific coupling that'll surely get the juices flowing of even the most porn-weary fan! James (as always) is a fucking delight to watch; but his cute, well-hung companion is equally captivating, not least of all when he's riding his visitor's lubed-up ass in a succession of ball-bustin' positions.
Suffice it to say that James takes every inch on offer like the true pro he is; culminating in the Yankee-boy fucking the fellow at the top of the stairs, his low-hanging balls slapping merrily away against James's ass! It's a truly magnificent sight – as is that of him whitewashing his guest's hole, prior to James jerking off. The private lives of the Dominicans and their privileged visitors have rarely looked so hot!
Scene 2: Blond Beauty Fuck-Fest As Two Horny Sluts Enjoy A Flip-Flop Session Of Hard, Raw Copulation!

Cast: Mike James & Sven Laarson
Also available: Donkey Dicks 5 Compilation Gay DVD
Also available: Amazing Sluts (compilation)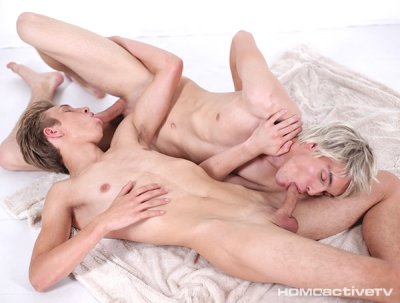 You could be forgiven for not recognising young Mike James in this horny little escapade with Sven Laarson, given that the lad has grown his hair and dyed it platinum blond. All that said, however, there's one thing about this guy that doesn't seem to have changed one iota – namely his love of cock and his seemingly insatiable desire to flaunt himself in front of the camera, which on this occasion is taken to a whole new level when taking part in a photo-shoot with his equally hyped-up compatriot! So don't fret and think that in some way this STAXUS favourite has gone all mainstream and no longer wishes to act the common slut for an easy wad of cash. No, James is still very much the wanton extravert we all know and love; and within moments is feasting on his mate's handsome love-stick for all he's worth.
Not that Laarson is in any way playing second fiddle to James here – a point that's underlined when the pair engage in a very sensuous session of top-to-toe fellatio. But it's James who's the first to give in to his desire to experience a hard, raw ass-stretching – riding Laarson's thick, meaty ramrod cowboy-style like the true pro we all know him to be. Unwilling to miss out on any of the fun, however, it's not long before Laarson's taking every hard inch of his buddy's shaft in much the same fashion; before both lads take it in turns to jerk each other off, emptying their heavy sacs of hot jizz in the process. A feat that a whole legion of gay porn fans will no doubt replicate in spunky appreciation of two of the hottest, filthiest blonds on film!
Scene 3: It's a Flip-Flop Fucking Fantasy As Two Über-Sexy Studs Turn A Model Shoot Into A Cum-Tastic Frenzy!
Cast: Carl Ross, Sam Williams
Also available: As Big As They Cum (2 DVD Compilation)
Come on, let's be perfectly honest here, when you have two models like Carl Ross and Sam Williams in a scene then there's not really a great deal more to be said! After all, both these lads are feckin' gorgeous in their own right, and we suspect that most of our fans could quite easily watch either of them for hours upon end without having the slightest desire to do anything else! As such, it's probably quite fitting that there's nothing but a white background to this stupendous coupling. No dramatic backdrops, no swimming pools or sun-kissed beaches! Just two über-sexy young men doing explicit things with each other, with only a plastic chair for company!
If that sounds boring then, believe us, you're missing the point. Ross and Williams are a pair of blond and brunette sex-gods (respectively), and they will quite literally squeeze every last drop of jizz out of your balls just by being there! So sit back, relax, unzip ... and enjoy every single moment of these gorgeous creatures sucking, rimming and (eventually) fucking each other like a couple of over-sexed dingos on heat.
Picking a favourite is almost impossible – unless, of course, you have a propensity to a darker or blonder guy – but again, that's just part and parcel of the scene's magic. Suffice it to say that we defy any gay guy – and we really do mean any gay guy! – to see these two divine animals in full rut and not to respond with a well-worked wank (or more!) in spunky appreciation. In short, the closest thing to heaven that you're ever likely to see this side of paradise!
Scene 4: Young, Wannabe Photographer Gets His Ass-Hole Fully Charged By Two Sexy, Well-Hung Studs!
Starring: Alan Benfelen, Arthur Kral, Jaro Stone
Also available: Let's Play With Arthur Kral
Also available: Eye Candy Films, Passion Unleashed
Alan Benfelen, clearly fancies himself as a bit of a whizz-kid behind the camera, making the most of an opportunity to conduct an underwear shoot with STAXUS favourite, Jaro Stone, and fellow newbie, Arthur Kral. But, as so often appears to happen when you get three horny, young lads together in one place with too much time to kill, it's not too long before it's shooting of a very different nature that begins to take precedence!
Not that our dirty-minded fans will be complaining too much about the turn of events. Seeing gorgeous guys in their pants is unarguably hot, but seeing them strip out of their pants is almost certainly even hotter! And with a kinky boy like Benfelen sandwiched between Stone and Kral on a sofa, take it from us that it's no time at all before those briefs are being kicked to one side so that all three fellows can take advantage of all the hard, swollen male flesh that's on display in that room! Not for the first time, it has to be said, Stone's oversized shaft seems to draw the very keenest attention – understandably so! – as the three fellows take turns in pleasuring each other; before Benfelen finally gives in to his primeval urges, sits on Stone's knob and rides it for all that it's worth!
Not wanting to miss out on the fun, Kral then proceeds to give Stone a blow-job every time that the top's dick slips out of the well-greased hole! It's kinky, it's exciting – and it's not surprising that Kral soon wants his own piece of that cute, hungry ass! Cue a fantastic share-and-shag session that sees Benefelen banged like a fuck-doll, before busting his nuts big time and then taking the loads of both his mates over his sweet face!
Scene 5: Two Love-Struck Beauties Take Paradise To A New Level With A Hardcore Suck-&-Fuckathon!
Cast: Mike James and Tim Law
Also available: Young, Dumb & Splattered In Cum (6 Scene Compilation DVD)
Mike James and Tim Law are quite literally having the time of their young lives. With only themselves and the surrounding Caribbean paradise for company, they're very much a couple in love – lying on the beach together, frolicking in the sea and having drinks at a bar. So you can probably appreciate that the romance between these two buddies is quite unmistakable right from the start; and it's absolutely no surprise when the lads finally engage in some gentle, but very passionate smooching next to a pool.
It signals the start of a succession of encounters around the hotel complex – the kind that would leave no doubt in anyone's mind as to how much these fellows are into each other. Law, in particular, clearly can't get enough of his mate's fabulous body; and it should surely come as no surprise to anyone that he's soon got James out of his tight-fitting swimwear and is energetically feasting on the handsome, swollen ramrod that bounces out as a result.
A further session of outdoor cock-sucking ensues – this time on the lawn – but it's unquestionably the session of rampant, unbridled love-making back at the villa that marks the highpoint to this cum-draining encounter. Truth is, Law can't wait to get that juicy, uncut shaft of James's up his hungry little ass; and once back indoors the lad is parting his legs to give his pal total, unrestricted access. His reward is the kind of raw fucking that pretty much every gay guy dreams of – pounded and stretched, then creamed in the face! Little wonder he can't resist jerking off in the pool immediately afterwards!