Summary:
The USSR might be history now and the Iron Curtain gone, but there's still a whole host of horny, cock-slurpin' bad-boys to discover in the old Eastern Bloc. Guys with little in the way of inhibition and who quite simply appear to live for the next hard dick or hungry ass! Western decadence? Don't make us laugh. These lads have an appetite for jizz that would put their capitalist counterparts to shame. Young and fresh-faced, they're total sluts in every imaginable sense!
Description / Review:
Scene 1: Smooth Blond Cock-Lovin' Punk Gets His Ass Pummelled Hard!
Cast: Peter Jensen, Dennis Nickolero
Also available: Super Buddies Love To Cum
Peter Jensen and Dennis Nickolero should be busy doing their Chemistry homework or preparing for tomorrow's Russian class, but who can blame them for being a little distracted from their studies? After all, all that smooth flesh on show is bound to get the blood rushing away from the brain – and headed for much more intimate quarters!
Indeed, it isn't long before the blond-haired punk and his dark-haired pal are getting down to the much more serious business of sucking cock and fingering ass – all captured in filthy, close-up detail for your perverse entertainment. If you can imagine the cutest, smoothest, most pert arse you're ever likely to come across (excuse the pun!) then you've got a very good idea of what's on offer here, as blondie grinds his way down onto his mate's thick, uncut shaft for the kind of fucking that wet dreams are made of.
Needless to say, this beauty of a slut grunts and groans his way to ecstasy, mounted in every direction until his shaved cock can quite literally take no more, spewing all over his belly. But it's the dozen-shot eruption from his best mate that'll secure greatest acclaim, plastering the bottom's face in sticky goo!
Scene 2: Smooth Blond Boy Babe Loves It Hard & Fast!
Cast: Paul Tillrooth, Andrew Farmer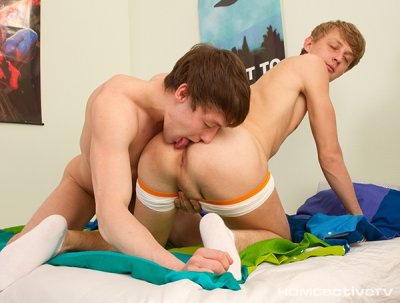 If you're looking to watch a session featuring a couple of buff studs then alas you've definitely cum to the wrong place. Fact is that both Paul Tillrooth and Andrew Farmer are as fresh-faced and perky as you ever get to see in porn – two five-star cuties that'll have any twink aficionado reaching for the rewind button and the Kleenex in equal measure. Indeed, you won't want to miss a second of these damn fine youngsters, who barely look a day over eighteen and who have the teenage libidos to match. It pretty much goes without saying, of course, that they engage in every kind of sexual shenanigans, culminating in a lengthy session of rimming that not surprisingly gets the horny blond bottom into quite a spin. No wonder that the young fellow can barely wait to get his arse skewered onto his pal's throbbing dick, or that he subsequently rides it like a veritable whore! Fact is that this is one pretty-faced comrade who clearly can't get enough bare cock, and it's not surprising that the lad is soon dumping a fine load of pent-up jizz in appreciation. As does his mate, it should be noted – all over the blond fellow's face! Boyhood pleasures have never looked so hot!
Scene 3: Max Best & Eric Fischer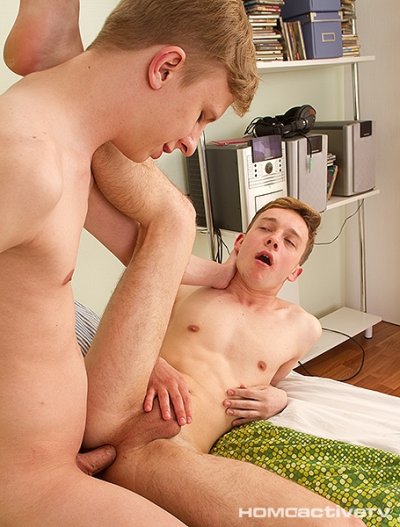 There's a distinct hint of auburn with these two horny twinks – and let's be honest, you know what they say about red-heads! Indeed, there's certainly no absence of sexual energy from the very moment that these boys begin to make out, kissing and cuddling on the bed like a pair of sex-starved cherubs. Not that there's anything in the least bit innocent about these boys, who clearly know exactly what's expected of them when in front of the camera. Before you know it fingers are beginning to explore tight, but very hungry ass-holes – soon to be replaced by thick, aching dicks! What follows is a stupendous, breathtaking session of hot boy sex, as the red-head thrusts his oversized knob deep into his pal's pucker first from behind and then in missionary position. Little wonder that his mate is gasping and groaning in ecstasy in response, eventually culminating in a very sticky fiesta of pent-up hot jizz as both guys bust a nut big-style. Don't assume that these boys are completely finished quite yet though, as they engage in a sultry, cum-laden smooch that'll have you shouting at the screen for more. Russian boys are dirty whores it seems – and none more than these!
Scene 4: Smooth Twink Slut Begs For Hard Pounding And A Hot Load!
Cast: Jacob Roulier, Gregory Simmons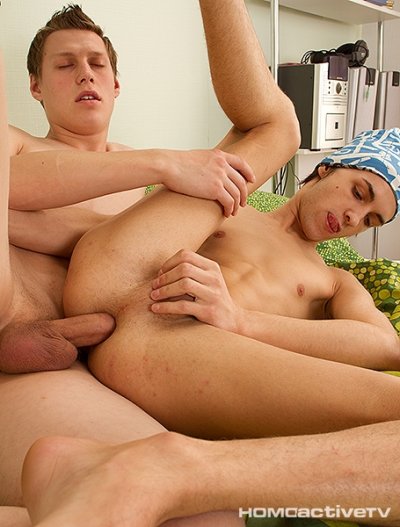 We all know it can get perishingly cold in Russia, but do the temperatures fall so low as to warrant someone wearing a woolly hat during sex? Well the answer appears to be a most emphatic yes – or at least if this horny little scene is anything to go by, a dirty cock-straining escapade featuring a couple of sex-starved buddies in the very delicious shape of Jacob Roulier and Gregory Simmons! Indeed, maybe it's the cold that explains the enthusiasm with which this pair get down to business, slurping on hard cock and fingering hungry ass like their very lives depended on it. Suffice it to report that it isn't very long at all before the lad in the hat is primed and ready to take his mate's long, thick dick – a task that he undertakes with unmistakable relish. First it's cowboy-style, then he's taken from behind and finally they spoon together towards a hot and passionate crescendo – which in this instance sees a great deal of pent-up spunk released, most notably in the form of a facial for the guy in the hat! Whether the said hat had to go in the wash afterwards as a result will forever remain a mystery, but the sticky contentment is written all over the boy's face!