Summary:
Tobey Maguire was otherwise engaged when it came to the shoot, but don't let that put you off this superb Spiderman spoof. Fact is young Spidey (played here by Milan Sharp) is as sexy as ever – if not indeed sexier! – and really can do whatever a spider can.
Whether our arachnid friends are as obsessed with hard, uncut cock as these boys, however, is open to question. But with a fine array of raw Czech & Brit talent, including Tim Law and Skylar Blu, we reckon there's every chance you won't fuckin' care. The story of Peter Parker has never looked so dick-smolderingly hot!
Scene 1: Dick Smolderingly Hot Threesome As Spiderman Fucks & Creams Two Horny Twinks!
Tim Law, Kamyk Walker and Milan Sharp
Also available: Spunk Lovin' Spit Roasters 3 (Compilation)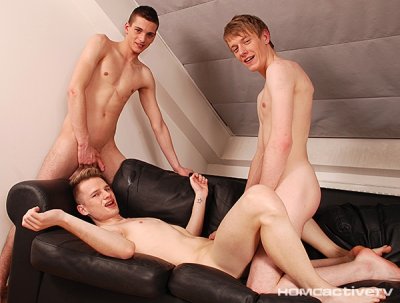 Crime, as they always say, doesn't pay – although this spunky escapade might leave you wondering whether that's strictly true. After all, how else would Tim Law and Kamyk Walker have ever encountered Spiderman (alias Milan Sharp) were it not for the fact that they've just stolen a bag – full of money, we presume – which the superhero wishes to retrieve? As it is, their misdemeanour is in effect rewarded when they're cornered by Sharp and forced to get down on their knees to worship his thick, meaty dick – which, it has to be said, they undertake with characteristic gusto, taking turns to slurp on the handsome rod like their very lives depended on it. What's more, it's not too long before both lads are taking the said raw knob deep inside their asses, one after the other. No doubt about it, this is nothing like anything you've ever seen in any previous Spidey production; and by the time cute-kid Walker is being hammered by the action-hero's oversized cock second time round, we've absolutely no doubt that you'll be on the verge of your own creamy blast-off. A predicament that faces all three guys here – most notably Law, who creams Walker's face, and Sharp, whose copious, multi-shot climax really does have to be seen to be believed!
Scene 2: Spiderman Rescues Dick-Lovin' Twink With A Thick Serving Of Hard Raw Cock!
Cast: Ryan Olsen and Milan Sharp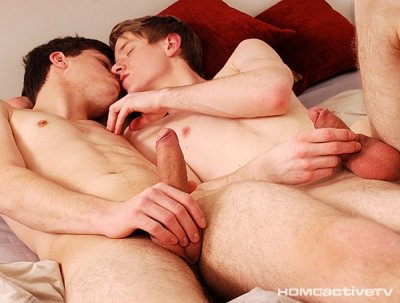 Even a superhero has to take time off-duty to get some sleep, but when you've got the kind of weapon between your legs that Milan Sharp has got then is it any great wonder that other guys just won't give you five minutes rest? Boys like Ryan Olsen, a dark-haired cutie who arrives at Spiderman's apartment to find the fellow unconscious in his bedroom and who promptly responds by sucking the life out of our hero's dick. Not that Sharp appears to be too unduly perturbed by such an interruption. In fact, given the way his cock responds to the keen show of affection you'd be forgiven for thinking that he's rather taken by Olsen's attentions. Certainly it doesn't seem to take Spidey much time to be returning the compliment, slurping on Olsen's manhood with typical gusto; before he's taking his mate from behind and fucking like a wild animal. The sight of all that raw fornication, performed in a series of positions for your personal satisfaction, is sure as hell gonna get you reaching for your dick – and no fuckin' wonder! Whether you manage to squirt a load like Sharp, however, is another matter entirely. His ball-draining climax sees him literally shooting like Old Faithful, leaving Olsen's belly coated in a thick satisfying layer of fresh jizz!
Scene 3: Hero-Worship Leads To Cock-Worship As Spidey Gets To Fuck Hungry Twink Ass!
Cast: Milan Sharp and Skylar Blu
Also available: Facial Buddies (Compilation DVD)
Hero-worship comes in all different forms, but young Skylar Blu takes it to a whole new level when he rewards Spidey (Milan Sharp) for rescuing his phone and cash from the clutches of a mugger. No mere word of thanks here. Instead, Blu's flashing his cum-to-bed eyes at the superhero and inviting the fellow to feast on the gorgeous flesh before him – and believe us, Sharp doesn't show the slightest bit of reticence in response.
Indeed, Spiderman is soon feasting on Blu's hard, uncut dick like a being possessed, and who on earth can blame him? Given half the chance most of us would be slurping on that thick beauty in much the same fashion! Young Spidey's ultimate objective, however, is the young twink's infamously hungry ass, which as every porn lover knows has a truly insatiable appetite and which has already taken more stiff cock in its short life than most of us can hope to enjoy in a lifetime! And here it enjoys yet another fabulous taste of carnality, riding every inch of Sharp's gloriously generous rod like a true professional.
Little wonder that Blu is soon busting a nut in response; although ultimate accolade goes to Spiderman himself, whose cum-shot not only coats Blu's face but much of the room besides. In short, top-notch filth!
Scene 4: Hot & Horny Heroes Enjoy A Spunky, Raw, Big-Dicked Super-Fuck!
Cast: Milan Sharp and John Parker
Also available: Young Dumb and Splattered in Cum Yet Again (6 scene compilation)
It's time to let your imagination run riot, as Gotham City resident, Batman, leaves the security of the Bat Cave to enjoy a little mutual hero-appreciation time with Spiderman – leaving us horny viewers to wonder who's gonna cum out on top, so to speak. Will it be Spidey (Milan Sharp)? Lean and pale-skinned, with a clear penchant for Batman's shaved dick.
Or will it be Batman himself (John Parker)? Buff, tanned, tattooed and with an equally incorrigible appetite for Spidey's oversized ramrod. The answer, of course, is arguably a foregone conclusion – if only because we've yet to see Spiderman take it up the ass! – but don't let that distract you from a first class, top-notch coupling that'll have you jerking off on your own dick right from the start. Parker, for one, is on classic form – prime beef in every sense – and the sight of him finally ploughing into Sharp's tight little arse is a sure-fire ball-buster for all concerned.
Certainly Spidey seems to think so, knocking out quite a generous load (which splatters his own face!) in the process. But it's Batman's money-shot that ultimately secures the greatest acclaim – a superb, thick, gloopy wad that whitewashes Sharp in the eye and leaves Spidey looking every inch the cum-coated hero!