Summary:
They're no longer kids, but they're not yet men in the fullest sense – this fine collection of barely-legal teens are a definite must for anyone who likes the very freshest meat. Lads like Noel Diamonds and Angel Cruz, together with slightly more experienced fellows such as Louis Blakeson and Jaye Elektra. So move over Daddies, the new boys are in town; and with some of the biggest, hardest dick on offer, not to mention the ability to cum like geysers again and again, is it really any wonder that pretty much everyone wants a slice of the action?
Description / Review:
Scene 1: Same Name, Same Lust For Dick – Angel & Johny Cruz Hang Out For A Jizz-Filled Workout!
Cast: Angel Cruz, Johny Cruz
It might come as a disappointment to some of our more kinkier-minded fans but the fact that Angel Cruz and Johny Cruz share the same surname – not to mention a lust for the pleasures that only the male body can give! – should not be mistaken for any familial relationship. That said, with their dark swarthy looks and their equally handsome, uncut dicks, it's a mistake that could all too easily be made.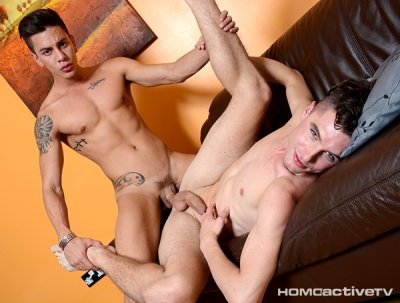 Not that this fabulous escapade ever really gives the viewer chance to dwell on such trivialities, if truth be told. For there's no lengthy pre-amble to this scene. Instead, the two gorgeous dudes are chewing each other's faces off from the start; and before you have chance to draw breath young Johny is feasting on the delicious ramrod that his buddy's got stuffed inside his pants. Angel, for his part, is similarly disposed to a liking for hard dick – a fact that's very clearly underlined when the two lads lie top-to-tail on the sofa and proceed to gorge on all that rampant flesh like it's going out of fashion.
Angel, in particular, appears quite adept at deep-throating his partner's shaft; though (as soon becomes apparent) it's his skills at (first) rimming and (then) fucking Johny's horny little ass-hole that soon eclipse all others. And this guy's natural abilities are almost unquestionably Angel's very good fortune – not to mention ours, of course! For the young bottom quite literally experiences the pounding of his life, culminating in him receiving a terrific open-mouthed facial that'll leave your balls thoroughly drained and your dick craving for a repeat performance!
Scene 2: Erotic Games Result In A Hard Raw Fuck & Oodles Of Jizz For Two Horny Big-Dicked Twinks!
Cast: Louis Blakeson, Noel Diamonds
Also available: Cock Lovin' Deviants (Compilation)
Anyone who's ever seen the 1980's erotic drama, 9½ Weeks, will know that a blindfold can prove to be a very significant sex tool – something that young blond, Noel Diamonds, clearly appreciates when he hooks up with his horny little fuck-buddy, Louis Blakeson. Indeed, Diamonds is very much the driving force at the start of this encounter, covering his mate's eyes within a few moments of their initial smooch; then handcuffing Blakeson with a scarf, before stripping his dark-haired friend of all his clothes.
Any assumption that all of this sensual dominance on the part of Diamonds is going to result in Blakeson's ass getting a hard pounding is quickly dispelled, however, when proceedings take something of a surprising twist. For instead of Diamonds taking advantage of his buddy's obvious vulnerability by fucking the living daylights out of him, the fellow quite literally reverses himself onto Blakeson's raw, aching dick and allows his pal (still blindfolded and handcuffed) to pummel him from behind.
It's certainly a very imaginative escapade; but having ditched the kink, Blakeson's then very much back in control, slurping on Diamonds' handsome ramrod before taking another shot at his taller lad's ass-hole. All culminating in Diamond bouncing up and down on Blakeson's cock on a chair, his swollen knob flopping and slopping around in front of him with almost comic affect. Not that there's anything to laugh about when both lads finally come to the point of no return – a veritable pyrotechnic eruption that quite literally leaves them coated in a flood of hot jizz!
Scene 3: Innocent Playmates? With A Dildo & Three Hard, Uncut Cocks It's Not Fuckin' Likely!
Cast: Andrew Dunhill, Jaye Elektra, Noel Diamonds
Also available: Bareback Butt Stretchers 2 (2 DVD set)
Studies have long since demonstrated that play is the best means of learning – and if that is indeed the case then we've a sneaking suspicion that this horny trio (comprising of STAXUS stalwart, Jaye Elektra, and his two newbie buddies, Andrew Dunhill and Noel Diamonds) will be a doyen of sexual professionalism in no time at all. For it's with undeniable (and admittedly rather charming) boyish playfulness that the three lads gang up for what to begin with could almost be mistaken for an innocent bedroom frolic.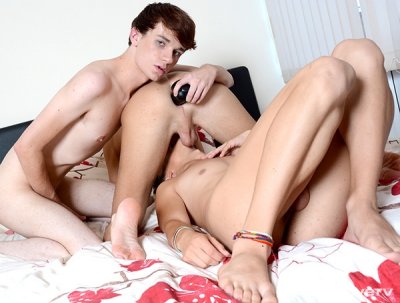 Not that it remains that way for very long, it has to be pointed out. Indeed, it quickly becomes apparent that young Diamonds – whose distinctive tattoos are clearly synonymous of his name – has the kind of appetite for hardcore action that we've all long since come to know and expect of STAXUS boys. For this mischievous little puppy has a longing for a very different kind of bone; and having bounced around on the mattress like an attention-starved wastrel, he finally gets the focus he craves from his buddies when they bundle him over on all fours and proceed to simultaneously rim his hairless ass and suck his aching dick!
It's a move that signals the beginning of a terrific round of mindless fornication (not to mention dildo-play) that's almost out of keeping with the easy start to proceedings; and which sees Diamonds fucked by both a giant black sex-toy and each of his mates, before they splatter his pale, fresh skin with a veritable torrent of pent-up jizz! In terms of an introduction to wide-eyed sodomy, it's almost as good as it ever fucking gets!
Scene 4: Start Your Day Like These Hot, Horny Twinks – With A Hard Fuck & A Tsunami Of Hot Spunk!
Cast: Andrew Dunhill, Louis Blakeson
Also available: Brexit Fuckers 3 (2 DVD set)
So maybe a little bit of raunchy kink with a stranger is good, but sometimes it's just as equally satisfying to simply wake up next to the person that you love and to engage in some early morning playfulness – as Brit-boy, Louis Blakeson, and Romanian starlet, Andrew Dunhill, discover in this fantastic bedroom coupling. Mind, let's be perfectly honest right from the start, the seemingly innocent cuddling and smooching that kick starts this escapade doesn't last all that long – and for honest good reason.
Both of this handsome beauties are at an age when sex is pretty much the only matter worth considering most of the time; and within a few moments both boys are kicking off the covers to expose a fantastic display of rampant man-meat. A display that (not surprisingly) is demanding a great deal of attention – which both Blakeson and Dunhill are very clearly all too eager and willing to give!
Cue a tremendous demonstration of mutual cock-sucking from both parties, culminating in a ball-busting session of 69-ing that will almost certainly leave you at serious risk of an early (but very satisfying) discharge! Edge your excitement though, guys. Young Blakeson's in the mood for the kind of energetic pounding that only porn can provide; and before he knows it he's parting his legs and enjoying every inch of cock that his fuck-buddy can muster! What follows is no less energetic than what's gone before, and is only finally quelled when both fellows jerk out generous wads of jizz all over Blakeson's washboard belly, leaving the lad awash with lovely goo!