Summary:
It's game, set and match for the STAXUS team, as twelve of the hottest tennis wannabes get together for some of the raunchiest court-based action you're ever likely to see. Forget "New Balls Please!" The only balls you'll see in this movie are the kind that spurt gob-loads of cum – just the sort you like!
Description / Review:

Scene 1: Chilling Out In The Shower
Starring: Zac Powers, Darren Rider
Tennis, as we all know, can be a very demanding game – a match at a Grand Slam tournament can easily last four hours, and sometimes even longer. So you can easily imagine how hot and sweaty these boys can get after a game. Not that the showers seem to do anything to help cool Zac Powers and Darren Rider down. These two handsome lads are hot for cock from the very start, and seem to want nothing more than the feel of hard flesh in their mouth – and, in Rider's case, his butt!
Fortunately for Rider, Powers – a dark-haired young stud who'll have you literally drooling – is more than sufficiently equipped to bring his team-mate's dreams cum true, forcing the hungry blond bottom over and thrusting his aching, uncut shaft balls-deep inside. Little wonder Rider's own shaft is pumping spunk a few minutes later; whilst Powers concludes their efforts by spewing over Rider's face. A match winning serve in every sense!
Scene 2: Lots Of Horny Fun At A Bar
Starring: Julian Rush, Brett Turner,



Chronic sufferers of selachophobia ? the morbid fear of sharks, and most definitely a term you don?t meet very often in our reviews! ? might perhaps wish to avoid this scene given the large painting that features as a backdrop to the action; as might those who have an aversion to seeing a group of well-hung guys sucking and wanking like a bunch of wild animals! Assuming that you don?t fall into either of those categories, however, this sordid little vignette will almost certainly have you reaching for a box of tissues as you dump an appreciative load of sperm. Julian Rush takes a not-unnatural leading role in the action, but it?s dark-skinned new boy, Brett Turner, who takes centre-stage, taking spurt after generous spurt of ball-juice from his mates. Given that this is only the second scene, it seems almost unnatural to place such a wanton display so early on in the feature. Guys like you, however, are unlikely to complain ?
Scene.3: Tennis "Glory Hole"
Starring: Jesse Shaw, Alan Craft and Anthony Corbett


Now here's a question: do the players? toilets at Wimbledon have glory holes that the guys can use if they're feeling in need of a bit of hard cock? Sadly, we're unable to give a reliable answer to that, but what we can tell you is that the toilets at the tennis club featured in this flick boast the sort of glory hole that leaves absolutely nothing to the imagination for any voyeur. Mind, the generous size is perhaps just as well given the dimensions of the cocks that get thrust through it during the course of this scene, beautifully thick, uncut specimens that are almost a work of art in themselves! Our suspicions, however, are that your appreciation of this scene will be of a much more earthier nature, as Jesse Shaw, Alan Craft and new boy, Antony Corbett, take it in turns to turn the men's rest-room into a scene of gross debauchery. Something that these highly sexed, gorgeous young studs achieve with little if any effort at all!
Scene.4: Post-Match Pleasures
Starring: Bryan Homer and Eric Harper


If you were looking for the perfect definition of post-match pleasure then young Bryan Homer might just be it. After all, this cutie from Slovakia would surely act as the perfect antidote to any strenuous session of tennis – as Eric Harper quickly discovers in this sordid duet. Not that Harper should be dismissed too lightly – given the size of the equipment between his legs you certainly wouldn't be too eager to kick him out of your bed if ever you were lucky enough to find him there, that's for sure! But it's Homer who arguably warrants greatest acclaim here, as he first slurps on Harper's mammoth ramrod and then eventually takes the thick, meaty weapon right up his ass with not so much as a whimper! Having said all this, it's his open-mouthed appreciation of Harper's climactic blast that deserves the ultimate accolade, with the sight of his mouth bubbling with fresh sperm surely more than enough to get you viewers bursting.
Scene.5: New Balls Please! The Grand Slam Begins
Starring: Kamil Fox, Eric Harper, Timothy Nixon & Jesse Shaw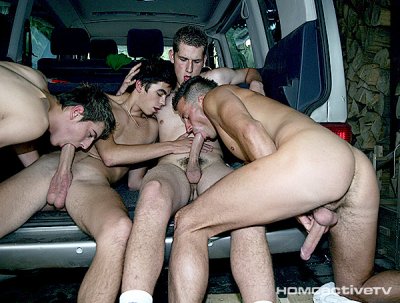 Having already provided us with an eight-man pile-up earlier in the flick, it might almost be tempting to assume that this final scene - a four-guy fuck-fest in the back of a white van - will be nothing more than a disappointment in comparison. Such an assumption, however, would be to ignore the indisputable talents of Vlado Iresch, whose decision to include superstar Kamil Fox is almost in itself a guarantee that this is one scene that you really shouldn't miss. And so it proves, with Timothy Nixon and Jesse Shaw teaming up with Eric Harper from the previous vignette to provide the sort of blistering, spunk-fuelled finale that this superb addition to the STAXUS range deserves. Of course, quite what any of this actually has to do with the game of tennis is truly anyone's guess. Then again, who the fuck's watching it for the tennis?!! In short, another superb sports-inspired set-piece that'll have you wanking time and time again.