Summary:
How many times have you heard someone say that size doesn't matter? Well we hate to shatter illusions, but that's not an adage that we entirely agree with at STAXUS. Fact is, size does matter – not least of all to our legion of cock-mad twinks, who know from experience that they'll never be satisfied until they've serviced the biggest dicks around. Boys like Angel Lopez and Lucas Drake, who know that big is not only fucking better but is an absolute must; and who aren't happy until every last drop has been drained from those oversized beauties!
Scene 1: Swimming Buddies Head Out Of The Water For A Hot, Raw Fuck!
Cast: Angel Lopez, Jaro Stone
Also available: Twinks Get Stoned Again (Compilation)
No question about it, Jaro Stone and Angel Lopez are such a fucking hot pair of horned-up beauties that you could surely quite literally sit and watch the duo splashing about in the water all day; but the fact of the matter is that they're never the sort of boys who can play too innocent for long. Indeed, you won't find yourself having to wait more than a minute or two before both beauties are out of their swimming trunks and engaging in somewhat suggestive play; which soon leads to the guys smooching away in anticipation of a decidedly hardcore session.
Not unnaturally, of course, given the nature of their characters and the fact that Lopez in particular is quite simply a living, breathing cock-whore, it's no time at all before the initial round of vigorous dick-munching has given way to an energetic session of sodomy; with Lopez eagerly parting his legs so that his butt can accommodate the full length of Stone's infamous poleaxe. And to his credit, the young lad takes every fucking inch like the pro that he is; getting buggered raw in a whole series of positions, whilst taking intermittent breaks to slurp on his buddy's cock as if to keep reminding himself (if indeed it was ever needed!) that Stone's beautiful buttpicker is actually for real.
No need to worry about that though, boy. Our Stone is as one hundred percent legit as the day is long; and having finally secured his place cowboy-style on the summit of the fellow's cock, it's no wonder that Lopez is soon spurting like a fountain in sweet appreciation. Before finally allowing Stone to unload a fine wad all over his face!
Scene 2: Hot Blond Gets All His Ass Stretched & Jizzed By A Monster Cock!
Cast: Bjorn Nykvist, Lucas Drake
Also available: Long Schlongs (6 Scene Compilation)
It's no fucking wonder that Lucas Drake can't keep his eyes off Bjorn Nykvist. Having jumped out of the pool after a invigorating swim and stripped off under the shower, Nykvist is donning one of the thickest, meatiest dicks that a young lad like Drake is ever likely to see; and it's something of a miracle that the lad doesn't choke on the apple that he's munching as he gazes on at the heavenly form before him. Of course, his relaxed attitude may have something to do with the fact that he knows for certain that a guy like Nykvist isn't ever going to turn down the chance to get intimate once he's soaped and clean; and needless to say the two lads are soon taking full advantage of the situation to gobble away on each other's shafts with all the gusto and eagerness that you'd expect from a pair of cock-crazed sluts like these.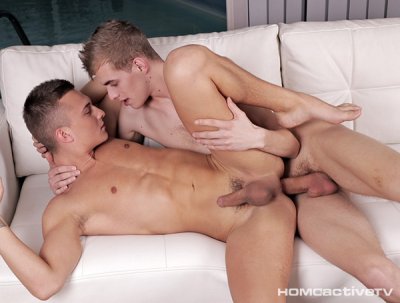 Drake, in particular, doesn't seem to be able to get enough of his mate's oversized ramrod; but having stretched his jaw to breaking point to accommodate the monster schlong, he's soon stretching his legs with the same expectation. Nykvist, to his credit, extends the passion by taking time to rim the horny twink's hairless little pucker; but it's not very long before the lust for dick simply gets too much for Drake, who promptly lands his ass down on that gorgeous chopper and rides it for all he's worth.
It's a move that's almost certainly gonna go down a storm with our fans, as Drake manfully takes every inch; before switching positions to take it first from behind and then on his back. Culminating in a jizzy blast that leaves his hole twitching with goo!
Scene 3: Poolside Twink Gets His Holes Filled To The Max With A Big Dick!

Cast: Bjorn Nykvist and Mark Fontana
Also available: Long Schlongs Ride Again (Compilation)
For those who enjoy seeing contrasts between their pairings, this horny little escapade between Bjorn Nykvist and Mark Fontana will surely tick all the right boxes. Tall, lithe and fair-headed, Nykvist is almost the complete opposite to the young Spaniard – Fontana being distinctly petite, darker-skinned and tattooed. Two things that they do have in common, however, is the fact that they're both distinctly well-hung and that they both have a ferocious appetite for cock; which even if we didn't realise beforehand, soon becomes apparent as the two fellows frolic both in and out of their swimming-pool.
Indeed, it's not too long before both lads are ready to take their interest in each other to a whole new level – heading to a private room, where they promptly begin to take turns at sucking each other off. Clearly enthused, the pairing then uptake 69-position on a sofa; simultaneously devouring cock like it was the only thing that they were born to do. Such a natural sense of purpose only continues when Nykvist – as the taller, more physically dominant party – turns his attention to his buddy's hairless little pucker, rimming the hole for all he's worth before ploughing hard into Fontana's guts.
What ensues is a classic power-bottom performance from the Spanish lad, with Nykvist fucking his mate in literally every position imaginable – including a mid-air ass-banging bonanza that once again only emphasizes the Czech guy's physical mastery. All of which – not surprisingly – results in Fontana getting a heavy wad of jizz in the arse; before he himself splatters into Nykvist's mouth!

Scene 4: Big Is Fucking Better – Be It Raw Cock Or A Big Monster Dildo!
Cast: Mike Fontana, Vitali Kutcher
With his darker-toned skin and Arabesque features, new boy Mike Fontana is almost sure to be a hit with those with a more exotic taste in boys; and sure enough Vitali Kutcher can't resist hitting on the lad when he enters the changing room of the local baths and discovers him mopping the floor. To be fair, no-one could ever claim that Kutcher used clichéd techniques – after all, presenting a fellow with a choice between a fifty euro note and a monster-sized dildo is not exactly your typical chat-up line! But suffice it to say that the guy is very much true to form when it comes to reaching inside Fontana's shorts, grabbing hold of his cock and promptly gobbling away on the fellow's dusky uncut shaft! Not that the newbie throws any complaints for such unoriginality.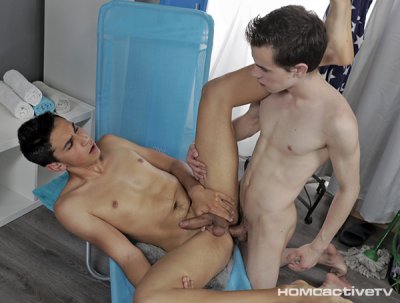 In fact, the lad is soon replicating the move on Kutcher's well-used ramrod; before getting down on a nearby lounger so that Kutcher can suck on his balls and rim that nicely shaved pucker between his butt-cheeks. All this, of course, is but a prelude to what can only be described as an invasion extraordinaire, as Kutcher yields the mother of all dildos and thrusts it into the boy's guts with almost unforgiving vigour.
To the amazement of surely the whole film-crew – not to mention you, the public – the fellow takes the beast like a veritable pro. So much so, in fact, that the fuck that follows almost seems tame in comparison. Never fear, however, these lads produce a desperately hot, sweaty fornicating fiesta, that culminates in two of the most violent eruptions you could wish for. Topped off with a gooey smooch!