Summary:
It's the series that just keeps getting bigger, as director John Smith presents another collection of some of the hottest, the horniest and – most important of all – the biggest boys around. Whether it's Felix Webster hitting it off with Zac Todd or STAXUS favourite, Connor Levi, taking every single inch of Devon LeBron's monster thick dick, these heavy-duty dudes don't believe in being understated. Primed and armed to the hilt, it's seventh heaven all the way for these oversized, oversexed, cock-obsessed fuckers!
Description / Review:
Scene 1: Connor Levi Manhandles A Big Black Dick & Gets A Load Of Hot Jizz Up His Ass In Return!
Cast: Devon LeBron and Connor Levi
Also available: Black Does White 3 (6 scene compilation)
Champagne, strawberries, big black cock ... young Connor Levi just can't make up his mind which one of these he prefers when savouring the good life with the almost over-endowed Dominican, Devon LeBron. In the end, however, there can only be one winner, and ultimately it comes as no surprise when his buddy's monster-sized dick takes precedence.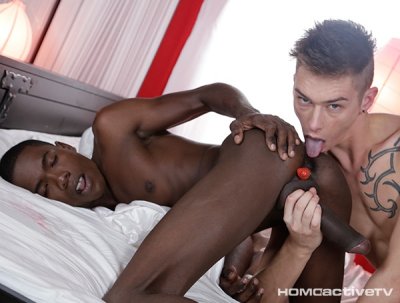 However, not before LeBron has taken the chance to enjoy the (admittedly smaller) delights of Levi's white fuck-rod, using the drink and berries as an added kinky aspect to his teasing indulgences. But arguably matters only begin to heat up significantly once the tattoed Brit boy gets the opportunity to unleash his impassioned energies on LeBron's meaty, uncut ass-stretcher, slurping on the beast with the kind of no-holds-barred fury that has long since been his trait as a porn star. No question about it, this is a fellow who clearly lives for cock in every sense; and, having lathered himself into a frenzy, he promptly turns his attention to LeBron's pert little ass, washing that dark rump with booze and smothering it with mushed-up fruit before enthusiastically rimming the rosebud.
But before you get any false notions, there's only one pucker that's gonna get fucked in this sexy escapade – and, not surprisingly given its reputation, it's the one between Levi's butt-cheeks! So cue a fabulous performance of ass-stretching credentials, as STAXUS's favourite power-bottom gets to work on that handsome mamba and receives a butt-full of jizz as a reward. Little wonder the guy spurts so much cum himself in response!
Scene 2: Horny Shop Assistant Gets To Measure & Ride Felix Webster's Mammoth Third Leg!
Cast: Felix Webster and Zac Todd
Also available: Donkey Dicks 3 - Compilation Gay DVD
Debonair young beauty, Felix Webster, is looking for a new suit. Nothing very unusual about that, you might think. Except he's clearly arrived in a somewhat classy boutique that thinks of going that extra mile when it comes to meeting its customers' requirements and where being measured for new rags is a very intricate (not to mention intimate!) procedure.
Hence it's not at all long before sales assistant, Zac Todd, is using his tape measure to not only calculate the size of his client's inside leg but also the length of Webster's thick, meaty, uncut cock – and, believe us, he's not disappointed. Indeed, Todd's soon latching onto that oversized member like a feckin' lamprey, slurping on Webster's length like his ground rent depended on it – which it probably does! Not that Webster is at all adverse to an energetic blowjob; but it's the cock-crazed shop assistant who appears most enamoured of hard male flesh in this coupling, and it's not long before Todd is turning his attention to Webster's ball-sac and ass-hole, before slamming his own hungry hole down onto the raw rod that's sprouting up from his new-found fuck-buddy's groin. And boy does he ride that shaft!
Hands down on Webster's knees, he's bouncing along the gross salami with the kind of gusto you're just gonna love; before Webster takes the tattooed guy from behind and quite literally bangs the spunk out of him. Leaving Webster to conclude the scene by spraying a terrific wad of pent-up baby-brew all over Todd's neck!
Scene 3: Underwear Modelling Can Be Fun But A Raw Flip-Flop Fuck Is A Must For These Horny Beauties!
Cast: Sven Laarsen and Ryan Olsen
There's nothing like a clean, crisp pair of underpants to get you feeling in the mood, especially when you've got a whole selection of pairs to play with and you're in the company of a mate who's equally risqué and up for some real good fun! Indeed, Sven Laarson and Ryan Olsen have pretty much got the perfect recipe for a date to remember as they first frolic in and out of briefs and slips, before abandoning their love of fashion for their love of hard, aching dick! And believe us, whilst there may only be two lads in the frame here there's more than enough man-meat on them both to satisfy even the heartiest appetite.
Cue a stupendous display of rampant cock-worship that'll leave you quite literally gasping for more – culminating in a brilliant session of 69-ing on the sofa that will almost certainly run the risk of bringing you to a premature climax. For those who can hold out, however, there's the prospect of an even hotter rutting session, as both lads take it in turns to plough into the ass-hole of the other – all captured in gloriously debauched, close-up detail!
What really adds to the mix here, of course, is the array of positions adopted – not least of all by Olsen, whose butt is stretched to the max by Laarson's almost over-eager ramrod before he finally succumbs to nature's urge and dumps a fine wad of jizz all over his own stomach. A deposit then matched by his buddy, who erupts like a water-cannon at a riot before sinking his spent dick back into Olsen's tired but clearly very satisfied arse. Youthful exhibitionism has rarely looked so inviting!

Scene 4: Two Cute Blond New Boys Suck Cock & Fuck Ass Like A Pair Of Dick-Crazed Pros!
Cast: Adam Brooke and Chris Hollander
Also available: Donkey Dicks 2 (6 scene Compilation)
Brad Fitt has a natural nose for hot, horny twinks – even to the extent that he seems able to track them down whilst mucking around with his camcorder in his local park. What's more, having divined such naturally charged talent he then appears to have the knack of persuading them to accompany him to some nearby flat or apartment to perform in front of John Smith's camera – as is the case here when he encounters two angelic blonds in the shape of Adam Brooke and Chris Hollander.
Still, who would deny Fitt his pleasures? What's more, the fellow's aptitude has uncovered two magnificent beauties here – a couple of dashing newbies that we just know you filthy-minded fans are gonna love big style! Certainly neither of these fellows are prepared to leave anything to the imagination as they take turns to slobber on each other's dicks; before baby-faced Brooke heats up proceedings even further by rimming Hollander's ass and then finally burying his badly swollen shaft right up his mate's pucker!
Clearly not wishing to miss out on the excitement, however, Hollander is soon pounding away at Brook's rump in return; before matters reach something of a crescendo and Brooke dumps his wad all over Hollander's knob. Cue a fantastically erotic gobble of jizz-soaked dick by Brooke; which is only compounded further by his pal jerking out his own sticky contribution, topped off by a sultry French kiss!