Summary:
Let's face it guys, just one trip to Monster Cock Island was never, ever gonna be enough – especially for our horny fans! But don't despair. Always eager and willing to please, we've sent a fresh batch of white meat (Mike James and David Hanson included) to the isle of a thousand horse-hung dreams. The result, of course, is a foregone conclusion even before the plane touches down – let's face it, the likes of Devon LeBron and Lloyd Goldwin just don't disappoint! But with ass after ass getting the stretching of their lives, who the fuck's complaining?!
Scene 1: Beach-Time Fun For Mike James As He Sucks & Fucks Devon LeBron's Mammoth Black Dick!
Cast: Devon LeBron, Mike James
Also available: Black Does White 7 (Compilation DVD)
It's not quite From Here To Eternity, but Devon LeBron and Mike James are determined to have their own Burt Lancaster / Deborah Kerr moment here in the Caribbean – waves smashing over their gloriously toned physiques, as they smooch together on a Dominican beach. It's a sensuous but clearly distinctly fun experience for them both; and it's no surprise that they're soon turning their apparent playfulness into something much more intimate.
James, in particular, doesn't seem able to contain himself at the prospect of getting to see what his big black buddy has got stashed inside his swimming trunks – and, needless to report, he isn't disappointed! Not that anyone who's seen LeBron in action prior to this point would expect anything different. The handsome stud is hung like a fucking donkey, after all; and it's with distinct relish that the boy from Prague is soon pouncing on the black mamba and giving it the kind of full-on oral workout that it surely deserves! But what James wants most of all, of course, is to get that thick, uncut ass-breaker deep inside his guts; and it's with almost audible relief that he's soon achieving that dream.
So it is that the sea continues to smack against the rocks in the background as LeBron smacks his unforgiving shaft deep into the Honky's fuck-hole – a sight that will almost certainly get a whole score of fans working up a myriad wads of jizz in appreciation. As will the ultimate sight of LeBron jerking off his oversized weapon against the white boy's open mouth. In short, if this doesn't get you creaming then what the fuck will?
Scene 2: Horny White-Boy Can't Wait To Give A Big, Black Butt-Picker A Hot, Raw Ride On The Beach!

Cast: David Hanson, Manuel Emilio
Also available: Black Does White 5 (6 Scene Compilation)
Sex on the beach is not a totally unusual fantasy – there's something about the sand and surf that raises the libido up several notches – and young Hungarian, David Hanson, proves that he's just as susceptible to this phenomena as anyone else when he finds himself out in the Caribbean. That said, he does have the added factor of Manuel Emilio to consider – a sexy local with a rather oversized dick, who would surely be enough to get even the most reticent lover in the mood. As such it really comes as no surprise whatsoever that Hanson's going down on his buddy in pretty much the first thirty seconds of action, slurping on that big black mamba with the kind of gusto that you'd probably expect from a bitch of Hanson's calibre.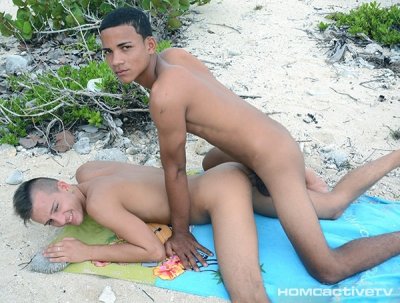 Indeed, this filthy-minded white-boy definitely has an appetite for one thing and one thing only in this raunchy, outdoor escapade; and within minutes he's achieved what so many other boys have surely dreamt of doing and failed, as he sits on Emilio's handsome ramrod and rides the thick, aching shaft for all that he's worth. In truth it's probably the speed with which he achieves this objective that will surprise you more than anything; but don't think for one moment that he's in any hurry once he's got that handsome butt-picker inside him.
No, he's very much determined to make the most of every ass-pounding second with Emilio, taking every fuckin' inch like a man and gasping like a bitch in the process. Indeed, it's only as the light finally begins to fail that both guys succumb to the inevitable with a multi-squirt cascade of jizz!
Scene 3: Quirky Young Yank Tourist Gets His Holes Pummelled On The Beach By A Monster Black Dick!
Cast: Enrique Balboa, Tyler Tremallose
Also available: Big Boy, Big Time Fuck
Also available: Black Does White 6 (6 Scene Compilation)
He might not be your typical looking boy, but there's absolutely no questioning young Tyler Tremallose's lust for hard cock – especially when the dick on offer is thick, uncut and black. A point that's underlined when the kinky little red-head teams up with Enrique Balboa for a beachside suck-and-fuck-fest. Fact is, the quirky American can't get enough of that native trouser-snake and is soon avidly feasting on its handsome girth, whilst the waves continue to lap around them both.
Balboa, in return, simply lies back and enjoys all the unadulterated attention that his horny companion is only too eager and willing to give; but it's clear from pretty much the start that the white-boy's ambitions involve getting his buddy's oversized ramrod deep inside his pert, hungry ass. An ambition that he achieves at almost breakneck speed, as Tremallose plonks himself down on the black lad's lap and promptly proceeds to bounce up and down the length of that magnificent weapon; before Balboa takes mastery of the situation by bundling the red-head onto all fours and fucking the bitch from behind. A move that the long-haired bottom clearly relishes, taking every inch of rampant meat like the cock-loving fiend that he unquestionably is.
Indeed, it's no small wonder that the guy is soon squirting the contents of his cum-sac in sweet satisfaction; before Balboa completes proceedings by squirting all over his mate's face. Days out on the beach in the Caribbean have surely never been quite so satisfying!
Scene 4: 'Innocent' White Boy Gets A Double Dominican Welcome In The Shape Of Two Monster Black Cocks!
Cast: Carlos Santiago, David Hanson, Lloyd Goldwyn
Also available: Black Does White 4 (6 scene Compilation)
Has no-one ever told David Hanson how dangerous it is for a white boy to stroll along the beaches of the Dominican Republic unaccompanied? After all, it might look like a paradise idyll, with its shimmering sands, tropical palm trees and the pale blue Caribbean in the background, but who's to say what horny black dude a visitor might inadvertently encounter on his travels? What's more, the natives don't always hang about alone – as Hanson discovers when he meets Lloyd Goldwin and Carlos Santiago looking only too ready and willing to take full and total advantage of the young Hungarian.
Not that Hanson looks the slightest bit perturbed by the two dark-skinned beauties. In fact, having clearly been well educated as to what kind of equipment black guys keep stashed away in their swimming trunks, the lad looks altogether at ease with the experience – indeed, let's be honest, he's soon fishing inside that tight-fitting swimwear with the kind of gusto and enthusiasm that you'd probably expect from such a keyed-up cock-whore! Needless to say, it's no time at all before the youngster is displaying a real appetite for those handsome black mambas; slurping on every inch of monster dick, before eagerly riding both thick, uncut shafts in turn.
Soon he's being rigorously spit-roasted for your (and his) pleasure, taking both dicks to the fucking hilt and sending these ass-hungry bruvas into overdrive. It comes as no surprise, then, that Goldwin and Santiago are soon busting a nut in sweet contentment; leaving Hanson to frantically jerk himself off whilst Santiago sticks his spent, jizzy dick back into his pert, but now well-stretched, white fuck-hole!