Summary:
Some of the best Staxus interracial scenes compiled on DVD!

These fit, young boys are taking their first big, black cock – and it shows! Their eyes widen in anticipation (or is it fear) as a humongous dick is proffered for them to grab with both hands!

These boys try to get as much of the black sausage down their throats, but for some it's an impossibility as these cocks are so big, ten out of ten for effort though. But now the fun really starts as these young bottom boys pull apart their peachy ass cheeks and brace themselves for the fuck of a lifetime! Their tight boy holes are slowly stretched as their ebony lover eases his schlong all the way up their love tunnels. The line between pain and pleasure is a fine one, but they're not saying no! This fuckfest is unmissable as white boys are plugged at both ends before they are covered in a mass of warm man-muck! Now they've gone black will they ever go back??
Description / Review
Scene 1: Life's A Beach For Horny Johny Cruz, As He Gets A Monster Black Dick Imbedded In His Ass!
Cast: Felipe Esquivel, Johny Cruz
From: Monster Cock Island, Scene 2
Resting in the shade of a palm tree, Felipe Esquivel has no idea that his peace is about to be shattered by the abrupt arrival of Johny Cruz – an inquisitive white boy, whose initial concern is with the peculiarities of language and the curious differences between Spanish and English. Not that anyone who knows young Cruz is ever gonna be fooled by a performance like that! For the fact is that the ever-horny German is only interested in one thing, and it's tucked away nicely in Esquivel's swimming trunks – though admittedly not for very long!
In fact, Cruz is soon all over the handsome native like a bad rash; and within a few minutes has his tight, hungry lips all over his new buddy's oversized dick. It's a move that could give good reason to irritate Esquivel, whose intention at the start of the scene was clearly to enjoy time alone at the beach; but when you've got a filthy-minded slut like Cruz hanging off your cock, you can't be annoyed for long! So it is that Esquivel is soon eagerly responding to Cruz's provocation – even to the point of enjoying a suck on that fine white cock 69-style, before rimming the Honky's ass-hole. No surprise, therefore, that before too long that thick, meaty black shaft of his is excavating the depths of Cruz's pucker – much to the bottom's very obvious pleasure!
Cue a truly terrific display of black-on-white action, that sees Cruz fucked in a range of positions before jerking out a heavy load of jizz in appreciation. But it's the sight of Esquivel squirting all over the tourist's face that will almost certainly warrant the greatest acclaim! Some things, it seems, don't need words. They speak for themselves in any language!
Scene 2: 'Innocent'White Boy Gets A Double Dominican Welcome In The Shape Of Two Monster Black Cocks!
Cast: Carlos Santiago, David Hanson, Lloyd Goldwyn
From: Monster Cock Island 2, Scene 4
Has no-one ever told David Hanson how dangerous it is for a white boy to stroll along the beaches of the Dominican Republic unaccompanied? After all, it might look like a paradise idyll, with its shimmering sands, tropical palm trees and the pale blue Caribbean in the background, but who's to say what horny black dude a visitor might inadvertently encounter on his travels? What's more, the natives don't always hang about alone – as Hanson discovers when he meets Lloyd Goldwin and Carlos Santiago looking only too ready and willing to take full and total advantage of the young Hungarian.
Not that Hanson looks the slightest bit perturbed by the two dark-skinned beauties. In fact, having clearly been well educated as to what kind of equipment black guys keep stashed away in their swimming trunks, the lad looks altogether at ease with the experience – indeed, let's be honest, he's soon fishing inside that tight-fitting swimwear with the kind of gusto and enthusiasm that you'd probably expect from such a keyed-up cock-whore! Needless to say, it's no time at all before the youngster is displaying a real appetite for those handsome black mambas; slurping on every inch of monster dick, before eagerly riding both thick, uncut shafts in turn.
Soon he's being rigorously spit-roasted for your (and his) pleasure, taking both dicks to the fucking hilt and sending these ass-hungry bruvas into overdrive. It comes as no surprise, then, that Goldwin and Santiago are soon busting a nut in sweet contentment; leaving Hanson to frantically jerk himself off whilst Santiago sticks his spent, jizzy dick back into his pert, but now well-stretched, white fuck-hole!
Scene 3: Cute White Twink Gets A Humiliating Fuck & Facial From A Big Black Dick!
Cast: Devon LeBron, Xander Hollis
From: Super Size Me 5, Scene 2
Sometimes, it's the contrast of extremes that bring about the greatest pleasures in life. Chalk and cheese; sweet and sour; big black cock and pert white ass! To be fair, we can't exactly comment with regards to the first two of those particular "opposites". What we can say, however, in light of this stupendous scene featuring Dominican sex-god, Devon LeBron, and Czech cock slut, Xander Hollis, is that if you want to see the chemistry of opposites in full throttle then you've definitely come to the right place.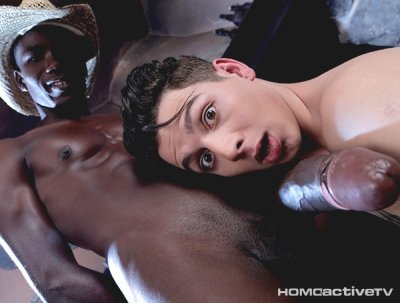 These two guys are totally different in every way you can imagine – a hunky black stud and a cute, bonny-faced twink – and from the very moment that they first encounter each other the sexual fireworks simply ignite. What makes their meeting all the more memorable, however, is the genuine sense of surprise in Hollis's face when faced with the prospect of accommodating his black counterpart's insatiable libido, manifested most prominently in the great big mamba that LeBron has swinging between his legs.
The result is a truly heroic struggle between a white boy's cravings and his physical limitations, during which LeBron pretty much treats Hollis like a fuck-doll and eventually dishes out the ultimate humiliation by spunking all over his face. Will Hollis's ass-hole (or even his entire character) ever be the same again? LeBron, for one, doesn't give a fuck. Cash in hand, he's out the door!
Scene 4: Blond Beauty Student Gets A Mega Black Cock Stuffing Courtesy Of Devon LeBron!
Cast: Devon LeBron, Sven Laarson
From The Bigger, The Better, Scene 4
Learning a new language can be a challenging task, so it's always good to have a teacher or an enthusiastic fellow student who makes what can be a somewhat laborious process into something that's a whole lot more fun. So everyone's favourite blond beauty, Sven Laarson, really has struck the jackpot when he's teamed up with Devon LeBron – a stud who clearly knows how to go the extra mile when it comes to educational theory. For LeBron understands that if a guy is going to remember the word for "cock" in another language, it's best that he does so by experiencing the full extent of his dick's potential for himself!
Not that a young twink like Laarson is ever really in any danger of forgetting a cock like LeBron's in a hurry. Thick, veiny, uncut – this beautiful black monster has the potential to really do some damage given half the chance. Fortunately for everyone concerned, Laarson's been on the scene long enough by now to know how to handle a king-sized ramrod, and suffice it to say it's no time at all before he's got his hungry little lips around the full, swollen shaft. Shortly afterwards – and having had LeBron rim his hungry young ass – he's accommodating the beast with his butt, wrapping his ring round its every inch like the true pro he is.
No question about it, you're just gonna love seeing this cute white pup being fucked mercilessly by LeBron – a sight only eclipsed by seeing the Dominican spraying his wad into Laarson's mouth! It's classroom fun on a whole new level!