Summary:
Five outings of these monster dicks just wasn't enough – but what the fuck did you expect? When you're hung like the proverbial donkey the urge to bang tight ass is simply insatiable, as Sam Williams, Tristan Archer and Tom Crua are only too eager to demonstrate in this sixth instalment. As ever, you might almost pity the poor bottoms who have to accommodate their mammoth ramrods – but don't overdo the sympathy. Fact is, these horned-up size-queens like their dick as it's given to them here – thick, hard and oversized! For when it comes to cock, these sluts just don't understand the concept of 'too big'"!
These titles represent great value for money given the amount of quality content and running time. However, to ensure you don't waste money buying the same content twice, this compilation features scenes from the following titles:-
Scene 1: Full-On Bareback Flip-Flop Fuck Proves To Be An Untraditional Interview Technique!
From: Chase Hunt, Sven Laarson
From: Deliver This, Scene 4
He'd probably deny it, of course, but young Johny Cruz is clearly in awe of his would-be courier from the moment that hunky Tom Crua walks into the office for interview – and who the fuck can blame him? The tattooed stud is a natural work of art in every single sense; and having taken the time to find the muscled beauty new work clothes, Cruz is then (understandably) hell-bent on getting Crua back out of them! An ambition which he achieves with incredible speed, it has to be said.
As a result, the horny German twink is very soon slurping up and down the length of Crua's swelling shaft; before our Czech hunk gives Cruz's dick an equally enthusiastic oral examination. It's at this point, of course, that you'd be forgiven for assuming that Crua – as the physically dominant of the two lads – will be promptly ploughing into Cruz's ass-hole for a highly energetic fuck! Such an assumption, however, is soon dispelled when exactly the opposite takes place – Cruz rimming his courier's ass-hole, then (in effect) making the fellow his bitch by thrusting every inch of his fabulous knob deep inside Crua's ass-hole!
It's a somewhat surprising turn of events considering the physiques of the guys involved, but the normal rules of nature are soon restored when the lads flip-flop positions and Crua energetically reams Cruz's hole in return. What ensues is a no-nonsense session of full-on, animalistic fornication that sees Cruz's ass-hole pounded like there's no tomorrow – ultimately resulting in copious quantities of pent-up jizz. In short, a scene that delivers in every sense!
Scene 2: Chase Hunt Steps Out Of The Pool & Buries His Dick Deep Into His Blond Pal's Pert Little Ass-Hole!
Cast: Chase Hunt, Sven Laarson
From: Dive In, Scene 3
We're not exactly sure why Chase Hunt insists on wearing a head-cap when he swims – he's got cropped hair, after all – but maybe it's something his mother drilled into him when he was growing up. Fortunately, it's a fashion accessory that quickly gets tossed to one side when the youngster steps out of the pool to hook up with blond fuck-buddy, Sven Laarson – a fellow who clearly doesn't see the point in unnecessary attire given the speed with which he proceeds to slip out of his speedos just a few moments later.
Of course, it's a dangerous – some might say astute – move by Laarson given Hunt's penchant for dick, and it'll come as no surprise when we tell you that Hunt soon responds by getting his hungry, young mouth firmly wrapped around blondie's swollen bell-end! Does Laarson object? Does he fuck! Instead, he lies back on his poolside lounger and savours every tongue-slurping, tonsil-chapping moment of the ensuing fellatio; before graciously returning the favour a few minutes later on Hunt's engorged knob. But what Laarson really wants – and what we want to see! – is a good old-fashioned ass-stretching!
Well, there's no fear of disappointment here, that's for sure, as Hunt promptly proceeds to plough into his young mate's pucker – egged on, no doubt, by Laarson rimming him just a few moments before. The result is a full-on, arse-pummelling coupling that'll have you pumping in no time at all, as both boys go hell-for-leather in the quest for their next legal high! All culminating in Laarson dousing his tightly pent-up wad all over Hunt's cute face!
Scene 3: Hot, Excited Twink Deep-Throats His Fuck Buddy, Then Takes A Giant Dildo Up His Ass!
Cast: Alexander Syden, Blake Hanson
From: A Toy Story, Scene 3
Some boys are more easily pleased than others, but all that it takes to put a smile on Alexander Syden's face is the gift of a new dildo – on this occasion presented to him by blond haired, tattooed fuck-buddy, Blake Hanson. Indeed, there's no disguising the delight with which Syden is consumed upon receiving the present, as he quite literally jumps onto Hanson's lap and then wraps his legs around the fellow like a bitch in season – which, to all intents and purposes, is exactly what the young lad is!
Mind, it's pretty obvious as to why that's the case once Hanson's dick has been given an airing. After all, who wouldn't want to give that handsome appendage the ride that it surely deserves? Certainly not Syden, that's for fuckin' sure; and after almost sucking the living daylights out of it for starters, the horny twink forces himself down on the weapon in a clear attempt to enjoy every inch that it offers.
Anyone anticipating a straightforward fuck, however, would do well to remember the opening moments of the scene and Hanson's gift; for having worked Syden's ass up with his dick, the top now proceeds to stretch it further using the said dildo, whilst blindfolding Syden for an added touch of kink. Given the resultant excitement it's little wonder that the bottom is soon spewing like a trooper when Hanson fucks him a second time!
Scene 4: Skater Quits His Wheels To Take A Hard, Raw, Anal Pounding!
Cast: Calvin Rose, Erik Franke
From: Skate Off, Scene 2
He's as bouncy and full of life as a young puppy, but fresh-faced skaterboy, Erik Franke, appears to have lost interest in his board at the start of this horny little escapade – and no great wonder. After all, if you'd got a blond bombshell like Calvin Rose for company chances are you wouldn't be especially bothered about life on wheels either! For the simple fact is that whilst skateboarding can be mega-fun it can never quite compete with the allure of hard cock – a fact that both these boys clearly appreciate from the off as they bound out of their shorts and start feasting on each other's handsome ramrods.
Soon the two horny little fuckers are 69-ing on the sofa like they haven't got another care in the world; but there's no questioning the fact that Franke's attention is now firmly centred on the thought of getting his hot hole rudely hammered by his buddy's aching shaft. A dream that Rose is only too willing and able to help make come true, as Franke plonks himself down on the fellow's lap and starts riding up and down its length like a being possessed!
Needless to report there doesn't seem to be a single position that Rose doesn't use to give the lad's ass the stretching that it so badly needs and deserves; and it really comes as no surprise when the fellow finally reaches the point of no return and promptly explodes mid-fuck. It's a totally understandable reaction to all that rigorous anal probing; but he's clearly still in the mood for one last act of sexual gratification, taking a well-deserved facial courtesy of Rose's erupting joystick. Skaterboys, it seems, get all the fun!
Scene 5: Tristan Archer Shows His Nasty Side By Creaming Hot Twink Ass!
Cast: Noah Matous, Tristan Archer
From: Scared Stiff, Scene 4
We've only know Tristan Archer for a very short time, but even so the sight of him wielding a knife at Noah Matous's throat at the start of this powerful little scene comes as something of a shock. Seems like there's something of a devil in this horny, handsome fellow; but if anything that only seems to add a certain appeal to his character. Besides, it quickly transpires that Matous is more than willing and able to undertake what's demanded of him from Archer in the form of sexual favours, and before you know it he's down on his assailant's dick and feasting on it with characteristic fervour.
That, of course, will come as very little surprise to anyone who's enjoyed watching Matous in the past – he is, after all, a complete and utter whore where cock's concerned! What's more, having enthusiastically enjoyed every inch of Archer's shaft in his mouth, he's clearly soon got an appetite to have that same meaty, uncut phallus deep in his ass. As a result, he's soon flaunting his ass in Archer's direction with all the discretion of a she-cat in season – a provocation that the would-be top is quick to take full advantage of. Fingering and rimming the gaping pucker, Archer works that hole in anticipation of the hard, bareback fucking that he now knows he's gonna be giving it; and within minutes finds himself balls-deep in the lad's guts, pounding away with youthful passion and gusto and pushing Matous towards a mega-jizzy crescendo in the process. Needless to tell, it's not long before he's creaming Matous's boy-cunt with his very own tsunami-style climax! Fucking fantastic!!
Scene 6: Horny Fucker Sam Williams Gives Hot Twink The Ride Of His Life!
Cast: Ryan Torres, Sam Williams
From: Big Fare, Scene 1
If you've ever wondered what it's like to give or receive a blow-job whilst sat in a drive-through car-wash, then wonder no more! Sam Williams takes Ryan Torres on a trip to the country – via a nearby garage – and soon discovers that his passenger has a taste for the risqué. As a result, a brief session of fellatio ensues, with Torres making the most of the opportunity to slurp on the taxi-man's gearstick! But it's not until the two lads make it to the woods that the action really intensifies; with Torres once again making a beeline for Williams's dick, this time in the boot of the car.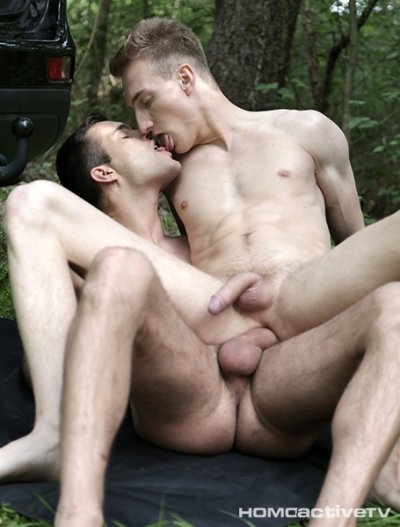 To be fair, by this point it's pretty obvious that the young fair-headed buddy is positively gagging for his companion's big fat knob – a fact that's only underlined by the eager way with which he slurps on every aching inch on offer. Indeed, Torres is soon pouting out his arse like a bitch on heat, gasping for Williams to first finger his hot, wet hole and then follow on through with his cock – an invitation that a lad like Williams is never, ever gonna turn down!
The look of sweet contentment on Torres's face when he feels his pucker being filled with all that man-meat is a picture in itself; and it's not long before the filthy-minded pup has positioned himself on the swollen pole cowboy-style and is riding it with his rump for all he's worth. Given this level of raw intensity, it's perhaps not exactly surprising that the fellow is soon creaming like a fuckin' whore; before Williams knocks out his own pent-up load moments later, leaving Torres to finger the resultant spooge onto his buddy's lips. Magic!