Summary:
Some of the best Staxus scenes compiled on DVD!

It goes without saying, there is nothing better than a Hot Fuck, especially if it's bareback and these guys certainly agree! The pleasure they are feeling is etched all over their faces and it's the look of love as their stare into each other's eyes – whilst their mouths are full of hot cock! They worship every inch of flesh on offer, relishing the taste and smell of their fuck buddy and the anticipation of the sofa sexfest that will soon ensue! Watch these boys take every inch of proffered cock down their throats and up their adorable asses before they are doused in creamy man-muck!
Description / Review
Scene 1: Shane Hirch Gives His Footballing Rival A Hard, Raw Fucking – Not To Mention A Sticky Facial!
Starring: Shane Hirch and Johny Cruz
From: World Cup Wankers, Scene 4
Brazil and Argentina have always had a very long and colourful rivalry on the football pitch, but Shane Hirch and Johny Cruz are determined to bring the two countries together when they don the respective shirts of these two South American giants for a friendly kick-about. Indeed, they appear to maintain more for sporting diplomacy in the space of a few minutes than is usually achieved in your average lifetime given that they've soon abandoned the ball in favour of a rather intimate rapprochement – ripping off their shirts (the apparent symbols of their differences) and enjoying a long, lingering session of open-air French kissing whilst dressed in nothing more than their jocks!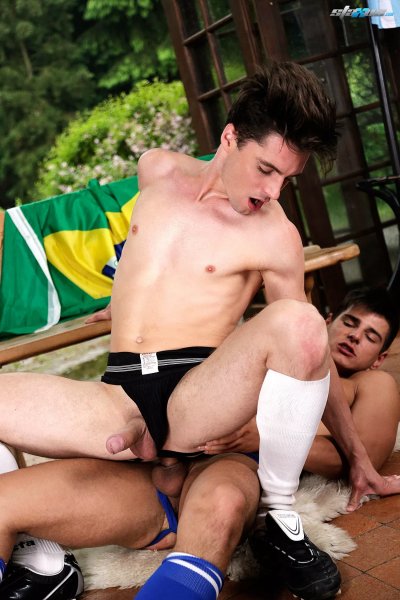 Sadly, any hope for an outdoor union between these two handsome beauties is promptly scuppered by the arrival of a heavy, tropical downpour; but by this point both fellows have very clearly been carried away by the passion of the moment, and before you know it they're engaged in a rigorous session of mutual cock-sucking and ass-rimming. So sit back, relax, unzip – and enjoy the sight of these two beauties engaging in a fabulous kitchen-floor romp that'll quite easily blow your dick into a premature frenzy!
Indeed, there really is a genuine risk that you'll have spilled a significant wad of ball-juice long before Hirch finally mounts Cruz's hungry little ass-hole. No need to worry, however. This superb display of bareback copulation is more than capable of delivering a subsequent blow-out from most fans; and by the time these boys are wanking out their creamy climaxes (most notably Hirch into Cruz's face!) the chances are your balls will be totally spent!
Scene 2: Horny Blond Twink Savours Every Inch Of Robbie Kasl's Monster Uncut Dick!
Cast: Robbie Kasl, Tim Walker
From Super Size Me 3, Scene 4
Checking into some lush hotel room after a hard day's work or travelling is always a pleasure, but the arrival of room service – courtesy of a cute and charismatic twink – only adds to the experience. So it's little wonder that Tim Walker takes full advantage of Robbie Kasl's services when the latter brings a drink to his bedside.
Indeed, given the knowledge that we all have of Walker being a first-class slut, his antics in seducing Kasl should come as no surprise whatsoever. To be fair, of course, the young waiter doesn't stand so much as a chance when confronted by Walker's seductions; and it's no surprise that the lad is out of his trousers before he knows what's happening to him! At which point you're gonna wonder whether Walker had prior knowledge to what he was about to find between Kasl's legs, given that the dick in question is a fuckin' monster!
Needless to say, Walker's response is the one you'd expect from a cock whore, slurping up and down its length and allowing Kasl to rim his twitchy little ass; before plonking himself firmly on Kasl's lap and riding the beauty for all that it's worth. The fuck that follows is a breathless, ass-stretching bonanza – one that'll help you knock out a couple of loads at least. By the time both boys have earned their cash by squirting liberally for the camera, you'll be totally drained!
Scene 3: Cock-Achingly Gorgeous Twink Gets All His Holes Stretched By Orlando White's Dick!
Cast: Orlando White, Yuri Adamov
From: Dreams Can Cum True, Scene 5
What is it about young Yuri Adamov and apples? It's almost like the gorgeous little cutie can't walk past a fruit-bowl without getting his lips around a Cox's Orange Pippin! Jokes aside, however, this is a fellow who knows he's one hell of a sexy fucker and who understands exactly how to get a whole legion of fans into a hot, sticky frenzy as a result. Not that he's the only guy on the STAXUS books who's capable of such provocation, as studio favourite, Orlando White, is clearly only too eager to demonstrate when he also parades his credentials in front of the camera.
Indeed, by the time these two beauties head up the stairs to the bedroom, hand-in-hand, there's every possibility that you'll have creamed yourself already – let's face it, they're both that type of boy! Assuming you make it to the point that the lads finally hit the couch, however, you can rest assured that you're in for a five-star treat; with Adamov greedily feeding off his buddy's ramrod, before the youngsters literally tumble into the bedroom for a simply ball-bustin' session of top-to-toe fellatio.
It's quite simply almost enough to make a grown man weep for joy, and by the time that White has achieved his ultimate objective (i.e. poking Adamov's butt-hole with that handsome pole of his!) there's every distinct chance that you'll have bust a nut in appreciation. Something both lads do here with understand ease – Adamov spewing like a geyser mid-fuck, before White sprays his pent-up load over his pal's cute face!
Scene 4: Sexy Blond Twink Gets Fucked Raw By His Horny Older Pal!
Cast: Rick Nielson, Tim Walker
From: Dads Fuck Lads, Scene 1
Young blond, Tim Walker, is still very much a kid at heart. So much so that he'd still prefer to be playing with his toy helicopter than pay attention to the needs of handsome stud, Rick Nielson, in the next room. Don't worry though, it's not a situation that continues for very long. First opportunity and Nielson has made his move, pouncing on the youngster like a lion stalking a gazelle.
What's more, Walker never stands a chance. Before he knows it the tattooed hunk has reached into his jeans and is tugging on the lad's dick like you wouldn't believe. Little surprise that Walker is soon returning the favour by chewing on Nielson's rock-hard meat like a new plaything. If anything, however, it's Walker's ass that's the latest craze on this block, as the older lad rims the boy's hole before thrusting every inch of his cock deep inside the all-too-eager pucker.
Cue a truly fantastic display of older-on-younger action that'll have you jerking off like crazy – Walker proving a total slut to his more experienced compatriot, who quite literally fucks the spunk out of the boy for your pleasure. All culminating in a delirious blast of jizz on Nielson's part, eagerly lapped up by pretty-boy Walker!