Summary:
Super hot twink photographer Jack Cameron shoots some nice pics of his mates. Jack talks them into taking off more and more clothing until he can focus on the big and fresh cocks.
Luckily for us the action just begins there, resulting in rock hard twink dicks slamming young holes! YUM!
Scene 1: Young & Full Of Cum, Just How We Like Him!
Starring: Jack Cameron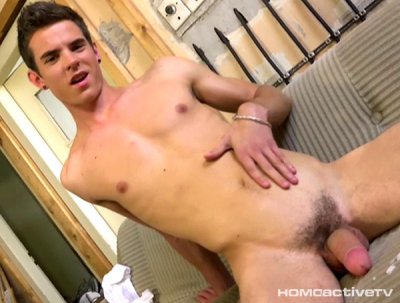 There are some boys you could quite literally sit and watch forever – especially when they're enjoying a little private time (albeit in front of a camera!) – and young Jack Cameron is most definitely one of those guys. As ably demonstrated here in this short escapade when the doe-eyed Adonis strips off and works his thick, meaty cock towards a somewhat inevitable sticky crescendo. As with all solo scenes, what works here is the sense of intimacy – the notion that we are getting to see one of those very personal moments in a young man's life that no-one else usually gets to share. Not that such pathos is likely to be of much interest to you, our dirty-minded fans. All you'll care is whether Cameron gets to finally dump a hefty wad of jizz from the depths of those hairy tight balls of his – which, we can confirm, he does with aplomb. Splattering the sofa with a delicious spray of Czech DNA and in the process confirming just what scorching property he is at present. Whether the cleaning lady took as much pleasure from removing the deposit as Cameron clearly gets from producing it will forever remain a mystery; but our bet is that you'll be jerking off just the same!
Scene 2: Model Meets Photographer In A Spunk-Soaked Fuck-Fest!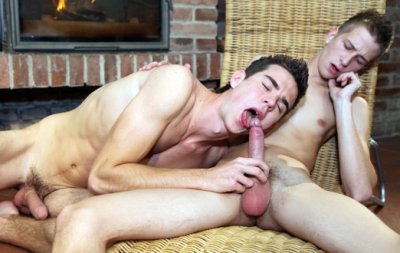 Budding photographer, Jack Cameron, puts his camera – not to mention his juicy, uncut cock! – to excellent use in the company of wannabe model, Tom Nutt, whose photogenic nature appears only to be matched by his unbridled libido. Indeed, it's not long before the horny blond has winged his way into Cameron's affections (and ours) by parading that awesome bubble-butt in front of the lens, tempting the would-be member of the paparazzi into a fireside smooch that'll have you reaching for your zippers in filthy appreciation. As we all know by now, of course, neither Cameron nor Nutt are renowned for their coyness when it comes to matters of the crotch – and so it proves once again here as the two twink-sluts manhandle each other's dicks and suck on all that hard flesh as if it's going out of fashion. The sight of them 69-ing serves as an added mark-up to proceedings; yet we reckon it'll be that of Nutt being banged from behind that'll ultimately etch its way onto the back of your retinas! That, and the unquestionably filthy finale when Nutt erupts in the process of being fucked and then promptly turns round to take Cameron's wad in the mouth!
Scene 3: Cute, Over-Hung Beauty Works His Wrist On His Oversexed Cock!
Starring: Kevin Arbor
Also available: Big Uncut Fuckers (2 DVD Compilation)
Also available: Big Is Beautiful (2 DVD Compilation)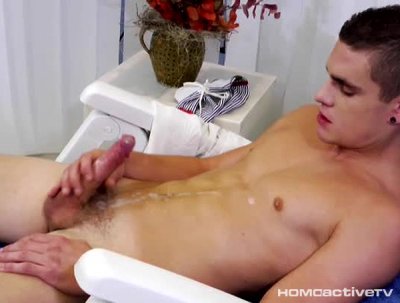 We might be completely wrong about this scene, but we reckon that by the time young Kevin Arbor steps out of the shower – some ten seconds in! – you're gonna be completely hooked on this dark-haired beauty. Why? Well, for one thing he's not exactly the kind of cute-faced twink you'd want to kick out of bed in a hurry; and for another he's blessed with the kind of equipment down below that is always gonna grab the attention of you porn-lovin' fanatics. Indeed, let's be honest here, Arbor's is the kind of cock that was almost made for the camera – which perhaps explains why this perverse little solo exists in the first place! Of course, a boy Arbor's age exists for one purpose only, namely to produce load after load of ball-batter in the quest to propagate the next generation. What's more, it's a purpose to which he's dedicated quite a bit of time until this point – and it shows! This is a young man who knows exactly how to work that ramrod of his into a creamy frenzy, and it's not long at all before he's blasting his belly with the fruits of his labour. Fingers crossed for more of this boy to cum; but meantime be assured that this is one wanker you will want to spend time with!
Scene 4: Blond-Boy Gets To Ride Raw On This Soldier's Primed Weapon!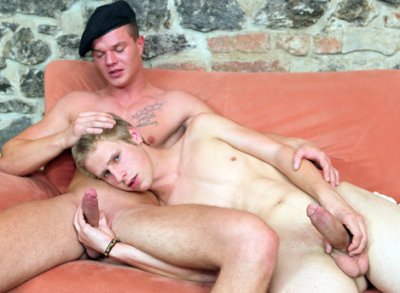 What is it about a guy in military uniform? Why, even the most unremarkable individual can be made to seem extraordinary when dressed in khaki – though in this particular case there's nothing plain or unattractive about Duncan Aweiro! In fact, let's be quite honest here, Aweiro quite literally has a body to die for – as young Jimmy Snyder discovers when the handsome soldier returns from a photo-shoot feeling particularly buoyed and (almost inevitably) hot and horny. To be fair, there's more than a slight hint here that blond boy Snyder's participation is not altogether consensual, forced as he is by Aweiro to sit next to him and kiss at the beginning of their encounter; but if anything the sight of the twink being bundled into a hard-hitting session with this beefy brute just makes the coupling even hotter than it already is. Of course, it's pretty obvious – even to a sweet-looking innocent like Snyder – where that meaty cock of Aweiro's is gonna end up; and so it proves, balls-deep and totally raw, with Snyder grunting like a pup and squirting like a whale. It's left only to Aweiro to dump a healthy blast of jizz into Snyder's butt to round off this terrific set-piece.
Scene 5: Behind Closed Doors Two Fit Twinks Bang Away For The Camera!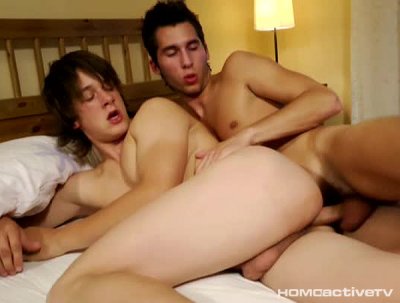 What people get up to together in the privacy of their own homes is their own affair, of course, but with Jack Cameron and his telescopic lens ready to secure a detailed record of events you can be sure that whatever it is it won't stay a secret forever. Including this delicious encounter between floppy-haired Chris Hoyt and the ever-dynamic Nicolas Cruz. Not that anyone in their right mind would ever be surprised at the antics of the latter individual, who presence in front of the camera has become almost obligatory in recent times. Indeed, Cruz and his greedy upturned knob-end once again prove themselves key to proceedings, slurping up and down Hoyt's own stick of Blackpool rock before forcing the pale-skinned youngster onto his belly and slipping his achingly generous cock deep inside the boy – sans condom, naturally! Hoyt – a totally passive receiver to the very end – appears both unwilling and unable to display even the slightest notion of resistance; eventually offering up his open ass for Cruz to stain his crack with cream, before jerking off a load for Cameron (et al) to enjoy. In short, another private moment of debauchery all canned up nicely.
Scene 6: Five-Boy Raw Fuckfest Is Exactly What The Cameraman Ordered!
Cast: Cast: Aslan Brutti, Jack Cameron, Nick Kelson, Sergey Vorobev, Amir Waltr
Also available: Fuckin' Orgy Sluts (2 DVD Compilation)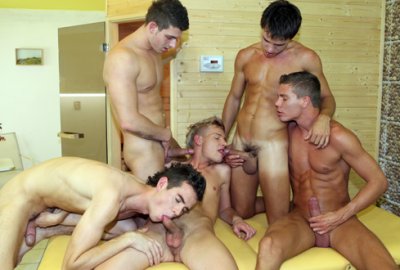 In life, as they say, one thing always leads to another, so it's perhaps not at all surprising that Jack Cameron's work behind the camera should eventually lead him to this, a wanton five cock suck-and-fuck-athon that'll have you jerking your meat to ecstasy time and time again. It actually begins as a two set escapade, with Sergey Vorobev and Amir Waltr making out in a sauna whilst Nick Kelson and Aslan Brutti take on Cameron himself in the room immediately beyond. But it's not at all long before Vorobev and Waltr have joined the other lads to add an almost immeasurable synergy to the occasion. What follows is exactly the kind of gross perversion you were always warned about as the boys suck, lick and rim like a pack of moral-free alley-cats, before bottle-blond Kelson takes each bare dick up his ass in swift succession. Clearly this is a lad for whom monogamy is never, ever gonna work, and who's not really content until every cock in the room has erupted all over his chest, crotch and (of course) his face! It's filthy, it's disgusting, it's everything that's wrong with today's promiscuous society – but geez, you'll be spurting over and over again!!