Summary:
These hot and horny athletes have worked up quite a sweat out on the track, but that's nothing compared to the fuckin' cock-mad passion they display between the sheets.
From armpit-licking to toe-sucking to young twinks taking two bare cocks up their tight virgin asses at one time, these guys savour man-sex as it was meant to be enjoyed: spunky, sweaty and (above all) totally 100% raw!!
Description / Review:

Scene 1: Sweaty Armpits & A Thick, Meaty Cock Make This Twink's Day A Real Kinky Treat
Starring: Damien Dickey and Jack Blue
Young Jack Blue has a thing for sweaty armpits – and never more so than when his running mate, Damian Dickey, has been working out. Hence it's no time at all before the lad's trailing his tongue in Dickey's pits like a real horny sex pig. Little wonder that Dickey's so turned on that he's promptly returning the gesture. Indeed, this is a definite must-see for anyone who likes their sex to be on the kinky side, as the two lads then engage in a session of mutual foot-worship and nipple play. Ultimately, however, it's cocks and asses that count, with both boys taking up in the 69-position and feeding off each other's shafts like a couple of wild animals on heat; before Dickey finally gets the opportunity to finger his pal's hungry little ass and then encourage Blue to take his thick, meaty, uncut shaft for a test ride. The result is the sight of Jack Blue bouncing up and down on Dickey's ramrod completely in the raw, gasping and groaning as he does so; then Dickey fucking his mate from behind and finally spewing the contents of his heavy, hairy balls all over Blue's cute young face. Totally kinky, totally perverse – but exactly the sort of stuff to blow your wad!

Scene 2: Two Dirty-Minded Fuckers Get Joined For Another In The Gym For A Cum-Splattered Threeway!
Starring: Francisco and Kevin Groom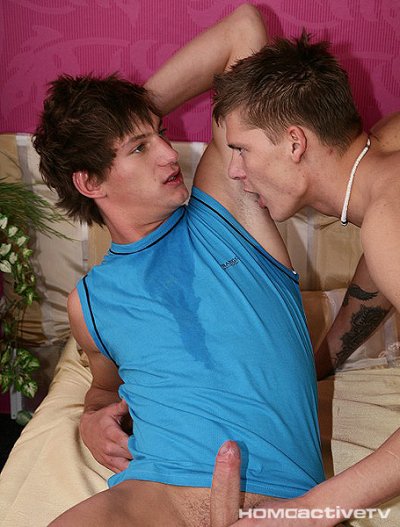 Francisco Ruck is a dedicated athlete – spending every moment of his time in the pursuit of physical perfection. But even he can't ignore the wanton delights of young blond cutie, Kevin Groom, who parades himself in front of Ruck like a whore that's ripe and ready for the taking. To his credit, Ruck tries desperately to concentrate on his exercise regime, continuing to peddle away on his exercise bike whilst Groom lays himself out on a nearby bed with his butt primed and eager, but ultimately (as we all know) it's a losing battle. Before you know it, Ruck's straight off that machine and having his cock sucked by his pal for all it's worth; whilst Tom Hyde suddenly enters the room to make it a threesome. Then again, of course, it's not as if Ruck's not gonna be getting plenty of alternative exercise in the company of his two friends – and his cock is soon buried balls-deep in Hyde's tight ass to prove it. Upon emptying his nads in Hyde's pucker, however, the action turns exclusively to Hyde getting a subsequent bare pounding courtesy of Groom – a turn of events that again results in loads of fresh jizz being pumped out of both their aching, uncut shafts. Fabulous!

Scene 3: Cock-Crazy Youth Knows Which Muscles To Rub To Get An Ass-Load Of Fresh Jizz!
Starring: Max Born and Job Bruno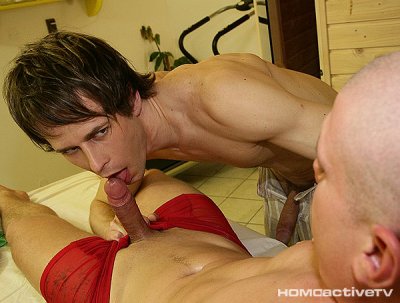 He's perhaps a little too old to be described as a twink, but that doesn't stop someone like Max Born appreciating the simple, unrefined beauty that a youngster like Jon Bruno offers – especially when the said teen is an experienced masseur, who knows exactly which muscles to pull in order to gain his client's satisfaction. Whether it's right for Born to take advantage under the circumstances is another matter, but from the very moment that Bruno pulls his client's shaved and swollen knob-head into the open air it's pretty obvious what's gonna happen. Born doesn't look the kind of guy who takes too kindly to sexual frustration, that's for sure, and the moment Bruno instigates the encounter it's clear that the lad's ass will soon be accommodating every inch of Born's greedy, unsheathed ramrod – which he does, it may be added, with incredible relish, bouncing around on Born's lap like a common slut. The older guy, for his part, pummels away at Bruno's slit with an almost desperate gusto; and it's little wonder that the youngster quite literally has the cum banged out of him, before Born dumps the contents of his own balls into Bruno's ass!

Scene 4: Horny Teens Get Hot & Sweaty In The Gym For A Feast Of Cock-Feasting Fun!
Starring: Jack Blue and Robin Snoyer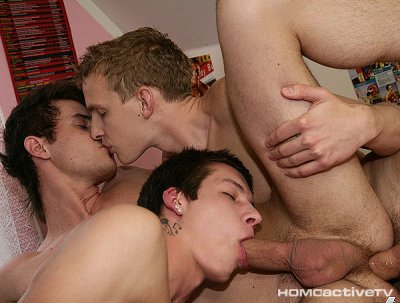 We already know just how horny Jack Blue can get when he's in the company of sweaty, exercise-obsessed males, but it would seem he's not the only guy affected in this way. After all, young Robin Snoyer can barely drag his eyes away from Blue's well-toned frame whilst the two of them work away at the gym, and it's really only a matter of time before the youngster allows his raging hormones to get the better of him, pulling his cock out of his pants and jerking off as if it's the most natural thing to do in a public place. Overcoming his surprise – remarkably quickly, it must be said! – Blue's soon encouraging the teen to get down on his knees so that he can work his shaft with his cute little mouth; before returning the compliment with equal enthusiasm. What then follows is a masterful display of cock-feasting, sock-sniffing, kink-brimming fun, as the two lads gorge on every inch of hard flesh that each has to offer; before Snoyer finally works Blue to the point of no return and laps up every resultant drop of jizz in the process. His reward? The opportunity to fire his own rich blast of protein over Blue's face, which he does with understandable relish!
Scene 5: Two Cocks Into One Tight Ass? Anything's Possible With These Three Filthy Twinks!
Starring: Nick Deniels and Rolando Wyer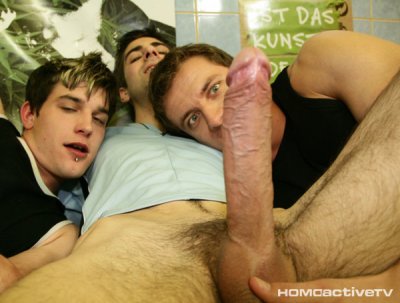 Warning: if the sight of a young twink's ass getting stretched to the max by a couple of beefy, throbbing cocks at the same time, then this probably isn't gonna be your scene. If like us, however, the very idea of seeing cute Nick Deniels royally skewered by Rolando Wyer and Will Rowe is almost enough to get you spurting in itself, then this fantastic scene is one that you will not wish to miss. Once again, the whole notion of sweaty masculinity is explored, with Deniels beginning his advances on the slightly more mature Wyer by licking out Wyer's freshly shaved pits. Nevertheless, it isn't long before such relatively subtle perversion has been overshadowed by something far more explicit; with all three guys engaging in a succession of blow-jobs, before Rowe finally gets the chance to lube up his thick, raw shaft and thrust it deep into Deniels's butt. It's a move that encourages Wyer to do exactly the same, and before we know it Deniel's guts are making room for two of the biggest cocks in the biz. Little wonder he squeals like a little piggy – his excitement only eclipsed when his two assailants conclude the scene by squirting all over his cheeky young face. We can only imagine his parents' pride if and when the youngster shows his folks what he does in his spare time to earn a little extra cash!

Special features include: Double Penetration, 11 Fit and Spunky Joggers, 5 Great Bareback Scenes