Summary:
Life in the Barracks is a hell of a lot more fun than the army let on, group barebacking and cum showers are just the beginning of the adventures these smooth sexy recruits encounter!
Description / Review:

Scene 1: Group Sex In The Barracks

Cast: Dominik Trojan and Julien Breeze
Also available: Uniformed Shooters (2 DVD set)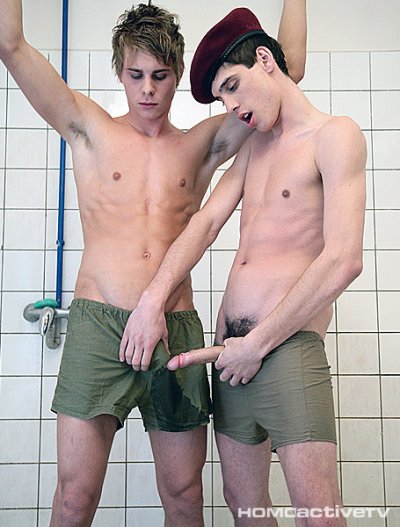 Binding Stunning blonde Julien in the showers, Dominik asserts his authority over his prisoner, sharing a cigarette before forcing a kiss onto his delicious lips. Forcing Julien to empty his bladder through his army shorts, letting it splatter over his boots as Dominik gets turned on, teasing us with his piss. Meanwhile, gorgeous James Byron shaves his pale comrade's head, getting turned on by the action. Eager to please his man, Larry plays with James' precum before he laps it up himself, then forces him onto the bunk and slaps his ass until its red and his cock throbs with every slap. Sliding his dick into the tanned soldier, Larry grinds into him, giving a real fucking to that smooth ass. Julien and Dominik come back from the showers and catch them mid fuck, both loving what they see!! James's ass soon gets covered In spunk, dripping in fresh juice as it's pushed back in as Dominik wants a turn to push his long cock deep into the slippery hole whilst Julien fucks the cock hungry young stud in the face.
Scene 2: Soldiers get a faceful of spunk!!
Also available: Uniformed Ass Bangers (2 DVD Compilation)


Horny soldiers suck cock in the hallway!! Liking it dirty, these uniformed recruits can't help but get turned on by each other as their long dicks bulge from under their uniform, forced to each others knees, both faces are rammed full of hot cock as they near orgasm, ripping off their clothes, the spunk shoots from their dicks all over their young faces, one young guy shooting over his mates dick and then licking him dry, tasting both his and his own spunk, mixing it in his mouth!!
Scene 3: Forced sex in the shower block!!
Also available: Forced Fuckers (2 DVD Compilation)


Now the dark haired narrator gets a taste of man sex for the first time. A blue eyed blond boy meets him in the shower block and whips his awesome dick out, pulling Martin face onto it as he gets rock hard. Both cocks are perfect on these smooth soldiers, so watching them suck on one another is amazingly horny and bound to get you twitching throughout. Pumping his dick into the virgin boy, you can see his thick cock pushing down his throat, getting slicked up for the raw fuck that it's about to give. Squatting over his fuck mate, Martin is at the mercy, only able to take what he's given, no matter how hard and deep he goes. His virgin hole stretched open and pounded hard, causing a huge cumshot from both soldiers who want it over their faces.
Scene 4: Hard fucking in the mess hall!!


Caught wanking by his superior officer, Private John Paul has no choice but to take the punishment as it's handed out. Luckily, Thomas Dyk is just as horny, and gets straight to work on his tight butt, loosening it up with his fingers before sliding his cock from tip to hilt into the young blond boy. Not content with having to do all the work, Thomas gets John on his knees and giving an amazing rimming, letting us get close up to him munching on his hole and then sliding his solid cock back and forth against his ring, stretching it open as Thomas jerks off, letting his butt get fucked in any way John wishes.
Scene 5: Group Fucking and cum facials!!


Also available: Bareback Orgy Sluts (2 DVD Compilation)


Becoming their bitch; Martin must do whatever the older recruits tell him, even if it's to have hard and raw sex with another soldier, as they watch on. Not one to pass up the chance, the smooth cutie strips off and get's to work on the fellow dark haired twink. Liking what they see, Julien and John start to strip until all four are butt naked and throbbing hard. Swapping men throughout, the fuckfest begins and doesn't stop until every man is fully sated.


Pushed against the desk and fucked hard by John, then by Julien, our young lad has the hungriest hole in the barracks, and feels too good to leave alone. Pushing back onto the stiff dicks, his dick soon stiffens and his balls empty a huge load over each himself, letting Julien and John empty themselves over each of the dark haired twinks, thick strings of cum covering cute faces.