Summary:
Is there anything nobler than the stretching of a young mind in pursuit of a good education? Well, what about the stretching of young asses by big, thick, uncut cocks in the pursuit of a real good fucking?!! At this testosterone-fuelled college that's exactly the ethos the students have adopted, as hardcore classes in anatomy become the focal point for every filthy-minded slut on the register. Uniforms off, it's one long cum-soaked, dick-crazed lesson in debauchery!!
Description / Review:

Scene.1: A really good, satisfying wank
Starring: Lex Olsen and Tom Nutt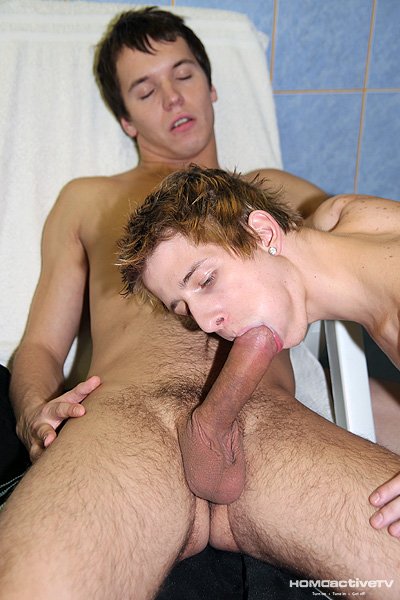 Nicolas Cruz kick-starts proceedings by reminiscing about all the exciting things that he's seen take place in the showers during his time at school – which of course is the perfect excuse to take off his pants and start having a really good, satisfying wank. That in itself is perfect hardcore material; but director Vlado Iresch promptly adds spice to the scene by flashing back to a previous encounter between Lex Olsen and Tom Nutt, to which Cruz had been a "Peeping Tom". Needless to say, both these boys are as fit as they are horny, and it doesn't take Nutt many seconds to be down on his knees so that he can give his mate's thick, long shaft a good sucking. Olsen soon returns the favour, slurping on Nutt's neatly shaved cock with equal relish; before Nutt finally succumbs to his animalistic urges and thrusts his raw knob into his pal's all-too-eager pucker. It's not long before Nutt's busting the proverbial all over Olsen's ass; whilst Olsen, in turn, dumps a load across Nutt's chin! With memories this hot, it's no fuckin' wonder that Cruz's cock erupts like a volcano at the scene's end.
Scene.2: Frisky, hyper-sexed twink
Starring: Tom Nutt and Jon Roz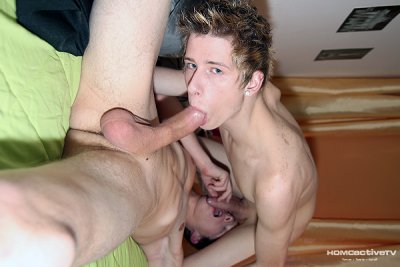 We already know just how horny young Tom Nutt is, but given the ages of the lads at this school it's perhaps not altogether surprising that he's not the only frisky, hyper-sexed twink around. Indeed, his room-mate, Jon Roz, is equally as obsessed with cock, and it doesn't take much effort on Nutt's part to distract the youngster from his studies. Talk about half-hearted resistance – this boy's down on Nutt's neatly shaved crotch quicker than a whore in season! Soon the two lads are slurping away on each other's shafts without a care in the world; taking turns to lap on all that hard meat before Roz finally takes command of the situation and pokes his sheath-free knob-end deep into Nutt's hairless man-cunt. As it turns out, however, it's not the lengthiest of fucks. Roz is clearly on the brink of dumping a thick, heavy load right from the off, and within minutes we're treated to a close-up view of his aching rod pumping onto Nutt's perky little button. It only remains for Nutt himself to jerk out his own wad of creamy goo (accompanied by yourself, we're quite sure!) and the action is complete.

Scene 3: A hardcore, rubber-free fuck
Starring: Joe Soret and Leo Palmer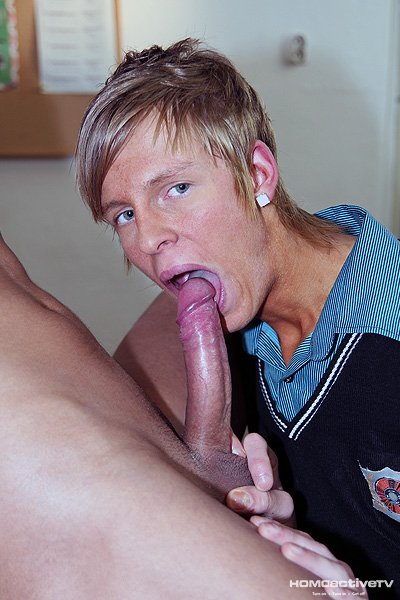 Being cooped up in a classroom all day is driving these youngsters stir-crazy –and nobody more so than Joe Soret and his horny blond classmate, Leo Palmer, who in their state of pent-up madness clearly think nothing of getting a porn mag out (promptly followed by their cocks!) when they should both be busy studying. Quite literally, anyone could walk in on them at any time – but that doesn't deter these boys, who soon find themselves gobbling away on each other's dicks like a pair of sex-starved racoons. It's an escapade that can only result in one thing: namely, a hardcore, rubber-free fuck that'll have you rubbing away on your own joystick with an equal degree of mindless fervour. In the end it's dark-haired Soret's rump that serves as the focus of attention, mounting Palmer cowboy-style before bending over a desk to be taken from behind. The sight of that thick, raw shaft stretching Soret's hole will drive you into ecstasy – as will watching Palmer white-washing Soret's ass and Soret replying by coating Palmer's chin with jizz. Totally filthy – but fabulous!
Scene 4: A continual diet of raw cock
Starring: Sam Brooks and Jon Roz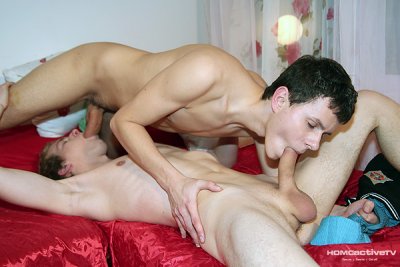 Everyone in Prague knows just how much of a manwhore young Sam Brooks is, so it's perhaps not altogether surprising that his residency at the school is marked by a continual diet of raw cock and hot spunk. Demonstrated all too clearly here in an encounter with Jon Roz, a young man who's only too eager and willing to respond to Brooks' advances and who certainly doesn't show any reticence when it comes to allowing the lad to hang slurping off the end of his knob. Brooks, of course, is a dab-hand at pleasuring a guy, feasting off Roz's meat with undeniable relish; then presenting his pal with his hungry ass-hole as if it were a sacrificial offering. Roz, for his part, isn't about to turn the opportunity down. Before you know it, Brooks is bouncing up and down on his mate's ramrod like the veritable whore that he is – a stunning vision of raw, no-holds-barred sex that'll blow your mind (if not your load)! As if to underline his credentials as a slut, Brooks then allows Roz to spurt directly into his face, before splattering the contents of his own balls all over his uniform.
Scene 5: A little bit of muscle
Starring: Ennio Guardi, Nicolas Cruz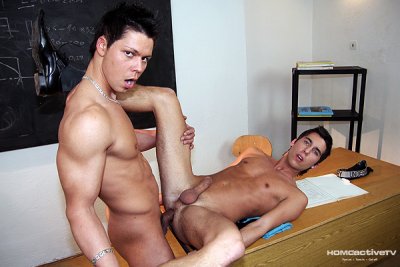 If you like your twinks with a little bit of muscle then you're in for a treat, as Nicolas Cruz teams up with Ennio Guardi, a youngster who clearly has more than a passing acquaintance with his local gym. Little wonder than Cruz is completely bowled over when the fellow responds to his flattering overtures in the classroom – though needless to say he makes a prompt recovery and is soon devouring Guardi's uncut cock (which, like the rest of the gym-boy's body is exceedingly well proportioned) as he would a popsicle on a roasting hot afternoon. The temperature is certainly rising by the minute as the lads then engage in a furious session of 69-ing over the desks; before Guardi takes control and thrusts first his tongue and then his bare dick into Cruz's man-hole. What follows is a jaw-droppin', ass-bustin', close-up bonanza that eventually sees Cruz quite literally having the spunk banged out of him. Not content with such debauchery, however, Cruz then promptly falls down to his knees and allows Guardi to spew down his throat. Talk about being one lucky bastard!!