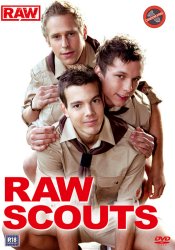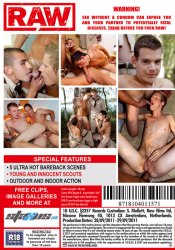 Also available
Raw Scouts 2



Summary:
It's off to the country for ten of the horniest, filthy-minded pups that you can ever imagine, all donning their legion's uniform for a weekend of mindless cock-sucking and ass-pounding! Not that their uniforms stay on for long. Minutes after arriving the young beauties are stripping down for session after session of the hottest twink action you're ever likely to see. From the shy and inexperienced to those who just live for cock, these lads will have you spurting time and time again in their quest for a badge in cock-sucking and bareback sex!
Description / Review:

Scene 1: Alfresco cock-sucking
Cast: Sergey Vorobev, Roy Reins, Louis Lamande, Marco Will
Their folks back home think they've gone to the country to savour the wonders of the great outdoors – to soak up all that fresh-air and to wallow in the glories of the natural world. What they didn't probably realise is that the likes of Sergey Vorobev, Roy Reins, Louis Lamande and Marco Will have a somewhat earthy take on life beyond the city; indeed it's not many moments before all four boys have headed to the shores of the nearby lake to engage in a stupendous session of alfresco cock-sucking. Lamande, in particular, is a lad that we think you'll take particular note of – cute as a button and with a nicely curved cock pumping away in his crotch.
What's more, he clearly has a distinct penchant for dick, falling to his knees at the first opportunity to get his hungry little lips firmly fixed on whoever's pulsing knob-end if thrust his way. What's more, the likes of Vorobec appear quite willing to let him continue in his wayward manner – the the point that he, Will and Reins are jerking their cocks over Lamande's cheeky little (open-mouthed!) face. So no sex per se; but by the time this beauty's chin is dripping with spent jizz we suspect that you're gonna be more happy!

Scene 2: Sexually-charged sex-god
Cast: Jimmy Snyder, Julien Heath, Sergey Vorobev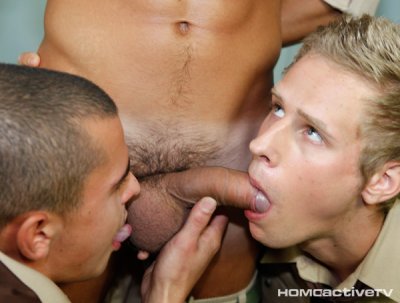 So what would you do if you accidentally stumbled upon the sight of dark-haired beauty, Sergey Vorobev, stripping out of his uniform and into the shower? Let's be honest here, chances are you'd be just like young blondie, Jimmy Snyder, who finds himself quite simply entranced by the vision and who then goes back to his lodge to give his shaved cock a real hard work-out in appreciation. Sadly for him, voyeurism is more definitely the order of the day at this weekend retreat, and before he knows it he's got Vorobev returning the favour through the bedroom window, together with the ever-sexually-charged sex-god that is Julien Heath. A few moments on and all three boys are inside the bedroom with their shorts around their ankles, slurping on each other's meaty cocks and generally acting the part of complete whores. Indeed, it doesn't take very much persuading for Vorobev to have his dick firmly planted inside Snyder's ass – the young blond's legs stretched apart to the max in the process. Then it's Heath's turn to get his ass pounded; before Vorobev and Snyder blast the contents of their tight balls into Heath's mouth! In short, a must-see cum-soaked threeway!

Scene 3: Gorgeous as they come
Starring: Julien Heath, Louis Lamande, Chris Hoyt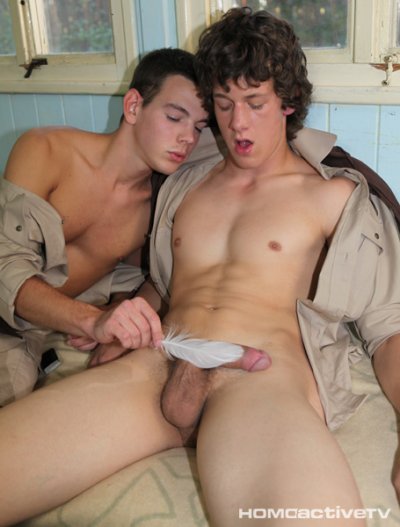 Everyone knows full well that Julien Heath is the biggest slut in the pack – but hey, what's this? Is there another cropped-haired cutie on the block who's going after his crown? Yes, young Louis Lamande is as gorgeous as they come, and, judging from this particular performance here with curly-haired Chris Hoyt, he's most definitely one to watch! What makes this escapade all the more remarkable, however, is the fact that director Vlado Iresch juxtaposes the new boy directly against Heath, with Lamande riding Hoyt's thick, angry cock and blasting a damn fine show of hot, sticky cream, before Heath steps into the scene and takes a ride on the hard shaft in almost identical fashion. Other lesser producers would simply have coupled Lamande and his older rival together. Not here though. Instead, the two bottoms are fucked in turn by the same cock, both bouncing up and down on Hoyt's crotch with equal vigour and (as it proves) equally gooey results! Sadly for Lamande, however, it's the more experienced Heath who gets to savour a generous mouthful of Hoyt's cum! Suffice it to say, however, it's a disappointment that you viewers won't share!

Scene 4: Sweaty Session of Fellatio
Cast: Roy Reins, Mark Gatto, Asian Brutti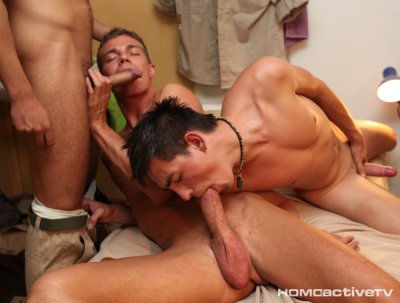 We're not exactly sure whether it's usual practice in the Czech Republic to leave your bedroom door wide open when you're engaged in a hot, sweaty session of fellatio with your mate, but thank goodness that's just what Mark Gatto and Asian Brutti do here because it results in a mind-blowing, ball-bustin' threesome with young Roy Reins that might not otherwise have happened. Not that there's anything unappealing about the coupling of Gatto and Brutti in the first half of the scene – both young twinks have the kind of equipment that anyone would love to get their lips around, and it's perhaps no surprise that the two darlings are soon engaged in a stupendous session of 69-ing that'll no doubt have you tugging on your own cock with abject frenzy. But hey, don't let yourself get carried away too soon. The introduction of Reins adds another dimension to the performance completely, and it's no time at all before Gatto is firmly pinned between both his mate's cocks! From that point on all it takes is a horny backward ride on Brutti's raw knob for the spunk to be blasting everywhere, with copious squirts of jizz being lapped up by Gatto. What a complete whore!

Scene 5: Sultry, Sensual blow-job
Cast: Andy Nash, Marco Will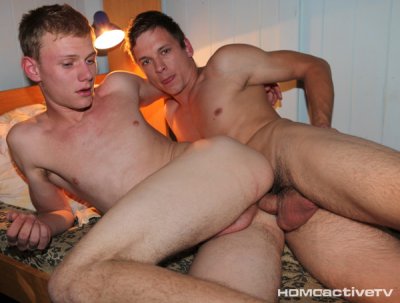 Sometimes the unexpected happens. You find yourself with someone that you perhaps wouldn't normally be attracted to, yet for some reason things just click and you find yourself contemplating what until that point would be considered impossible. That's certainly the way that things progress for Andy Nash and Marco Will, whose night-time smoke on the steps of their lodge results in an attraction that up until that point had been buried deep within their subconscious. The sight of Nash jerking away on his aching cock in his bunk, however, is more than enough to get Will to throw away his inhibitions and to grab the opportunity presented to him with both hands – not to mention a very open mouth! Cue a very sultry, sensual blow-job on the part of both boys, which only concludes when Nash takes his mate from behind, thrusting that handsome ramrod of his balls-deep into Will's hungry arse. That it takes just a few moments for the lad to erupt in his pal's crack simply underlines the genuine excitement displayed by both guys; whilst Will's own breathless climax a few moments later serves as a fitting conclusion to this unforgettable scene.
Additional Information
Categories: UK R18 / XXX Gay Adult, Bareback Sex, Europeans, Horsehung, Military, Muscle Men, Twinks/Young Meat, Uncut Cocks, Anal Sex, Big Loads, Big Balls, Black Men, Blonds, College/Dorms, Cum eating, Facial Cumshots, Kissing, Live Sound, Older Men/Younger Men, Oral Sex, Rimming, Rough Sex
Running Time: 105 mins, Year 2012
Price: Around £24*
Starring: Asian Brutti, Marko Gatto, Julien Heath, Chris Hoyt, Louis Lamande, Andy Nash, Roy Reins, Jimmy Snyder, Sergey Vorobev, Marco Will
Director: Vlado Iresch
Studio: Raw Films
Buy DVDs online at: Homoactive, Simply-Adult.com and RadVideo (US)
Download Raw Film titles at: : Homoactive (UK/EU) and Radvideo (USA)
Gay Video On Demand: Raw Films, See also: www.gaydvds.tv
Member site: Staxus.com
Country: Czech Republic, Language: Czech with English subtitles
Additional info: No Regional Coding