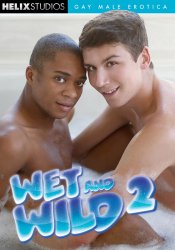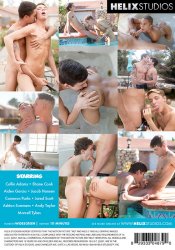 Also available

Summary:
Helix' most wild, well hung models get wet, sexing and soaking in boy filled bubble baths, diving deep, taking long strokes in porn star filled pools, and getting hot and horny in pool houses with your favorite twink hotties! Take the plunge with porn's hottest young hunks in overstuffed swim trunks with this all bareback bone-a-thon DVD, dripping with big dicked dudes drenching one another with their thick desire.
Scene 1: Poolside Round
Cast: Ashton Summers and Jacob Hansen
Ashton Summers and Jacob Hansen heat up the summer season, lounging around in their swim trunks at a lush, tropical resort. The boys chill by the pool, glistening golden in the sun, and absolutely unable to control their carnal cravings! Since Summers can't hide the big bulge building in his trunks, he lets his freak flag fly, going full Monty and plunging his massive meat into Jacob's juicy mouth. Since the train's already left the station, and the resort staff hasn't stopped them, Summers is hell bent on giving the other guests (who are SURELY watching from their windows) a downright, dirty good show! He slaps his big slab against Hansen's handsome face, then kneels to suck some serious cock like the meat hungry man he is! Jacob is pretty boy, porn putty in Summers' hot hands.
Once his wick is wet, jacob tosses those legs in the air, and receives an epic ass eating! Then, Ashton slaps Hansen's hind end, and plunges his piece in the dude's deep end. Hansen goes the extra mile, knowing every guest is gettin' a glorious eyeful of the fine ass fuckers. After Ashton dirty dogs the big dicked bottom, Hansen hops on top, and rides his man's raw rig like a champ. He smashes his smooth backseat down on that "D" till his poolside piece floods Summers' shredded stomach with sizzling hot heat! Anxious for some salty seed, Jacob jumps off the enormous appendage and plants his pretty face right in the lusty line of fire. Summers' stiff spear spits white hot spunk; and, his tight, tan twink licks the load right up! Then, the still hungry Hansen scoops up heaping handfuls of oozy overflow, for a finger licking good finale, that will leave you bone hard, and breathless! Summer is officially here!
Scene 2: Polar Plunge
Cast: Ashton Summers and Andy Taylor
Young ballsy and bold, Ashton Summers and Andy Taylor 'attempt' to take a dip in a freezing cold pool, but realize they'd have MUCH more fun warming one another up indoors. Inside, heated and horny, the bronze beauties sizzle in a succulent make out/ groin grabbing session that stiffens their staffs quickly. Taylor can't resist putting lips to Summers' superhero hog and worships every thick inch of his beefy bad boy down to the base. Appreciative Ashton pulls pretty boy's briefs all the way down; then, he devours the dude's dick with loving licks and lusty looks before his hunger for hole heats up. Summers gives Andy's gorgeous gape a glorious spit shine. Then, he slaps Taylor's smooth caboose with his cock and open palm. He pushes his prized piece deep into Andy's amazing ass and quickly steps on the throttle. Andy can take a dick, and Summers smashes his tight twink tail till the boy is panting hard from the pummeling.
Ashton decides to give our golden boy a reprieve, allowing the butt slut to catch his breath while catching some waves riding his big rig. Porn pro Andy gives us a beautiful, boner bouncing bang show as he slams his ass down, riding Summers' big beast till pure pleasure sneaks up his pulsing piece, looking for release. Bottom boy explodes in absolute ecstasy; but, this is Andy Taylor we're talkin' bout! Our boy spins around and keeps on takin' cock till Summers splatters his cheeks with hot, fresh nut! Our famous cock cam captures all the gooey glory of Ashton's still chubby cock sitting sticky and satisfied, sliding against Andy's cum covered caboose.
Scene 3: Summer Swim
Cast: Aiden Garcia and Cameron Parks
It's a brutal, sun beaming summer day but Aiden Garcia and Cameron Parks have found a way to beat the heat.... with their meat! While cooling off in the pool, the boy's wandering hands find their way to one another's bulging swim trunks which are brimming with fast building, big boners. Parks plants his pretty lips on Aiden's enormous appendage, choking down as much of the thick dick as he can while Garcia glistens on the edge of the pool. Aiden walks Parks to the pool house, pushes him down and then GOES down on that thick dick of his like a champ! After getting Parks' piece rock hard, Aiden hops on his bare bone and gets to grinding while shifting his own shaft.
His perfect prick prances and bounces on the porn price as Parks' pole drills his hole. Cameron wants more cock control and flips the lusted up latin onto his back then takes him to pound town. Parks plows his bareback peen deep into Garcia's tight little pucker while standing until Garcia's groin goes off like a geyser, shooting white hot nut on his beautiful bronze skin. Cam cranks on his cock causing it to overflow with liquid ecstasy. He empties every ounce of naughty nectar onto Aiden then flops his fat phallus on the boy and runs his hand through the sweet serum.
Scene 4: Bubble Bath
Cast: Jared Scott and Marcell Tykes
Bathtub buddies Jared Scott and Marcell Tykes turn into butt buddies in this steamy bareback bathroom bang! The guys share an enormous tub right next to a mirror, which gives us DOUBLE the porny pleasure. Sultry, splish-splashing foreplay gets the twink's tallywhackers pointing north and Tykes crarves more than just a taste of Scott's sizable surfboard. So, Jared hops up on the tub's ledge and gives his guy's throat a wet workout. Marcell has divine dick sucking skills and looks delicious bobbing up and down on that "D" as his bubble butt bounces, breaking the water's surface. After tickling Tykes' tonsils, Jared jams his face in Marcell's magnificent muscle butt for an epic ass eating. He wraps his arms under the boy's legs and licks ass like a man possessed, priming the porn star's pretty pucker with his tongue, a few fingers and a few spankings for good measure. Wet and ready, Marcell braces himself on all fours for some serious bareback bang time.
Scott gives his guy's smooth seat one more lick then, he slides that super sized schlong up pretty boy's beautiful back side. Jared let's the lad adjust to his oversized appendage with slow strokes before putting the peen pedal to the medal. The dynamic dick lovers make good use with every available inch of tub.... AND Jared's jock! After Scott dirty dogs his dude, Tykes takes a ride on the horse hung hog. He faces his fuck stud face first before bouncing on that bad boy, cock to cam. Marcell closes his eyes in absolute ecstasy as he cranks up the heat on his hog. He releases every erotic desire from that thick dick of his into the water as the after shocks splatter onto his beautiful bronze body. And, while Jared's giant blasts liquid lust, Tykes eases his amazing ass back just a bit. This allows Scott to bust all over Tykes' buttery smooth skin. Jared's jizz jets out of his giant junk then, comes careening down onto Marcell's main muscle. The guys get good and dirty; so, they'll definitely need another bangtastic boy bath after this bust heavy, hammer slam.
Scene 5: Shane's Seduction
Cast: Collinh Adams and Shane Cook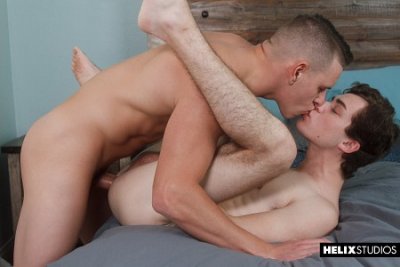 Collin Adams is one of our newest models and we're initiating the fresh faced fuck boy in a BIG way with super cocked Shane Cook! Collin kisses the gorgeous gladiator while reaching inside his stretching skivvies, anxious to get at that axe of his. Adams releases the beast before the cock star's schlong rips through it's confines. The beautiful brunette can't keep his hands off the incredible appendage but finally tears his tongue away from Cook's kisser to suck down that delicious dick! The angelic twink looks directly into Shane's ecstasy filled eyes while doing the impossible, swallowing every fat fucking inch down to the balls. Shane is impressed and invests some tasty time of his own on the twinkie boy's bone. The muscle god gives just as good as he got but does the dude one better by burying his tongue between Collin's supple young cheeks. Shane shakes his face around, digging deeper into the Adams' ass as he spits and spanks Collin's caboose till a cherry hand brand is visible. Horned up and anxious to test drive the top of the line love muscle, Adams begs for a boning. Shane lays back on the bed like a boss, then orders the kid to cum sit on his dick. Collin slides his spit shined sphincter right down on the big duke of uncut dicks and bounces his bubble butt on top of his balls.
The commander in cock orders his beautiful bottom onto his back, then quickly gets back to work. Collin is in ass ecstasy, breathing heavy and moaning from every expert thrust Mr. Cook and his muscle meat mash inside his sweet center. Bottom boy's toes curl and his tight twink body tenses and squirts a piping hot load of pleasure onto his ripped torso. Cook pulls his perfect piece out and Adams instinctively gets onto his knees with an open mouth. Shane's super soaker has amazing aim and every ounce of oozy goodness lands on the lusty lad's tongue except for one sticky drop that stays plastered on pretty boy's chin, dangling. Cock hungry Collin can't get enough and continues to deep throat Shane with a mouth full of fresh cream. #Talent
Themes: Bareback, Latin, Big Dick, Anal Sex, American, Blowjob, Brunette, Tattoos, Kissing