Summary:
The expression, "it's never as good as the first time" holds some truth to it. Our super popular series "Introducing" is all about your favorite boy's first times on film and getting to know them inside and out before that fabulous first on camera fuck. Each new, young hottie is paired with a sexy porn pro who asks all the right, raunchy questions you want to know, making the newbies feel at home and horny, while getting them to open up in more ways than one! This cock filled collection of first timers and their tight young asses is chuck full of your favorites who have gone on to become stars, such as Joey Mills! See him here in his firstscene with giant jocked Evan Parker and understand how he got the nickname "jailbait Joey"! Every scene is a fine ass guy's first time fuck flick. You can sense their excitement, anticipation and hot young hormones raging in their lust filled eyes right down to their throbbing cocks! We've covered all the bases in this boner buster with beefcakes like Josh Brady to beautiful blond twinks like Wes Campbell and many more! Walk down the sticky streets of a mammoth member filled memory lane as these boys get their porn cherries popped for the very first time!
Scene 1: Introducing Joey Mills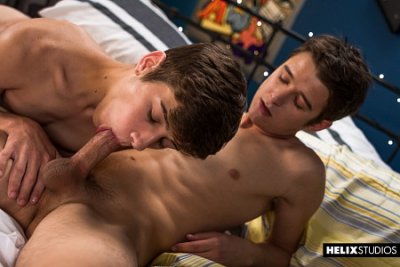 Welcoming him to California, Evan chats up blue eyed jailbait Joey who thought California would be a lot hotter. Well, things definitely heat up when Evan invites him back to his room! Clothes fly off and perfectly smooth peaches and cream complexions start steaming up your screen. Although these guys are twinks their dicks are definitely giants! Evan's got the length and Joy's definitely got the girth. But lets be honest, both these dick are perfect in every way and the slurp fest that follows is the stuff of your dreams.
Evan takes control and turns the bottom around so the two can 69 and he can get his mouth to the boys beautiful asshole. At this point Evan's dick is a rock hard rocket ship and he whips joey around so he can aim it towards his hole and destroy. Joey is truly a top's dream and his happy place must be with a hard cock in his ass. He wriggles his head around in ecstasy playing with his rock hard cock and big balls, eyes rolled back in his head.
This looks yummy to Even and his jumps back on the kids cock and Joey returns the favor, thirsty for more. The kid cant be without a cock in his ass for long so he climbs on top for a hot riding session and theres nothing hotter than Joey's cock bouncing up and down on this ride! The perfect pair end in a pile of creamy goodness!
Scene 2. Introducing Calvin Banks
Introducing, Calvin Banks. Calvin is a well built & blue eyed beautiful piece of Mass. Recently, he met up at San Diego's Balboa Park with Helix Superstar & exceptionally skilled bottom, Tyler Hill for his opening interview before popping his porn cherry. The two Balboa bad boys talked coming out, first times & best times before taking it behind closed doors. Watch as Tyler's world famous fuck rump conjure a fat load from Calvin's wide 8.5 inch wand and see why the dominant dude from the Bay State might be a Massachusetts native, but today he'd rather be in Tyler Hill.
Scene 3: Introducing Josh Brady
Introducing, Josh Brady. Josh is a strapping, young, buff & hung, made in the O.C., 100% Grade-A stud. Recently, he hit the sheets with Helix Studios fan-favorite, Cooper Steel for a get-to-know-the-newbie rookie interview & ice breaker, as well as the main event - a hot af x-rated exhibition in topping a twink. Don't miss a minute or an inch as we get up close and personal with Brady's bunch and watch him wear Cooper out!
Scene 4: Introducing Christian Bay
Christian Bay is a gorgeous guy with a Hollywood smile. We've paired him up with Tyler Hill to show him the ropes and get to know more about this hot new addition to the Helix roster. Tyler's a pro and knows all the right things to ask. The guys cover it all, from Christian's coming out story to Tyler's days as a high school wrestler! #HOT And EVERYTHING in between!
Once the guys get down to the nitty gritty their chemistry explodes off screen! Starting out with a smoldering hot make-out session the guys quickly move on to some cock grabbing and don't let up from there! Christian is a great addition to Helix and brings a LOT to the table....... and to Tyler's hungry mouth! The kid is PACKIN'! A perfect complexion and a tight toned torso adorned with one perfectly placed tattoo and a nice big DICK which tyler can't seem to get enough of! Christian is eager to please and gives Tyler exactly what he needs, a LOT of cock in each end! The boys bang in several different positions till finally Tyler explodes with creamy goodness! This sends Christian over the edge and he busts all over Tyler's balls! BOOM Mr. Bay, you'r a great addition to the Helix family!
Scene 5: Introducing Robin Moore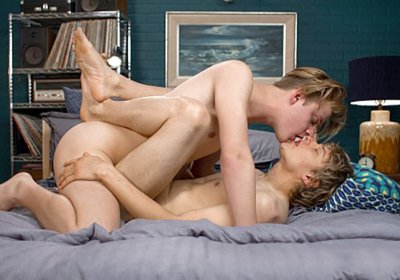 Brace yourself for pretty blond boy overload in this scaldingly hot "get to know you" scene! Wes Campbell probes deep into one of our newest models Robin Moore. They chat about his cumming out experience, his home town and of course, what kind of porn boys he likes! Lucky for us, he likes TWINKS therefore he DEFINITELY came to the right studio! After Robin reveals his ultimate fantasy is to do it outside in public, Wes takes the hint and whisks our boy towards a public outdoor stairwell! Wes waxes Moore's member right there in public and the excitement factor only escalates once the boys bring that taboo tonsil tickle indoors where they can REALLY let loose! Robin is a rock star cock sucker and works Campbell's cock like a seasoned slut. These all American blond beauties are the perfect pair, complementing each other in a schlong slurping 69 suck fest. Campbell bends the blond bottom over and delivers a hard ball slapping dick driving boning, complete with sexy ass slapping spankings! Moore relaxes into the fuck, looking back to enjoy the view of pretty boy Wes. As pretty as Campbell is, he is a deliciously dominant top barking out commands. When he says "ride me" Moore moves, spreading his hot hole for our viewing pleasure in the process. Then in a sexy surprising switch up, Moore maneuvers his manhood inside Campbell's smooth caboose! The cock chemistry is crazy hot between these complementary flip flop fuckers and when it's time to release, it's no surprise seed sails through the air with fucking force covering Moore's tight body and pretty face with sticky sweet Campbell cum. #Yum
Themes: Anal Sex, Bareback, Big Dick, Blowjob, Cream Pie, Cum In Ass, Hunks - Studs, Jock on Twink, Kissing, Latin, Rimming, Tattoos, Twink