Summary:
The most beautiful Latin boys in the world travel south, to Patagonia, where the forrest, and mountains are like picturesque paintings….. and the cruising is off the chain! Join the boys at their hide away cabin in the woods, where they bring back the hottest trade for hard fucks in the forrest. This south bound, ass banging adventure is definitely one for the books, and will leave you breathless!
Scene 1: Secret In The Mountain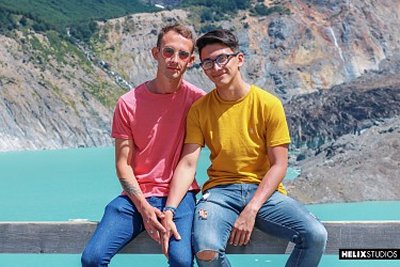 Our favorite young Latinos travel to the south of the world, to Patagonia, where the mountains and forests are the ideal setting to meet and have sex. A unique place where they meet other cute boys who want to be intimate in the cabin where they are staying. In the first episode we have Italo and Vincent, admiring the mountains and the lake, when Vincent sees a bird that flies fleetingly. Italo misses it, but the boy says he wants to show him something… In the cabin, they kiss on the wooden staircase that goes up to the room. Italo not only wants to see his little bird, but he does an incredible masturbation to Vincent's penis on the stairs while they continue kissing. With their penis very hard, they go straight to bed while they take off their clothes. The tattooed body of Italo naked is impressive, he wants to receive Vincent's cock in his ass, so he sucks it on Vincent, the boy with glasses, who enjoys pleasure. He grabs his head tightly and grabs his mouth, putting his member in and out with great force. Vincent pulls Italo's pants down to grope his ass while he sucks, licks his fingers, first one then the other, and sticks them in Italo's anus hole… Wow. As she continues to suck there are moans of pleasure from both of them.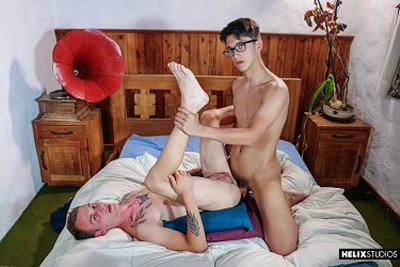 The ass is already prepared to receive that very hard cock. Italo sits on Vincent's cock, on his back and starts jumping and bouncing with great pleasure, his eyes narrow, he can't believe the hard piece of meat he's getting, he wants more. They kiss like this, backwards, while Vincent jerks him off at the same time as he penetrates him at high speed. Afterwards, they lay on their side on the bed, they start fucking like this, with Italo's leg raised in the air. The passive has a ring on the nipple with which the active has fun, stimulates it while penetrating the boy's tail at different speeds. Finally, Italo puts his legs up and receives a penis in the position that will make them both explode. While Vincent penetrates him, it is very hot, they are sweaty, they can't stand it anymore, Vincent discharges his semen into Italo's mouth, who licks it well with his tongue. At the same time that he receives the semen, he discharges his own sperm onto his own abs. They conclude with a white kiss and they go towards the sunset of the mountain, which we see through the window. Your secret is well kept with us. And of course, the adventure continues in the next episode where a boy gets lost and two others help him to position himself on the map… and of course they end up having a threesome in "Fun on the cabin in the wild", not to be missed!
Scene 2: Fun In The Cabin In The Wood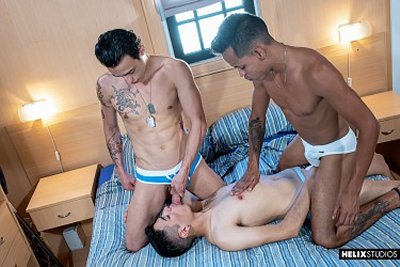 Young Latinos travel to South America, where lakes and mountains are the protagonists. Gil is lost, despite having a map, he can't find the place where he wants to go. Sly and Giorgio see him disoriented and offer him water. Gil gratefully accepts and they enter the cabin where the boys are staying. While he's drinking water, Gil turns over on his shirt… Sly helps him get it out and the action begins right there, in the kitchen. Between the three of them kisses, the penises get very hard and they decide to go to the bedroom. The owners of the cabin fill the lost boy with kisses, take off his clothes, the three of them undress and lie on the bed. While one is giving him cock by the mouth, the other fills him with kisses and licks all over his body. Being lost can be a good excuse to end up in a threesome. The two of them give their piece of penis in the mouth now, to Gil, who tries to put both cocks at the same time! As they fill him with precum all over his face, the two of them kiss. Then Gil's ass is ready to be penetrated, Giorgio finishes stroking and preparing it. Now, in a very hot way, Gil writhes to receive Giorgio's cock and at the same time suck Sly's cock eagerly ... Hmm ... After enjoying that thoroughly, Gil turns around and does the same, in the opposite direction: now it is Sly who is giving him in the ass while sucking on Giorgio's penis that has just come out of his ass ... To finish well on top, Gil gets on all fours, receives Giorgio penetration and Sly gets behind the two and also penetrates Giorgio. Amazing! Giorgio penetrates and is penetrated at the same time in a very hot and bawdy sex chain. The two boys from the cabin end up in Gil's mouth and Gil ends up while he continues to receive the cocks full of semen. Wow. In the next episode of "Patagonia Funny Adventure", the sex continues with two boys and their first time in the south in "The boys of the lake". See ya!
Scene 3: The Boys Of The Lake
Cast: Tommy Ameal, Antu Burghos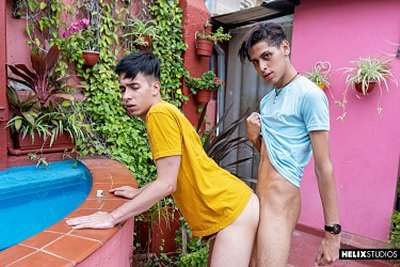 In the third episode, while two boys enjoy the landscape that southern Argentina offers, one of them, Antu, confesses that he has never been with a boy. Tommy can't believe it, he actually knows he was there, but he doesn't care. They kiss and go to an outdoor corner with plants and a fountain. There, Antu kisses Tommy's penis on the slip, still not releasing it but you can already see that Tommy is very erect. Then Tommy sticks his penis out of the side and Antu sucks it deep. These young guys heat up even the snowy places! They make a mutual, ardent masturbation to get the other's semen, but no, there is still a need for that. Antu leans on the fountain to make her hairless tail ready to be licked by Tommy, who delicately spreads his buttocks and eager to suck his ass. After filling him well with saliva and dilating his anus, he grabs his huge, veiny cock and shoves it into his hole. Tommy fucks as active in a wild way, with a very big and hard cock. Antu receives with many moans of pleasure, grateful for such a male member. From there they go to the bedroom, where Antu spreads his legs on the bed to be penetrated again by Tommy. Antu touches himself while being fucked, then turns around and gets into the doggy position to get rammed again. Thus, Tommy unloads his milk on Antu's hairless ass that does not stop moaning, then he penetrates it with the semen to put it in his anus. With all that fever and with the help of Tommy, Antu masturbates and finishes a lot of semen… And there is even more for Antu in the next episode, "Hot Trekking", because while enjoying a walk along the shore of the lake, he meets Vincent , another guy with glasses, like him, who is going to add to his list of men with whom he had sex. Let us accompany him!
Scene 4: Hot Trekking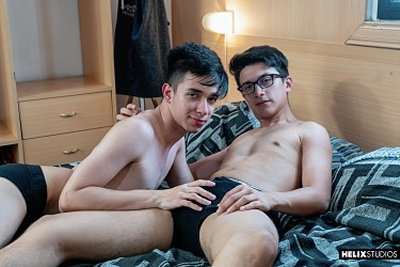 In the penultimate episode of our trip through Patagonia, Antu continues in search of men who will satisfy him. While Vincent is trekking through the trails of the natural and wild place, Antu enjoys on a rock admiring the lake. Vincent takes some selfies and meanwhile they do not stop looking at each other, they are attracted to each other so they go straight to bed. These guys with glasses take off their clothes while kissing passionately. In both boxers, the penises get hard and the kisses turn into licking and sucking. Antu is in an attitude of total surrender and Vincent has his virile member very hard and pointing upwards… Soon they are naked, Vincent penetrates Antu with his cock in his mouth while he gropes his big, peach-shaped ass. Will it be just as sweet? Vincent gets up from behind, Antu eagerly surrenders his tail, lets himself be penetrated smiling with pleasure ... Young Latin men have sex like this in doggy position, with force, with mad moans and a lot of youthful energy. After they turn on their side, the ass is open and relaxed, the asset does not stop penetrating it with speed and force. They keep switching positions in a sexual frenzy, sweating and screaming, Vincent knows how to use his HUGE penis very well. Antu will ask him to finish him in the hole of the anus and he will do it to please him. He puts his penis full of semen back in and then they kiss until Antu releases his load ... These guys heat up the cold air of Patagonia. The next episode, the last in the series, is the boys' great final holiday party and when we say party of course we mean orgy! Seven, yes, seven hot guys in sexual ecstasy. They are ready? Don't miss out on "Latin Fire".
Scene 5: Latin Fire
Cast: Giorgio Angelo, Italo Van Ewen, Sly Conan, Tommy Ameal, Antu Burghos, Gil Donovan, Vincent Landi
In the last episode of this series, the hot Latino boys want to say goodbye to their vacation in a big way with a super gangbang. By the lake, they fantasize about the best way to celebrate… They do what they do best and five of them go to the cabin, start kissing, groping and take off their clothes. Two look shy from the outside and of course they invite them. They kneel down and start to suck his cocks with great enthusiasm. The boys are on fire with fever. This is how an incredible orgy is set up, where everyone enjoys at the same time in the armchairs of the cabin, or standing up, two by two, by three, of everyone they want. The big, hard cocks and the tails that are preparing to be penetrated.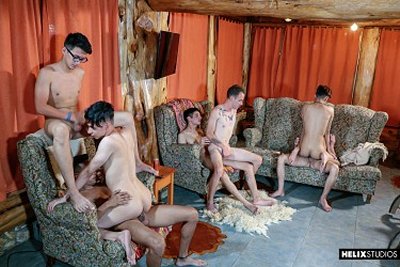 One of them dares to be the first and ride one of those huge penises on the couch, these guys are insatiable! He really enjoys that huge piece of penis in his ass… So others cheer up and allow themselves to be penetrated or penetrate another, with great desire and strength. There are many butts bouncing at the same time because of the cocks and testicles that move behind them. The moans intersect in a feast of pleasure, an orgiastic party that engulfs them. One of them wants to be active and passive at the same time, so he puts himself in the middle of two others and enjoys giving and receiving… Phew! After a lot of sex and pumping, the last ones to join the party are the ones who kneel down to receive the cum shot on their faces and bodies… The semen of five guys falling on them… WOW! This is indeed a fun adventure and, also, unforgettable.