Summary:
Get ready to swing for the fences jock lovers! We've gathered a fantasy filled collection of rock hard jocks and their T-ball twink counter parts for this Super Bowl sexathon. Gorgeous ball players and their big baseball bat sized boners hit home runs every time as they eat and fuck their way to victory in deliciously plump dugouts. Every teammate is put through a rigorously raunchy, hard core training session that keeps them in tipTOP (or bottom) shape! Only the best of the best super star ass banging athletes have been drafted into this dick heavy team and they ALL cum out ball busting winners; so, grab your equipment and get ready to score!
Description / Review:
Scene 1: Field Of Wet Dreams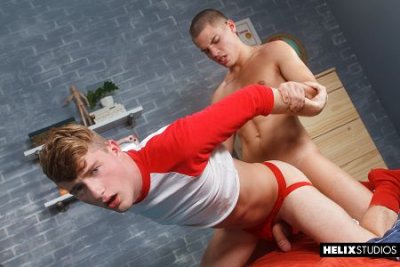 Baseball is a great all american past time. It's also full of sexy, in shape, hot jocks who play to win. Cameron Parks and Ezra Michaels know to win, one has to practice. Also, Cameron has had his eye on Michaels cup covered manhood the entire day, dropping hot hints while playing with their "balls." The sexual tension goes into overtime and the boys must bring the action back to home plate for some privacy. Starting out at first base, the boys suck salty sweat from one another's sun kissed faces. Cam steals second, sliding Ezra's jersey off and caressing Michael's muscled chest. Parks makes a mad dash down to third base, where a sexy black jock strap shows off Ezra's ample ass and encases a nice, big ball bat ready to swing for the fences. Parks plants his cock sucker on Michael's massive meat, choking and gulping at all the goods. Michael's is hungry for some baseball hotdog and swiftly slides Park's pants down. He eases the red hot jock strap to the side to get at Cameron's cock and inhales it before moving on to the hot blond's dugout. Michael's keeps the jockstrap on for added hotness as he eats the kid's perfectly smooth, peaches and cream caboose. He ads a thick thumb to prime the pink pucker for his bat sized boner. Grabbing Cameron's jock, Ezra eases his bareback baseball bat inside the boy's anxious butt as Parks pulls his piece out over his jockstrap to get at it easily. Ezra eases up and a sultry stillness cums over him, he lets his bottom know "I'm about to cum." He plunges his piece deep inside and unloads half his load. Then, he pulls his still rock hard rod out and skyrockets another nasty nut through the air onto his tasty teammate. It's a good thing Ezra can't be stopped, because Cameron desperately needs some sweet release. Our bionic baseball boy flips Parks over and keeps pummeling away. Cam's cock explodes, covering his creamy complexion, and then miraculously, Michael's meat manages ANOTHER magnificent, manly sized schlong shooter! It's all about teamwork as their jocky juices mix together covering Cameron's red jock strap with several sticky, white hot home runs! Take me out to the ball game indeed!
Scene 2: Soccer Hotties
It's sizzling soccer boy sex as Logan Cross meets up with Helix new-cummer Josh Brady to kick it and get the balls rolling with a little sweaty & shirtless summertime sport. Don't miss an inch of Josh's deep-dick debut that's complete with jocks, cocks, and full contact twink action!
Scene 3: Sport Bros
What better way to recover from a disastrous game of H-O-R-S-E than between the sheets with some horseplay of a different sort? That's just what Kody Knight and Tyler Hill discovered after a rough day on the court led to the kind of action that these two cuties are far better at dishing out. Kody's big boner is the perfect match for Tyler's beautiful bottom and this seen has everything. From twinkie Tyler getting rimmed face down ass up to some serious pile driving, these 2 prove that in the bedroom is where they really know how to score points.
Scene 4: Fantasy Football
Justin Owen is having a hard time concentrating while tossing the football around in the park with gorgeous jock Josh Brady. Josh can tell and teases the boy by taking his shirt off. Justin figures "two can play this game" and takes his shirt off too! He's been working out, knows he looks good and figures he'll be just as hard to resist as his buddy Josh. He's totally right, and pretty soon the boys are back at the apartment playing with a different set of balls!
Josh Brady plants a nice wet one on Justin the minute they get inside. Always comfortable with balls, the two jocks reach inside each others shorts and pretty soon, the game turns to tonsil hockey.
Brady bends Justin over and once he's in that tight-end he takes the kid through a rough training session. Justin loves every position. His cock bounces around with approval while riding his buddy like a fan in the bleachers doing the wave. Justin coaches Brady as they go through several positions. "Take long deep strokes" he calls out!
All this rough play between jocks and these boys are ready to blow. Sweaty and rippling with smooth muscle, each guy hits it out of the park with a super sized load! Tossing right at Justin's face, Josh aims perfectly and gets every drop gets it right in Justin's open mouth! TOUCHDOWN!
Scene 5: Ball Play
We love boys playing with balls here at Helix. We ALSO love athletes! Bring the two together and you've got a bonetastic, ball slapping bang-fest! Ultra attractive athletes Blake Mitchell and Chandler Mason are working up a sweat on the soccer field bangin' their balls around. In a bit of a different way, they continue that theme once inside! Starting with a tickle fight/wrestling match, their muscles ripple and flex as the guys suck salty sweat from each other's ripe off the field bodies.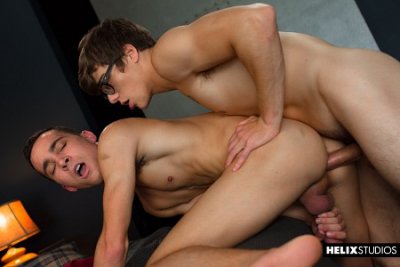 The sweet smell of young man sweat nearly cums off the screen as Blake gobbles Chandler's ball bat sized boner. He also makes sure to give good attention to his bat's balls. Being good teammates, the guys take turns tasting each other's hotdogs before Blake decides to go for the goal. Chandler plants his tight tush right down on Blake's big condom free cock and it is THE best seat in the house. Seeing Chandler jack his giant piece with Blake's big dick hitting home is heavenly. Pound for pound, both boys are heavy hitters and there is just a TON of cock between them. These two are definitely the perfect dream team! GOAL!!!