Summary:
#Helix is a fan favorite because there the Helix boys put YOU, all those wonderful XXX movie fans, in the driver's seat of this highly popular series. You control every "inch" of our boy's business via your Twitter questions AND requests! Ask and you shall receive every racy, raunchy wet dream; OR, a sweet and simple question answered by your favorite guy who'll be talking directly to you, AND give your Twitter handle a shout out! This carefully selected collection focuses on your fan favorite, fiercely fuckable twinks! But you know that the guys at Helix always keep it spicy, and so they add The King of Cock, Mr. Corbin Colby, to the mix along with a groin gifted cast of the most tasty twinks imaginable!
Scene 1: Cameron Parks and Tyler Hill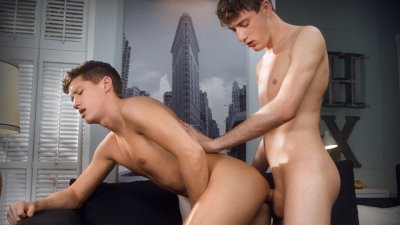 Our series #Helix is BACK with two of our cutest boys, Tyler Hill and Cameron Parks! The guys take questions from their fan's twitter which run the gamut from fun to down right raunchy in this round of randy queries! The guys are asked and ANSWER all about their first times, high school sex-periences, porn behind the scenes, favorite kinks and even Tyler's kitten! This sextastic series has it ALL because after the questions cum fan's fantasy requests which are acted out in deliciously dirty detail by our boys! There's some feet tickling action followed by equal opportunity spanking on one another's beautiful booties. Then we shift into high gear with a pin down lick, bite butt combo request that gets the booty-ful twosome raging hard and ready to get down and dirty! The boys blow each other's bulging boners before Parks plants his huge hand in Tyler's smooth ass crack, tickling his hole and slapping the plump plum every now and again. After Parks gets one small hit of Hill's hiney, he becomes a full on ass addict and doesn't cum up for air. Who can blame him, Hill does have one of THE best butts in the biz. Parks eats ass like it's his final meal while doing a thorough inspection with his fingers but not before spitting in the boy's behind so he can slide in even deeper. Hill's hole is hungry as hell after that sexy session. Parks lubes up that perfect piece of his and hammers Tyler's tush HARD! Tyler switches it up, climbs on top and goes to TOWN on Cameron's cock! Parks revs his rod up into high gear, fucking so fabulously fast his heavy balls bang the hell out of Tyler's tasty cheeks. Cocky Cameron manhandles Hill, pushing the pretty boy onto all fours then forcing his formidable phallus back in the kid's cock hungry hole. Tyler reaches back and grabs Cameron's cum filled balls, pulling him even deeper inside. Hill has been hard as hell for the entire fabulous fuck, he finally fires his hard hose and all it's funk, covering the black couch so much it's turns almost cum-pletely white! Parks pulls out and plants his salty seed all over Tyler's freshly banged butt. Oozy nut drizzles down the kid's caboose. The semen soaked smoothness of Hill's hole is too much for Cam to resist and he goes in for one more lusty lick. Absolutely yummy.
Scene 2: Kyle Ross and Corbin Colby
Spanking, Rimming, fingering and fucking OH MY! Corbin Colby and Kyle Ross are at their fan's mercy, answering every dirty question you asked, AND acting out every deliciously naughty act requested from the pervy pages of social media. Unfiltered and condom free, Colby fulfills your fantasies as he fills Kyle's ass with raw cock. Blond and beautiful, Ross relaxes into your every whim with pure pleasure and an amazing ass stuffed to capacity. You asked and our boys deliver, raw, real and rock hard.
Scene 3: Jared Scott and Collin Adams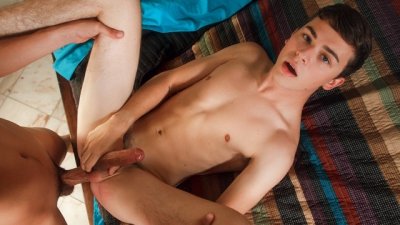 Here at the Helix, we work hard bridging the gap between our beautiful boys and the fantastic fans who love them. Our series #Helix is so special because it does exactly that. We let the fans ask their favorite fellas any and every question or request via Twitter and NOTHING is ever off limits! This throbbing therapy session finds Collin Adams and Jared Scott sitting comfy on the couch while spilling secrets like, what made them want to do porn and how the application process goes, they get into divine detail about their off screen sex life; and, they're even asked if they've ever watched one another's scenes. Collin takes the query to the next level, letting us know he invites friends and family over when HIS scenes are released! It's really a fun interview and the chemistry is already undeniable between these two. The requests range from ear licking to neck biting and the final ask is looking for an ass spanking! Scott is more than happy to deliver your desired derriere smack; and then, the sexy secret spillers turn their attention towards one another. As usual, giant jocked Jared is cocksure, deliciously dominant and ordering up a dick sucking. He returns the fellatio along with an added ass eating, giving Collin's cock craving caboose a wet warm up. He checks the kid's oil with a few fingers before starting Adams' ignition with his big, bareback beast. Jared takes the twink from behind before banging the boy on his back to look at that pretty face AND, that nearly ready to nut knob! Collin creams his teen dream torso, pouring peen puree into the cut creases of his chiseled six pack. Jared jumps up and jams that juice ready rig at Collin's kissable cock sucker. The beautiful bottom is served a severe smearing of succulent, sticky good protein for their sexy set send off.
Scene 4: Gabriel Martin and Joey Mills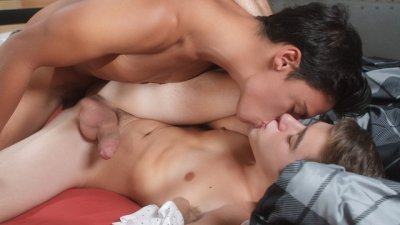 This edition of #Helix is the holy grail for our twink fans! Joey Mills is the ultimate twink super star with a legion of devoted fans, which makes for a fabulous fit to this popular series all about fan's questions and kinky requests! He's paired with one of the freshest new faces in porn, gorgeous Gabriel Martin. Gabriel is the total package, gorgeous, gifted on both ends, succulently smooth and smart as hell. His intelligence matches his swarthy, sexy good looks and even just listening to the lusty latin speak is boner inducing. You fans outdid yourselves with this round of raunchy requests and both boys answer with uber hot honesty. They chat about the biz, their dreams, their favorite fucks and everything in between including a deliciously dirty description about double penetration. Once the boys are horny as hell from fan's questions, they double down and do every dirty deed you desire. Martin man handles Joey's famous fanny as per your request. He slaps Mill's tender tush till it's pink with some sexy spanking and from then on it's full fuck ahead! Deep throat directions are followed by a raw ride on Gabriel's perfect piece as Joey's giant jock swings around like a baseball bat. Gabriel's smooth ass is absolutely edible and Joey eats like a starving slut before serving up a main course of massive cock! Mills mesmerizes as a top; after all, the kids got a lot to work with. Gabriel's face, full of pure pleasure still looks pretty biting the bed as he accepts Mills massive member deep. Full up on cock, Gabriel is energized and ready to ram. The Bronze beauty bangs the fuck out of Joey's hungry hole. With his ass and cock full to capacity, Joey releases loads of pure pleasure from his famous phallus. Gabriel picks up the pace, drives his dick in deep then splashes a spectacular spew of spooge far as fuck! The pretty pair give the perfect make out finale as Mills is marinating in a massive amount of twink toss.
Additional Information
Categories: UK R18 / XXX Gay Adult
Running Time: 170 mins, Year: 2019
Price: Around £32*
Starring: Kyle Ross, Corbin Colby, Jared Scott, Collin Adams, Tyler Hill, Cameron Parks, Joey Mills, Gabriel Martin
Director: Keith Miller
Studio: Helix Studios
Buy DVDs online at: Simply-Adult.com, Homoactive and Radvideo (USA)
Video On Demand: Helix Studios, Member site: HelixStudios.net
Country: USA, Language: English
Additional info: No Regional Coding

Summary:
There are certain nights when the air is saturated with a melange of magic. Those good times, when you and your best boys are taking the town—young, hung, full of cum, and looking for some fun! As the evening winds down, the only thing missing is some big, bad, brand-spankin' new, crazy -hard cock. Sexy superstars Kyle Ross, Blake Mitchell, Shane Cook, and Sean Ford can relate.