Summary:
Big dicked twink bottoms are some of the most captivating boys to watch. Being young and pretty is a currency these hand picked Helix boys ALL have. The question is when we put them together, who is gonna get fucked?! Watch as Helix pairs our best bottoms WITH...our best bottoms! It's a tense experiment and a super sexy journey of discovery for these hot young studs that just wanna get their tight toned asses filled. But when you've got a big dick and a perfect back side, where do you put the goods? That question is answered and then some as Helix's best bottoms suck, fuck and figure it all out together in the ultimate collection of pretty boys!
Scene 1: Squirt Fun
To active & fun-loving youngsters like Brad Chase & Logan Cross who seem to always possess the recipe for good times and a hardcore pleasure drive, words like dull and boring have no meaning and there's never a shortage of things to do on a bright & sunny afternoon. Check out these two playful squirts as they get primed & ready, fill up, tighten up, pump it, go all out, huff & puff, pump it more, shoot, spurt & unload in this hot & sweaty, head to head, skin versus skin, seesaw matchup. ...And all of this following some good old-fashioned water gun fun in the park.
Scene 2. Burning for the Boy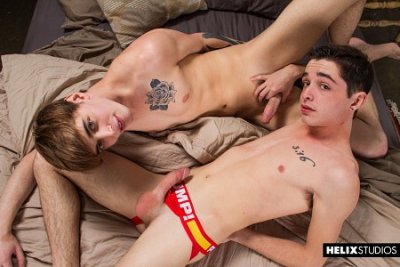 The warm brilliance of the spring sunshine is absolutely awe inspiring, but with the sexual appetite of a young twink, in shape & in lust, combined with the right chemistry, you get a recipe for something extra special. Alex Killborn & Grayson Lange couldn't wait to get to someplace private and opted for the closest possible fuck-nest available. Once inside, there would be no coming up for air as they simultaneously sucked face and stripped down to Graysons's jockstrap and as for Alex, still clothed from the waist up, dropped down to his knees. He serviced Lange's love muscle for as long as he could before needing his own wood worked too badly and quickly undressed. He then tempted his junior suck buddy into joining him in a swell & swollen 69 session that would soon have both of their cocks slippery & throbbing. The two twinkies gobbled each other hungrily until Alex was ready for the second course and being a very happy & very good boy, Grayson repositioned & readied himself to receive his rimming. Watch what happens when smooth, slender & black haired bottom boy cannot wait
Scene 3: Brad's Bareback Fantasy
Kyle Ross is the kind of beautiful blonde boy that's constantly turning heads. However, it's not every day that he crosses paths with twink perfection on par with his own hotness, like Brad Chase. Check out what happens when Kyle Ross catches Brad's gorgeous green eye and see what happens when young Bradley, at a loss for words, gets lost in a steamy bareback daydream.
Scene 4: Bottoms Battle
The precious power bottoms of Helix Studios are at it again. This time, luscious Logan Cross is back. This time, he's joined by his colleague in cuteness, the gorgeous Grayson Lange. After a dramatic back and forth over position preference, the babyfaced boy toys both end up with their sexy little ends up in this twinktastic flip-flopping bottom bonanza!
Scene 5: Wardrobe Strange
It's in the backstage dressing area before shagtime and Twink Beat posterboy, Logan Cross prepares his onscreen outfit. But, when the one person he asks for an opinion on his threads is the same person tasked with his disrobing and subsequent deep dicking, the stage is set for a jizztastic jumping of the love gun. Don't miss Logan Cross alongside, on top of, and underneath Helix Studios leading lad Jesse Montgomery as they take it all off and get it their fuck on!